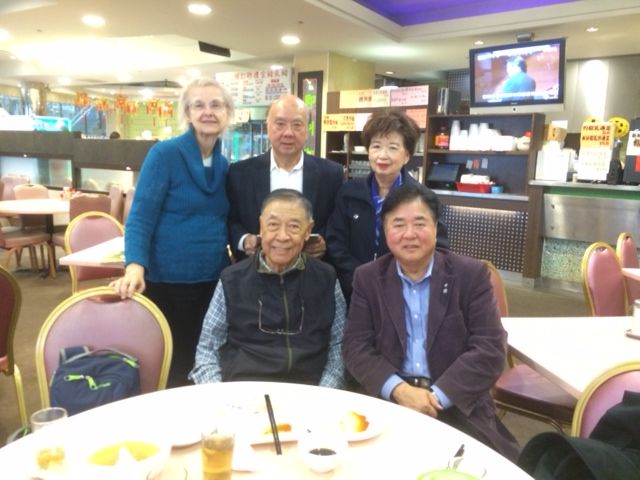 Philip Lee, former Manitoba's Lieutenant Governor, has joined an accounting firm in Winnepig as Senior Executive Advisor, had a short stop in Toronto after attending the Reunion of the Cheetahs on an east coast cruise.  At an early breakfast with Anita, brother Robert and wife, Sylvia and Mr. Ho, he recounted a very sad event during the happy moments.  Click here for more. 

 
A party was held at Wah Yan College Kowloon on Saturday, October 3, 2015 to celebrate the birthdays of Fathers (L-R), Robert Ng -first at WYK in 1974, George Zee -1966, John Russel -1969, Alfred Deignan - 1978, Stephen Chow - 1988, Harold Naylor - 1967, Marciano Baptista - 1988 and Sean Coghlan - 1967.
Please click the image to view more pictures.
父母和教師們應以怎樣的態度培育下一代?有甚麼方法能幫助學生們達到他們的潛能?究竟,甚麼是教育的真正意義?敬請留意今集《愛●生命》- 教育的真義 (二),讓我們繼續聽聽周守仁神父和朱可達博士的分享。
【點擊收聽: http://fll.cc/audio/purpose-of-education-2/ 】 【下載愛●生命 iOS App: https://appsto.re/hk/p3Yb5.i 】 【下載愛●生命Android App: https://play.google.com/store/apps/details?id=cc.fll.radio 】
Dr. Kwan Man-woo (WYK60) : "The video was sent to me from Gregory Chan Chin Chun, 陳展津. Gregory's son's classmates (1990) were celebrating with Fr Mallin on his 102 birthday ."
Please click the image to view the video.
Jimmy Chan 陳世豪 composed a song "重溫心聲" (lyrics by Raymond Lee 李榮輝, also from Class '65) as a contribution to the 50th Anniversary Reunion for Class of 1965 in HK this October. Click the following to hear the piano version of recording by Jimmy.
St. Francis' Canossian College Alumni Association Ontario held its 2015 annual dinner on Saturday September 19 at Royale Fine Dining & Banquet 皇家御宴. A number of joint-school friends attended the event including David Wong and Jeff Mah from WYKAAO. Click here to see more pictures.
生命恩泉 Fountain of Love and Life
今集《愛 • 生命》,我們邀請了耶穌會的周守仁神父和教育心理學家朱可達博士與我們分享他們多年從事教育工作的經驗和所見所聞。他們談及父母和子女因競爭而產生的壓力,以及「全人教育」的優點,亦探討甚麼是教育的真正意義。
Dear Wahyanites,
Most of our Fathers are getting old and the school elevator serves to offer them easy access. However, the old elevator malfunctions frequently. WYK is planning to install a new elevator for our fathers and budget is approximately $700,000. The Jesuit Community has already agreed to pay $200,000 from their limited budget and looks to the always generous and caring benefactors and... alumni to help out with the big shortage needed.
Your generosity will help to take good care of our beloved Fathers. All donation cheques should be made payable to "Fr. Kelly Educational Fund Ltd." and returned WYK (Please specify at the back of the cheque "Installation of the New Elevator", your name and address) Receipte will be issued and all donations are tax deductible.
Please refer to the appeal letter for further information.
http://www.wykpsa.org.hk/installation-of-a-new-elevator-for-our-jesuit-fathers/
Kind regards, Wah Yan College, Kowloon Past Students' Association
AGM 2015 Notice

Here is the link for the AGM 2015 Notice and the Attendance/Director Nomination Form.

Dinner Following AGM

Date - Saturday, 24th October 2015
Time - AGM 6 pm / Dinner 7 pm
Price - $50 per person (Early Bird Special - $45 per person until 14th October 2015; Students $25)

Venue - Emperor Fine Chinese Cuisine (君臨天下)
             9019 Bayview Ave, Richmond Hill, ON L4B 1Y3
             (905) 882-9388

To regidster please click here, or fill out this form and mail to WYKAAO. Spouses or significant others are most welcome.

Scholastic Achievement Award

Details of the award, its qualifications and the application form can be found here.