Yondani Butt (62) passed away on 28/08/2014 in Zhuhai, China.
A memorial service will be held on Monday, 1st September from 9:30 to 11:30 am at: 
珠海殯儀館: 嵩山廳
地址 : 珠海拱北粵海中路2075號 (合羅山墓園對面)
電話 : +86 756 888-5883 / 888-1444.
Yondani Butt was born in Macau. He holds a Ph.D. in chemistry on which subject he has published numerous research papers.  As founder of Symphonie Canadiana, he had led the orchestra on major tours throughout North America. In addition, from 1983, he held the position of Resident Conductor of the Victoria International Festival, creating the highly successful Concerti Extravaganza series, for which he conducted more than 23 concertos in six weeks. Frequently in demand as a guest conductor, Butt has recorded and performed in the US, Canada, Lantin America, Asia and Europe.
How Tak Mak connects the dots to make medical breakthroughs
Shelley White
Special to The Globe and Mail
Published Friday, Aug. 22 2014
 
When it comes to scientific discovery, Tak Wah Mak is an undisputed rock star.
The world-renowned Canadian scientist and researcher has devoted his life to unravelling medical mysteries in the areas of virology, immunology and cancer metabolism. His brilliant career has been punctuated by breakthroughs, including the discovery of the Holy Grail of immunology – the T-cell receptor – in 1984.
WYKAAO will once again participate in the Terry Fox Run this year (Sunday, Sept 14). The run site chosen is our favourite Markham-Unionville location, a major part of the route inside the Toogood Pond Park with breath-taking scenery (1km-route map, 5/10km-route map).

For a number of years, we have been proudly supporting The Terry Fox Foundation in its ongoing work to fund innovative and progressive cancer research programs. Please support our team by joining, or making a donation. Your kindness will impact the lives of so many people living with cancer.
Please click here to read the latest newsletter (Issue 63) from WYKPSA.
The Wah Yan College Kowloon 90-Anniversary and Wah Yan College, Hong Kong 95-Anniversary celebration will be starting soon in September, 2014. There will be a series of events during September 2014 to July 2015 including:
October 26, 2014 - Walkathon from the new School Hall of WYHK to the new grass football pitch of WYK starting from 8:00 am
A grand Dinner to be held in WYK on December 06, 2014 evening at 6:30 pm
A Jesuit Fathers Educational Forum in April, 2015
A Concert in July 2015
Please mark the above important dates in your calendar and all overseas Wahyanites are welcome to come back to Hong Kong for all those events.
It is with regret that Alan Tsui (大朱- 徐漢輝 '76) has passed away on Saturday, August 16 at MacKenzie Health Hospital in Richmond Hill, Ontario.
Funeral Service as follows:

Friday, August 22 : visitation from 6pm - 9pm
Saturday, August 23 : funeral service/visitation at 10:00am and the service starts at 11am

Funeral home : RS Kane
Address : 6150 Yonge Street , Toronto, Ontario, M2M 3W9 Canada(Yonge and Steeles)
Tel no.: 416-221-1159
2014年8月16日 星期六 【明報專訊】
何文田傳統名校九龍華仁書院昨發生10米大樹倒塌事件,樹身壓毁圍網,橫亙球場(圖),幸學校正在放暑假,當時無師生活動,無人受傷。

昨午5時許,有人報警指九龍華仁書院籃球場斜坡上,有一棵約10米高木棉樹突然連根拔起倒塌,約40厘米粗的樹幹把球場圍網壓毁,樹身跌入球場內,枝葉散佈四周。消防員接報到場後證實無人受傷或被困。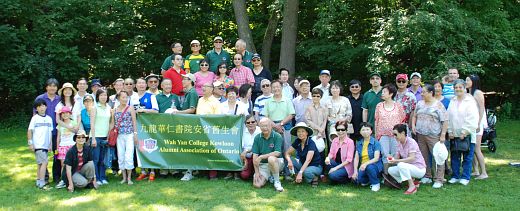 (Aug 10th) 2014 WYKAAO annual picnic was held on a weather-perfect Sunday at Serena Gundy Park in Toronto. Over 80 members, families and friends attended a most relaxing outdoor gathering with great food and company. Click here to see more pictures and here to see a short clip of playing shuttlecock.
Maryknoll Convent School Former Students (Ontario) celebrated their 8th Worldwide Reunion and 30th Anniversary last weekend.  Alumni of Hong Kong and Kowloon Wah Yan Colleges attended the private reception in the Royal Ontario Museum and enjoyed the Forbidden City exhibition on Saturday, August 2.  In the following evening, they were among the 400 Maryknoll alumnae and friends at a very happy gala dinner in Hyatt Regency Toronto hotel.
Please click the image to view more photos.