Click here to visit the Facebook of 華仁仔在臺灣 Wahyanites inTaiwan.
佳士得香港將於2015年新春二月舉辦《筆墨之靈——何百里的筆、墨、色、意界》之展覽,包括五大主題:《曦望》、《靈山秀水》、《楓采》、《百里輕舟》及《田園拾趣》。向公眾展出數十件何百里先生之精作,全面展現何氏創作風貌。
La Salle Old Boys' Association held its 2014 New Year's Eve Dinner at Casa Deluz Banquet Hall. Fred Fung and Wilfred Wei from WYKAAO attended the event. Click here to see more pictures.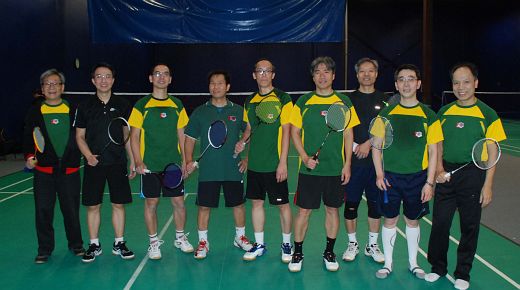 WYKAAO and La Salle College Old Boys' Association had a friendly badminton game at eBadminton on Sunday January 18, followed by a dim sum lunch at a Chinese restaurant. Click here to see the pictures.
You are cordially invited to the Mon Sheong Foundation's 50th Anniversary Book Presentation Ceremony to the University of Toronto Library. 
As part of Mon Sheong 50th anniversary celebration, a book set featuring a detailed history of the Foundation is published. This publication will be donated to the Library in the hopes of promoting understanding of the foundation's many contributions to the Chinese-Canadian community in the past five decades.

 Saturday, 10.01.2015: 1300-1700;  Sunday, 11.01.2015: 1000-1600
Let's have a quick recap of WYKAAO's activities in the past year while we are enjoying the festive season with our families and friends.
Our past president Kelvin Ng (95) was visiting his parents in Toronto. A table full of members and guests attended a lunch with him and his family on Wednesday Dec 24. Click here to see more pictures.
(2004~2006) President Kelvin Ng Ka-min ('95) with his family is home for Christmas with his parents.  Kelvin has been working at Volvo Trucks in Tianjin, China since leaving Toronto.  He had morning coffee with Mr. Ho on Saturday, December 20.
There will be an early dim-sum lunch with his family on Wednesday, December 24, at 11:00 am, at Prince of Seafood Restaurant, 240 Alton Towers Circle at McCowan, south of Steeles, Scarborough.
Please click here to reply before December 22, if attending.