"1974年9月,我們一起入華仁讀中一。轉眼40年,2014年9月13日,我們又再次在華仁相聚! 今天出席的同學有91人,連老師, 神父, 家眷共160多人! 當中更有18位老師, 同學,遠道由世界不同地方飛回來參加是次聚會,真令人感動。現將當日下午足球友誼賽,校園導賞及晚宴熱鬧盛況,與各位未能出席同學分享,這是小弟一點心意。
施鈞安"
[讀點擊圖片觀看慶祝盛況; 何永國回港參加聚會]
Click on picture to enlarge image...
 


You are invited to the Chinese Calligraphy Exhibition where Andrew Tang (65), secretary of WYKAAO, has some of his works on display. His wife, Catherine, shows 2 pieces of cross-stitch embroidery of Chinese calligraphy.  Please click the image for details and photos.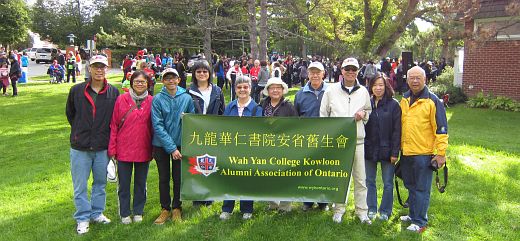 2014 Terry Fox Run was held on Sunday, September 14th. WYKAAO once again participated the event and has raised over $5,300 for a worthy cause. Thank you to all donors and supporters! Please click here to see more pictures.
WYK has started a new house system with 4 houses named after famous Jesuits.  They are respectively (1) Loyola (red) House;  (2) Xavier (white) House;  (3) Faber (blue) House;  (4) Ricci (green) House.   The first house meetings will be held on 15 September 2014.
Father Mallin turned 101 years old on September 13, 2014.
Every year, Wong Hin-shing sends a birthday card to Father Mallin on behalf of Class of 61.
The hand-written reply from Father Mallin himself is amazing.
WYKAAO will once again participate in the Terry Fox Run this year (Sunday, Sept 14). The run site chosen is our favourite Markham-Unionville location, a major part of the route inside the Toogood Pond Park with breath-taking scenery (1km-route map, 5/10km-route map).

For a number of years, we have been proudly supporting The Terry Fox Foundation in its ongoing work to fund innovative and progressive cancer research programs. Please support our team by joining, or making a donation. Your kindness will impact the lives of so many people living with cancer.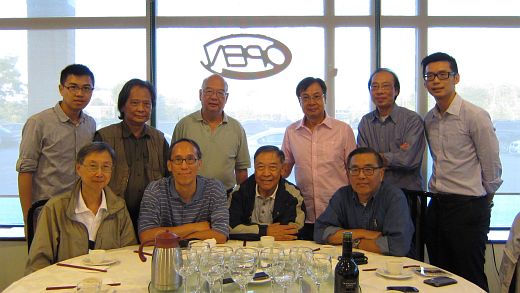 Former directors Simon Cheng ('95, standing 1st from left) and Peter Au ('66, standing 3rd from right) paid us a visit during their short stay in Toronto and joined the dinner after the September 2014 Board Meeting. Click here to see more pictures.
Report from Edwin Law (HKWY75) after visiting Father Farren with Poon Sek Kwong:
"Fr Farren is staying in a nursing home specially built for Jesuits in a Jesuit community in Dublin about 20 minutes south of the city center (Trinity College).  We took a taxi which only costs about 12 euros for 4 people.  Taxi in Ireland charges 1 euro per extra head.
Hilary and his wife, Joan, of Chicago are in town to attend a wedding this weekend.  A welcome dinner was held on Friday, September 05, in Richmond Hill.  At dinner were Bill/Mariana Fok, Tony/Shirley Chiu, Victor Tong and Mr. Anthony Ho.
Hilary met Mr. Ho for the first time since school days.  He together with Victor and Tony worked in the catering service in Chicago in the summer during their undergraduate years.
Please click the image to view the album.