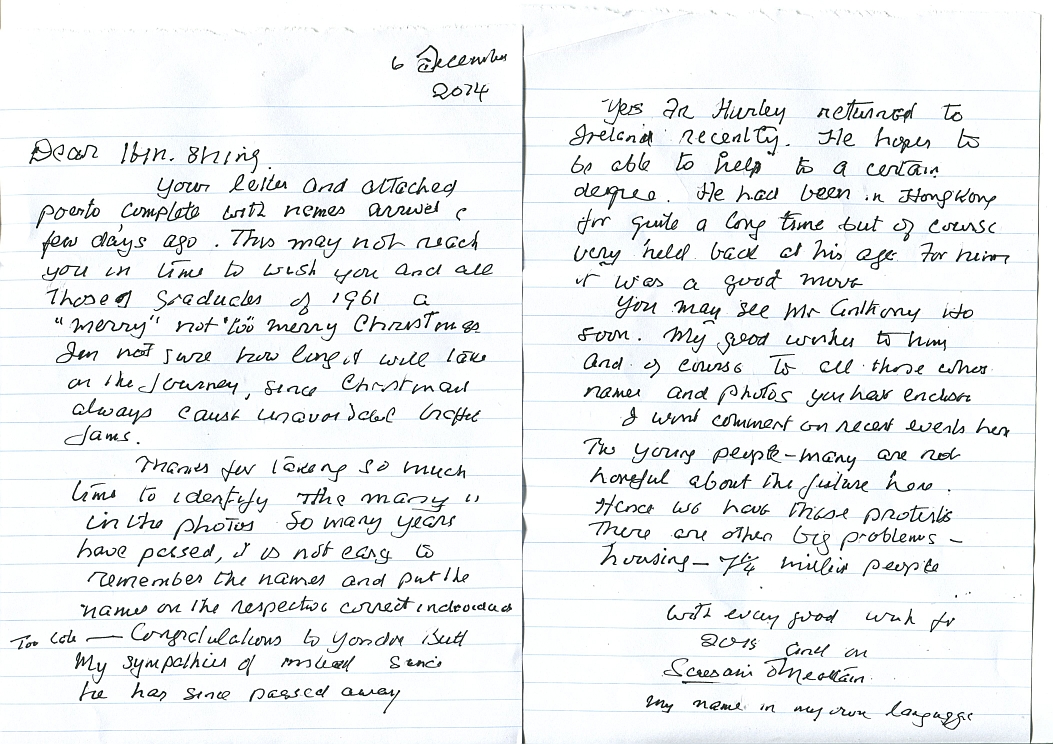 Here is the transcript by Wong Hin-shing and Yu Fong-ying:
                                                                                                6 December, 2014 
Dear Hin-Shing: 
Your letter and attached photos complete with names arrived a few days ago. 
Former Director, Simon Cheng (1995), delivered WYKAAO report on Day 1.
Please click the images to view photos from IC2014 FB.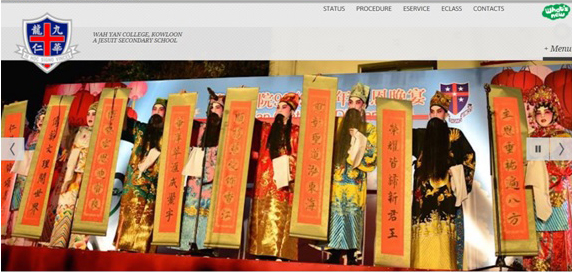 Terence Leung (71), the Honorary Auditor of WYKPSA, reports that there are 80 tables.  The most senior Class Table is Class 1968.
More photos have been added to the album.
Our 50th anniversary reunion event started on 9th November and ended on 15th November. Thanks to those classmates in Hong Kong, notably Jeffrey Cheung and Ernest Ng, for organising such a memorable event that all of us could enjoy every minute of it. Thanks also to Ambrose Lau for hosting the gala dinner on the last day of reunion; excellent choice of food and a fantastic venue. All of us will remember this reunion for many years to come. The entire reunion activities have been recorded into two videos.
To watch the Reunion HK activity video click here
To watch the Reunion China Tour video click here
The dinner was successfully held at WYK on Saturday, Dec. 6.  Please click the image to view the first pictures from WYK FaceBook and those sent in by Wahyanites.
泱泱我校華仁風  Those Wah Yan Days and Ways, Generous and Broad
[Please click here to read the document]
祝母校長青  May the alma mater be evergreen,
師健學弟勤  The teachers in good health and the students diligent in spirit.
煌煌教育業  Glorious is the educational enterprise.
薪火代代傳   May the torch be passed on from generation to generation.
                                                         -----天涯共此時-----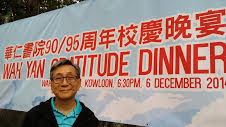 Campus Visit and Ping Pong Rally after Reunion Dinner (in HK) Nov 2014.....(READ MORE.....)
Click the image above to see the details.
We are organizing our next Karaoke Night which will be on Thursday December 18 at our favourite venue PolyArt Studio (470 Denison Street, Markham). Please click here to register. Let's have a fun-filled holiday get-together!