Details

Created:

24 April 2016
Two student ambassadors from Wah Yan Colleges will be visiting Ontario in the week of Aug 7-14. A full-week of program has been designed for them during their stay in Toronto and surrounding areas. One of those is Welcome Dinner on Monday Aug 8. Our student guests will give a presentation, bringing the latest info on our mother school, among other topics. If you are interested in joining the event, please click here to register.
Date: August 8 (Mon)
Time: 7 pm
Cost: $40 per person (student members $20)
Venue: Emperor Fine Chinese Cuisine 君臨天下
9019 Bayview Ave, Richmond Hill, ON L4B 1Y3
Details

Created:

17 July 2016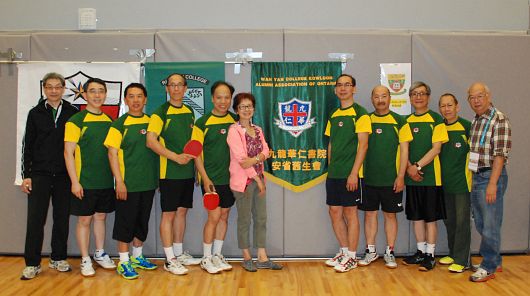 Hong Kong Inter-School Alumni Associations (HKISAA) held its 2016 table tennis tournament on Saturday, July 16 at Markham Pan Am Centre. WYKAAO sent two teams to participate. Congratulations to Team A who captured the second place of the tournament out of 16 teams. Click here to see more pictures.
Details

Created:

07 June 2016
Hong Kong Inter School Alumni Associations (HKISAA) is holding its annual table tennis tournament at Markham Pan Am Centre on Saturday July 16. WYKAAO is sending two teams to participate in the event. We are Champion of the tournament last year. Come and show your support!
Details

Created:

12 July 2016
Peter Chow 周志榮 (2 March 1945 - 10 Jul 2016) passed away in Queen Elizabeth Hospital, Hong Kong. May he rest in peace.
On Saturday, July 2nd, he was trying to clear a drain on the outside wall of his building where he lived on the 1st floor. The 12-foot wooden ladder snapped and he fell on his head. The emergency 5-hour long brain surgery was of no avail. He remained in a coma and was attended by his wife, Barbara and the whole family until he passed away peacefully on Sunday, July 10.
Deepest condolences to Barbara and the family.
Click here to view an album of his Wah Yan days.
Details

Created:

11 July 2016
With no one correctly predicating Portugal as the Champion, the standing of all contestants remain the same and here is the final result: 3rd place – Wilson So (14 points), 2nd place – Bill Ip (15 points) and the winner is Mr. Anthony Ho (16 points). See the rules and prizes here. Thank you to all those alumni who had entered the contest, making it a fun and interesting game for all of us.
Details

Created:

08 July 2016
While holidaying in Hawaii with family in January, Augustine Lam fell sick. He returned home and was admitted to hospital.
Augustine Lam passed away peacefully on June 27.
Augustine was a devout Catholic. His visit with his family to Fr Farren in Ireland in 2014 was a homage we all admire.
Our deepest condolences to Mimi and his family. May he rest in peace.
Details

Created:

29 June 2016
With the completion of semi-finals, here is the latest result of our fun contest: Mr. Ho is leading with 16 points, followed by Bill Ip and Wilson So (15 and 14 points respectively). We will have the final result this Sunday.
---
We are done with the quater-final. The results are still very close, led by Mr. Ho, Bill Fok and Steve Fung (12 points each) followed by Bill Ip (11 points).
---
Round of 16 has completed. The top contestants got 6 teams correct out of 8. Each of the following is having 6 points now leading the contest: Mr. Anthony Ho, Peter Lee, Bill Fok, Steve Fung and Andrew Tang. If you haven't submitted the next round of picks, do so by June 30 (note: submit your predications for quarter finals, semi finals and the champion team all at once).
Details

Created:

04 July 2016
WYKAAO held a private showing of the movie 《哪一天我們會飛》 at Mon Sheong Richmond Hill on Sunday June 26, 2016. About 30 alumni and family members attended the event, some of whom also joined an optional lunch before the screening. The movie was co-written and co-produced by 陳心遙(Saville Chan), a WYK alumnus. A number of scenes were shot at the WYK campus.
Details

Created:

17 June 2016
Rules
At Round of 16, select 8 advancing teams before June 25, get 1 point for each team picked correctly.

Quarter-finals starts on June 30,
select 4 teams for semi-finals, get 2 points for each team picked correctly;
select 2 teams for the final, get 4 points for each team picked correctly;
select the championship team, get 8 points if picked correctly.
The top three contestants with the highest points will get a free ticket to our AGM Annual Dinner on Oct 15th. The overall winner of the contest (highest points) starting at Round 16 will get an additional prize.
Details

Created:

07 June 2016
好好過日子
私人角落-苦楝樹
盧劍雄五十年前在母校校園種了一棵苦楝樹。人的年華老去,當年的小樹苗卻已長成參天大樹,不但見證了盧劍雄生命中的起起落落,亦把祝福延續給後人。Please click here to view.