From Don Yau (65), "I have some photos taken in L.A. during my visit (May/2015).

Thanks a lot to you (CK Chan) and Marion for hosting the excellent home-made dinner at your house.

Special tribute must be paid to Luke Yau and his wife (Lucia) who managed to drive all the way from San Diego to meet us at CK's house. Professor James Tong also turned up as well.  From the photos, you would be amazed at how great these Southern Californians maintain their forever-young looks.

We even corralled another younger WYK alumni (of later years) to join our dinner that night. The photos will be another warm up to the WYK65 Golden Reunion event in HK."
(Aug 14) Over 80 alumni, family and guests attended a dinner gathering to celebrate Mr. Anthony Ho's 80th birthday. Alumni from various class years shared their views about Mr. Ho who is the key person for keeping the alumni association together and move ahead. Mr. Ho recounted his fond memories at Wah Yan and mentioned a number of his past students around his daily life after moving to Toronto. Click here to see the pictures and click here to see a video prepared by Dominic Chan ('64). See how we are doing in the lotto game presented by Mr. Ho during the dinner.
"To All Wah Yan Chapters,
Many thanks for your hard work and dedications, without which we could not have made it at the Concert. Now all the press coverage and videos had been uploaded to our website: http://www.wahyanonefamily.org/2014-and-beyond.html. Please feel free to share this info with your schoolmates, friends and family members. Again our heartfelt thank-you for your support. 
Best wishes,
Monty Fong. "
[(WYK, 1983), Chief Executive of Wah Yan One Family Foundation]
On a beautiful Sunday (Aug 9), WYKAAO held its annual BBQ/picnic on the Roof Top Garden at Mon Sheong Court Richmond Hill. Over 100 alumni, family and friends attended the event enjoying sumptuous food prepared by the organizing committee. The Championship trophy from the recent inter-school table tennis tournament was presented by the captain, Mike Yam (74), to the alumni association. Those who are interested in the new private care facility were also given a tour in the building. Click here to see the pictures.
(August 6) While attending a conference in Toronto, Fr. Stephen Chow, Supervisor of both Wah Yans in Hong Kong, and Dr. Matthew Chu (WYK '89 朱可達, Educational Psychologist of the two Wah Yans) had a dinner gathering with the two Wah Yan alumni associations in Ontario, sharing news about Wah Yan and some key points about Jesuit education. Click here to see the pictures.
Announcing the birth of Adrian,  the new born baby of our past president Kelvin Chan ('94) and Mrs. Florence.  Our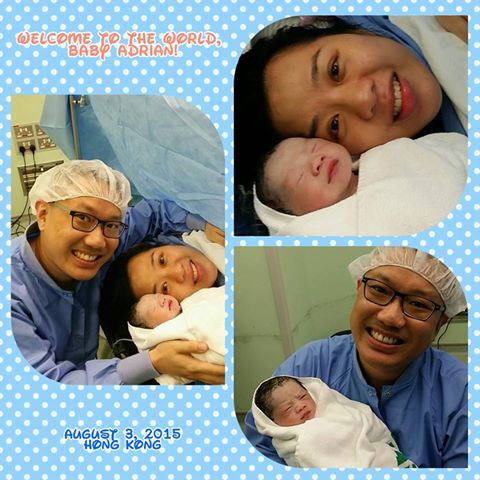 heartiest congratulations!
" This is a beautiful time in my life that I never forgot. All worries gone when you arrive!
Welcome our lovely little Adrian on 3rd of August 2015 with joy and blessing! Daddy, mommy and Abby love you"