Class 1960
Articles and News of Class 1960
---
Details

Created:

21 February 2011
It's not something you see everyday but our Class of 1960 did it. They had their 50th Anniversary Reunion in November 2010 in Hong Kong. See the pictures taken in the campus and at a banquet. The two-part video (Part I, Part II) contains a lot of footage of our school, which will certain recall a lot of memories of your days in Wah Yan.
Details

Created:

20 January 2011
Class of 1960 in Toronto met regularly all these years.  They met early this year to celebrate the New Year.  The gathering was organized to welcome Dr. Tommy and Diana Tam when they came to Toronto to spend their Christmas and New Year holidays with their children.
Details

Created:

15 November 2010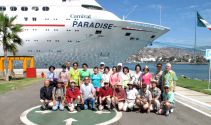 Click here to see the pictures taken during the Reunion of Class 3D ('57-58') in August 2010, plus Sonny Sie performing 'My Way' (as Frank Sinatra) on the cruise (video here).
Details

Created:

04 October 2010
Twenty members from WYKAAO/WYCHKOAA and guests attended a lunch with the Honourable Philip Lee (WYK60) at a Richmond Hill restaurant on October 4th. While enjoying a delicious dim-sum lunch, Philip looked back at his days in Wah Yan College, telling a few stories with his usual humorous notes. He also gave a glimpse of life in the first year as the Lieutenant Governor of Manitoba. Pictures of the inauguration ceremony and the recent visit of the Queen were shared among the two tables of guests. Please click here to see the photos taken in the lunch event.
Details

Created:

07 July 2010
"I have had a few moments of excitement last week hosting the tour of Her Majesty in Manitoba. Attached please find a few photo shots when I received E II R at our new airport which was still under construction
until September this year. My house was surrounded by securities during her stay at my residence. I did not comment on the English Soccer team in the World Cup when having a conversation with her. I was pleasantly surprised that when she made her speech which was 50% French; her French was very impressively accurate.  She must have the genes of her great great great grandfather, Richard, the Lion Heart who was purportedly known to speak primarily French and very little English.
Details

Created:

16 March 2010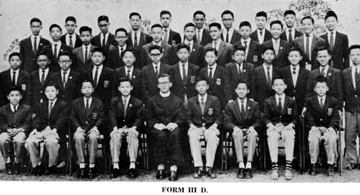 The Form 3D in 1957-58 residing in Toronto met regularly all these years. Earlier this month, they invited Mr Ho to one of their regular dinner gatherings. They talkied about going on a cruise in August this year and if time permits they may go to attend IC2010 in LA.
Details

Created:

26 October 2009
Members from Class' 60 are planning a 50th-anniversary reunion in Hong Kong in November 2010. Please visit the following site http://sites.google.com/site/wyk1960/ for more information or e-mail This email address is being protected from spambots. You need JavaScript enabled to view it. for further enquiry.