Class 1967

Articles and News of Class 1967 (Please also visit the Class of '67 Facebook)
---
Details

Created:

17 January 2013
The 45th anniversary Reunion Photo Album has been updated with over 100 new pictures.  Please note the "D/M/Y" printed on the photographs the year should be "2012" instead of "2011."  A few short video footages are also added (1), (2), (3), (4) & (5).
Details

Created:

02 January 2013
各位同學:
我們的畢業後四十五周年再相聚聯歡活動,經己完滿結束。多謝陳岡校長與姜副校長的安排,使我們的〝校園聚舊〞環節得以順利進行。更要多謝各位出席的同學與退休老師:有從海外歸來的,有攜眷的,有出錢的,有出力的。因有你們的參與,使各項活動變得更多釆多姿,帶給我們更多美好的回憶。
再附上尹冠英同學 "養生與保健" ; "回春內壯功";  "百歲老人曹文錫 自我推拿健身術"; "頭面按摩保健法" 的講義與檔案。
希望各位同學保持聯繫,祝大家身心健康,五年後,我們五十周年相聚聯歡再見。
Details

Created:

12 December 2012
The 45th Anniversary Reunion of the Class of 1967 was successfully held from 30th November to 7 December 2012 in Hong Kong. The reunion picture album can be found here.
Details

Created:

07 November 2012
Tim Kwan (WYK '67), Chairman and President of Mon Sheong Foundation, is one of the recipients of the Queen Elizabeth II Diamond Jubilee Medals (front row, seated in the middle). This year marks the 60th anniversary of Queen Elizabeth II's accession to the Throne as Queen of Canada. The Queen Elizabeth II Diamond Jubilee Medal is a tangible way for Canada to honour Her Majesty for her service to this country. It also serves to honour significant contributions and achievements by Canadians.
Details

Created:

30 October 2012
Dear WYK classmates,
I enclose for your information an updated itinerary for our 45th Year Reunion.
Please return your reply slip to Simon Mak's secretary, Ms Jenny NG Email address:
This email address is being protected from spambots. You need JavaScript enabled to view it.
.
We need to know the number of participants for booking purpose of the different events.
Thank you for your co-operation and prompt response.
With regards,
Sonny Poon
潘志才
Details

Created:

11 July 2012
Cheng Wing-Ching (3rd left) is visiting his daughter's family in Toronto and will be staying in town until August.  More photos can be found here.
Details

Created:

25 June 2012
A dinner was held for the visiting Tang Tong-Bor (Mr & Mrs Tang - standing 1st & 2nd left) and family.  He has retired from his post and arrived in Canada as a landed immigrant.
Details

Created:

11 June 2012
A dinner was held in honour of John Loo (sitting left) who is touring North America and specifically attending the anniversary of the Seattle Chinese Information and Service Center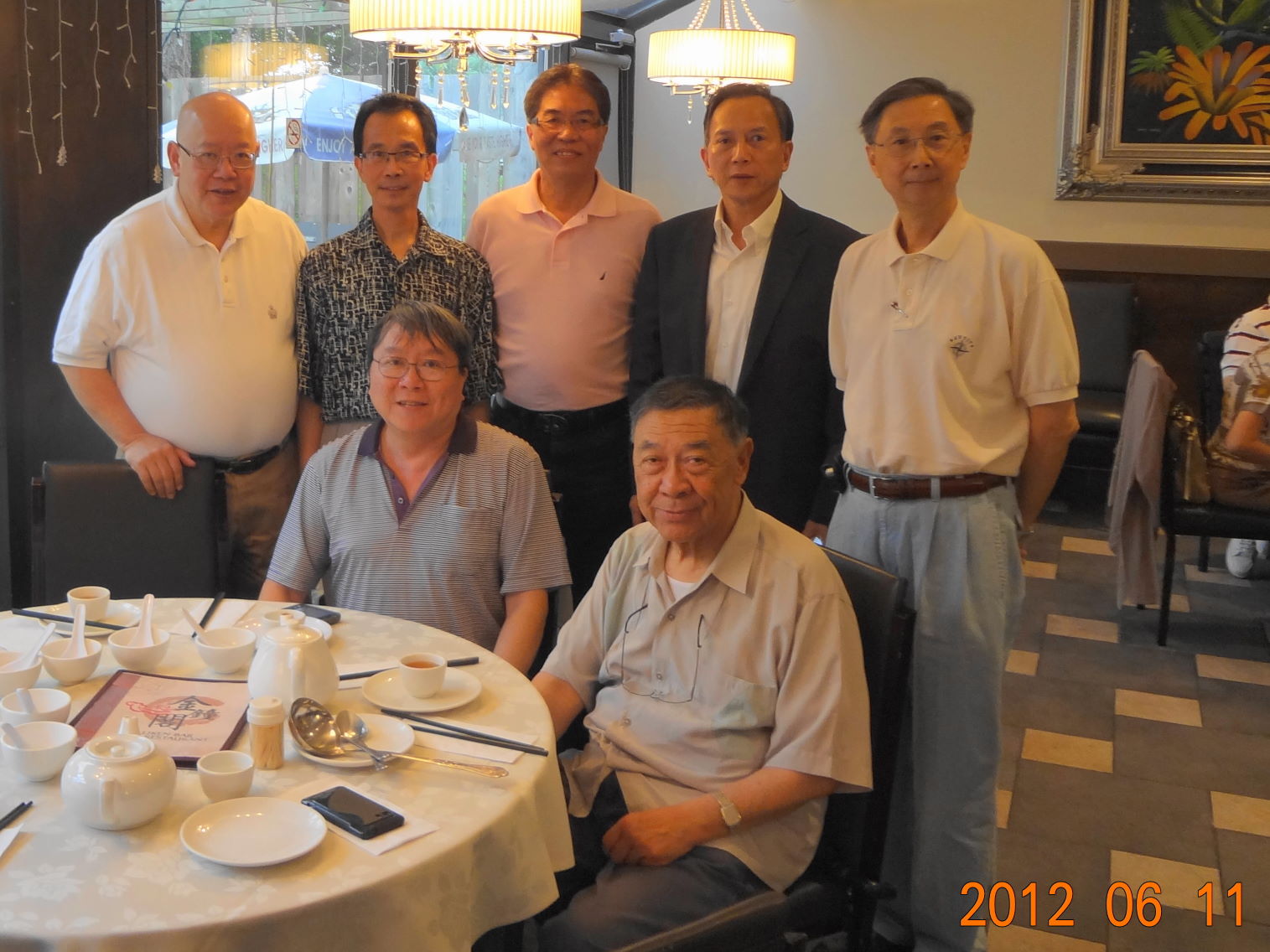 which he founded 40 years ago as a student.  More pictures of John Loo in Toronto can be founder here.
Details

Created:

25 May 2012
    Joseph Chan, Larry Yip, Henry Yung and the visiting Joseph Wong (1st left) at lunch in Vancouver.
Details

Created:

31 March 2012
An Interview with Eddie H. K. Wong
Eddie H. K. Wong (1961 to 1968) was active in track and field, football and other sports at WYK.  He was recently interviewed by Tim Kwan (1961 to 1969) on his track and field experience at WYK.
1.  Eddie, which were your events at track and field?
I mostly ran 100, 200 meters and 4 x 100 relay, but also did triple jump at our school's track meet because we were required to have both track and field in the three events we participated.  I guess it was meant to encourage us to try both.
.....read the whole story here.