Details

Created:

23 September 2016
From Fr. Stephen Chow,
"I would like to take this opportunity to affirm the good project at Tin Shui Wai (TSW). As a Jesuit and the School Supervisor, I am proud of Daniel Mak and his team to offer their selfless services to the students at TSW, who do not enjoy as much support and attention as our Wahyanites here. And I am delighted to see that their efforts are being affirmed by the increasing requests for their services. They are, indeed, realizing their vocation as Men for and with Others. But the increasing need is calling for more generous alumni to help out.
Details

Created:

18 September 2016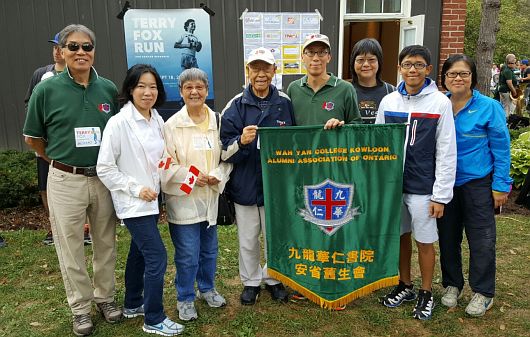 (September 18) 2016 Terry Fox Run was again held on a weather-perfect Sunday morning. Team WYKAAO participated in the favourite run site of Markham-Unionville and had raised over $4,300 for the worthy cause, thanks to all our generous donors and supporters. Click here to see more pictures.
Details

Created:

17 September 2016
Homecoming Concert 2016 will be held to gather generations of Wahyanites and to share the joy of music together with the theme 'Gratitude'. If you happen to be in HK during this time, you can consider attending this event.
Date: 8 October, 2016 (Saturday)
Time: 1900
Venue: WYK School Hall
To reserve tickets or would like to sponsor the concert, please click here.
Details

Created:

12 September 2016
Building on the success of the friendly soccer match in August, we have organized a re-match with the Chinese University Alumni on Sunday September 25th. Please come out and cheer for our team!
Date: Sunday September 25, 2016
Time: 3pm to 5pm
Place: Calvert Park Markham @ Warden & 16th
We are always looking for players. If you would like to join our team and have fun, please click here and let us know.
Details

Created:

07 September 2016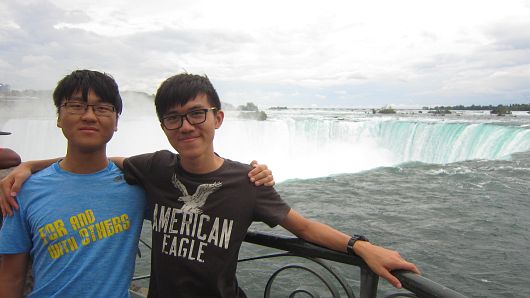 Frank Wong and Jerry Guo, the two Wah Yan student ambassadors, joined the WYKAAO outing to St. Jacobs with other alumni members on Saturday August 13, followed by a tour to Niagara Falls. Click the following to see more pictures (Day 7, Niagara Falls).
Details

Created:

05 September 2016
Paulus Ng from WYCHKOAA took Frank and Jerry for a tour of the Nation's capital and surrounding areas. Click the following to see more pictures (Day 4, Day 5, Day 6).
Details

Created:

04 September 2016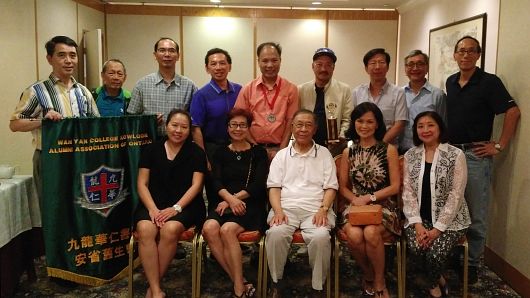 David Ho ('70) hosted a celebration dinner on July 26 for our table tennis team following the HKISAA tournament 2016.
Details

Created:

02 September 2016
A number of joint-school friends, including Wilfred Wei and Jeff Mah from WYKAAO, attended the annual La Salle College Old Boys' picnic at Thomson Memorial Park on Sunday August 28. Click here to see more pictures.
Details

Created:

01 September 2016

WYKAAO will once again participate in the Terry Fox Run this year (Sunday, Sept 18). The run site chosen is our favourite Markham-Unionville location, a major part of the route inside the Toogood Pond Park with breath-taking scenery (1km-route map, 5/10km-route map).

For a number of years, we have been proudly supporting The Terry Fox Foundation in its ongoing work to fund innovative and progressive cancer research programs. Please support our team by joining, or making a donation. Your kindness will impact the lives of so many people living with cancer.