Details

Created:

27 May 2017
Fr. Naylor has been in Kwong Wah Hospital since Monday, May 22. Here is the update.
Details

Created:

16 May 2017
Dear Classmates,
Half a century ago…
We all graduated from Wah Yan College, Kowloon in 1967 as teenagers. Since then, we had gone on our separate ways to trek our own paths in life. Some of us had remained in Hong Kong while some of us had ventured overseas. Riding the waves of the Baby Boomers, we had moved from black & white to colour television, from toasters to microwave ovens, from typewriters to computers and from land lines to cellular phones. We had sought higher education and colourful careers while as the world turned, some of us had become fathers and even grandfathers. One thing for sure, whether you like it or not, we had all reached retirement age and become Senior Citizens.
It is time for us to get together again!
Details

Created:

13 May 2017
謹以此詩篇獻給所有慈母,祝母親節快樂! [ 陳瑞文 (71) ]
Details

Created:

12 May 2017
To read the details, please click the images supplied by Joseph Chu (71).
Details

Created:

12 May 2017
Click here to see more. Pictures provided by Dermot Chan ('65).
Details

Created:

07 May 2017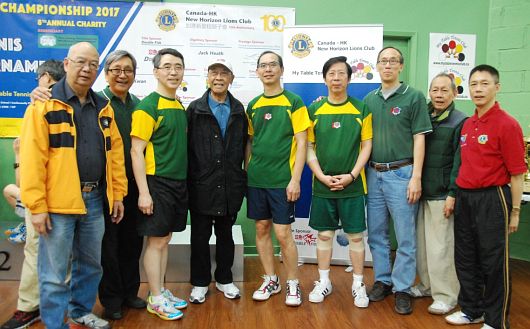 New Horizon Lions Club is holding its 8th Annual Charity Tournament in May 2017. We sent a team to participate in the 'Community' category and came second (out of 12 teams) in the final that was held on Sunday May 7. Well done Team WYKAAO! Click here to see more pictures taken in the tournament.
Details

Created:

17 April 2017
New Horizon Lions Club is organizing its 8th Annual Charity Table Tennis Tournament in May 2017. While there is no 'Alumni Cup' to compete this year, WYKAAO will be participating in the Community Team category. Please come and show your support for our Team!
Date: May 7, 2017 (Sunday)
Time: 2pm to 8pm
Location: My Table Tennis Club
80E Centurian Drive, Unit 6-9, Markham
Details

Created:

28 April 2017
Click the image for more information.
RSVP by emailing This email address is being protected from spambots. You need JavaScript enabled to view it. or calling 416-946-8978 during the Library's opening hours.
Details

Created:

27 April 2017
Congratulations to John Wong, Professor and Director of Division of Medical Physics in the Department of Radiation Oncology and Molecular Radiation Sciences at Johns Hopkins University School of Medicine. He is receiving the Life Time Achievement Award by the American Association of Physicists in Medicine at the annual meeting at Denver this summer.
He left WYK in summer, 1967 and continued his studies in Toronto. He obtained his PH.D. in Medical Biophysics in 1982.
His main interest at WYK was soccer, missing out his Class Photos twice in his four years at school. Click here to see his years at WYK.
"Funny, I can talk equally fondly about my soccer life as my professional life." he said.