Details

Created:

02 June 2014
CCCC  Day 2, June 1, 2014.
I had a very good sleep at Best Western Motel in Valemount last night. Went to the lobby and got 2 complimentary coffees first thing in the morning. I took off at 7:15 am.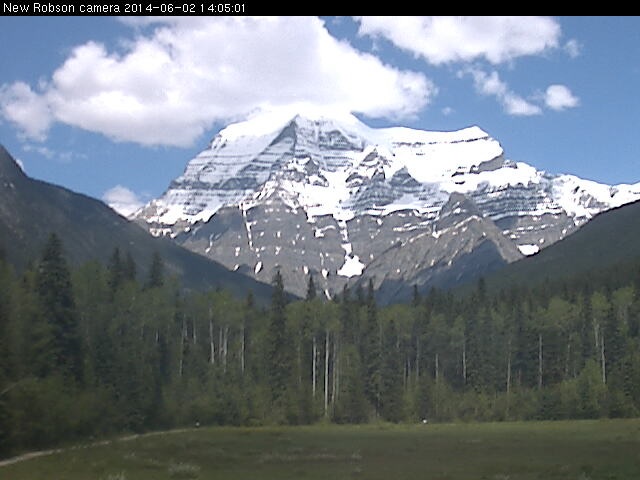 I left early because the weather forecast said that it will rain more later in the day. It was beautiful crossing the Rocky Mountain through Mt. Robson to Jasper. It has snow capped mountains on two sides as I travel east through the valley. Many of the mountains have multiple small glaciers. It never ceases to amaze me to see water on high mountains, such as lakes at 1,150 m elevation.Some lakes are so calm that I can see perfect reflections of mountains and trees inverted images. Some lakes are so buffeted by wind that it has some small white caps.
I forgot to mention that yesterday, in many occasions, I was traveling along the North Thompson River. That totally brought back memories of our 2 river canoeing trips down the Red Deer River with some WYK65ers during the past few years. There are sections of shallow rocky/pebbly runs, some wide and calm flow, some fast moving waters. Many white water rafting outfits operate there.
Thank goodness that I have heated handle bars on my bike. On the way to Jasper, there was a stretch of rainfall and 7C temperature for about 1 hour. With the wind and rain, it was pretty cold, not to mention about the vision. Thank goodness, even though this is a weekend Sunday, there were few cars. Mostly are the trucks and RVs on the road, with lots of spacing between them.
It was also fascinating to see so many freight trains going back and forth. I suppose we still depend a lot on trains for freight transportation. Canada is so wide and distant for so small a population.
Well, I also started early in the morning with the expectations of seeing lots of wild life. I was disappointed that I only saw one black bear, one adolescent Bambi, two does, and a family of big horn sheep. Lots of birds flying around though.
I stopped at Hinton for lunch. I was surprised to see a lot of First Nation people.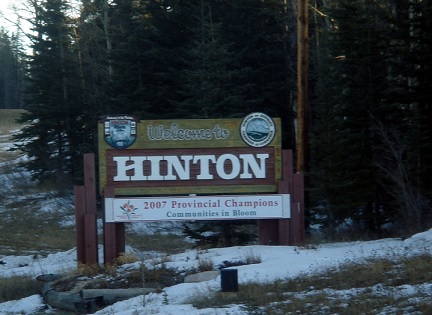 From Hinton to Edmonton was mostly level open highways. I was doing 120 kph most times, except when it rained again for almost 30 minutes.
The generosity of VincentPC and Linda Lee was great. I arrived at their house at about 4 pm. Immediately they let me shower and unpack to settle. Then a couple of whisky drinks later, I have forgotten about my back and neck.
Then their family members and spouses gradually arrived by the time VPC almost finished BBQ. Linda made 粽子 for 端午節. There were 3 generations for dinner.
The rain came when VPC finished BBQ. We have been lucky. Yes, we appreciate the luck that we have.
It is a short and fast ride today from Valemount to Edmonton for about 500 Km. I get to stay at VPC for 2 nights, so that I will have 1 full day to recuperate. After that will
be 2 more days of riding.
I really feel like at home at VPC. He & Linda had been hosting me for 10 months when I went through the Medical Acupuncture course at University of Alberta in 2009-2010. I even know where the wine and whisky bottles are stashed. :-)
Another good day to thank for.