Details

Created:

21 June 2014
Cross-Canada coast to coast  Day 21, June 20, 2014.
Arrived in Quebec City.
Thank goodness that the Sun-god responded (not totally, but good enough).
The trip from Fredericton, NB to Quebec, QC, was so much easier when there was no rain. Although it was cool, 15C, and sunny/overcast with lots of gusts of strong wind. I was glad to be able to see the sceneries that I missed eastbound with the drenching rain. It was beautiful.
Quebec City turned out to be so much smaller than I expected. With a population of 500,000, plus tourists, it is not so vibrant. I had no problem speaking English at the touristy places.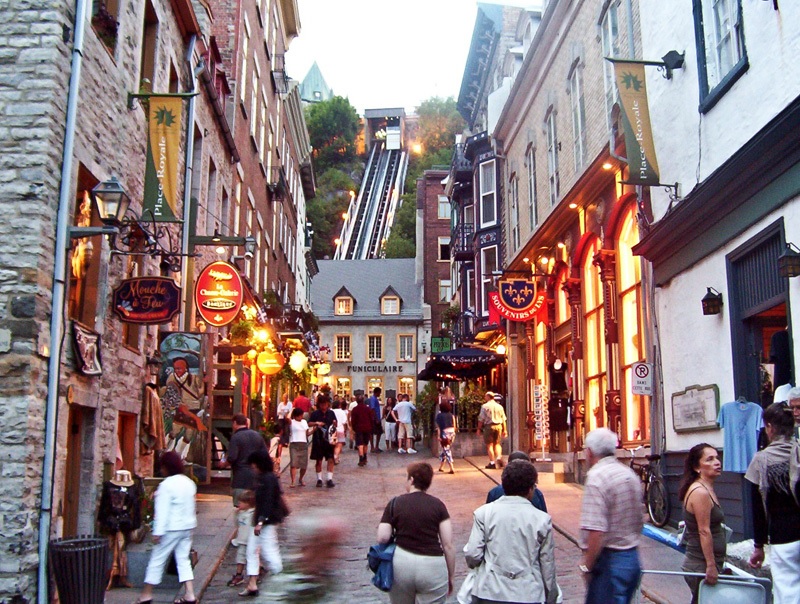 From my motel at the edge of the city to the "Old Quebec City" was only 15 minutes ride. The scenery was great. But I forgot that I gained one hour from Atlantic Maritime time to Eastern Standard Time, that the sun sets here at 8:45pm. I got back to the motel by 8:00 pm, went to the nearby Pizza restaurant and ordered a take out. It must have been a good pizza place, packed, and needing reservations. I bought a bottle of wine from the nearby Metro. This motel has a CAA 4-diamond rated French restaurant, but I didn't see many diners, so I skipped it, saved myself $70 from the menu-price. (e.g. $25 for foie gras, albeit with a 15% discount as the motel guest).
I intend to ride my bike to tour the city tomorrow morning, Saturday, before the tour buses come, and then check out by noon time, and then head to Ottawa and seeking haven in YK Chan's house in Ottawa.
In the 1960s I was so smitten by the French Canadian girls in Montreal that I had to force myself to learn French to date them. The girls always said yes in English. But at that time with the Catholic tradition, I had to get the permissions from their mothers, in French, about my honourable intentions, curfew times, etc. May be Montreal is different than the rest of Quebec, the French Canadian girls here don't look so hot now. They are much more obese than the girls 50 years ago.
From Fredericton, the convoy of about 50 bicyclists, (I counted), started early with their support vans. By 10:30am, I caught up with them dispersed over a distance, but the leaders were 50 Km from the motel already. I got tired just riding my motorcycle for 50 Km. No wonder people chase after the dream of eternal youth. Not me, I got tired just "chasing". :-)
On the westbound trip, I am starting to get homesick, especially that I have fulfilled my third wish, seeing Quebec City. Mission accomplished. May be I won't ride all the way back to Vancouver. Food for thought. Do you know of anybody that may want to buy my bike in Toronto?
I refueled in Quebec City today at an unknown brand station called EKO. I was hesitating, but I needed fuel. Guess what? It was ESSO!!!
It must have been the weather, there were lots of motorcyclists on the highways. At one time, there was a group of about 40 bikers passing me. Just to ease Ho Sir's concern : I laid low, going slow, letting them pass, and offering them the biker's sign of greeting/peace with my left hand. No problem, just have to pretend that I know my pecking order. Cool, dude!
I brought a sleeping bag with me, just in case. It had duct tape repairs on it, and white plastic garbage bag over it, with bungy cords over the back seat. It gives the impression that this biker cannot afford motels, and is not loaded. I never had to worry about petty thefts when I was traveling. Nobody wants to steal a bad sleeping bag! Especially when you refuel at gas stops, and having to go to washrooms, or eating at fast food joints.
C'est manifique.
Bon nuit!
BB