Details

Created:

05 April 2013
The Coming of Wisdom with Time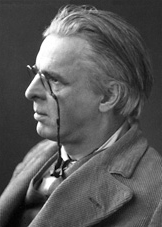 Though leaves are many, the root is one;
Through all the lying days of my youth
I swayed my leaves and flowers in the sun;
Now I may wither into the truth.
智慧與時俱增 
樹葉雖盛源出樹根
青春虛度歷經時光考驗
舞動在陽光與花間葉下
我如今歸回真我之鄉
---
All Things Can Tempt Me 
ALL things can tempt me from this craft of verse:
One time it was a woman's face, or worse --
The seeming needs of my fool-driven land;
Now nothing but comes readier to the hand
Than this accustomed toil. When I was young,
I had not given a penny for a song
Did not the poet Sing it with such airs
That one believed he had a sword upstairs;
Yet would be now, could I but have my wish,
Colder and dumber and deafer than a fish.
萬物自誘我 
多少事物誘我從詩藝分心
一度是伊人的美貌
更壞的是瘋人統治的愛國心
如今我的詩藝比甚麼都更成熟
我年青時未曾珍惜過一首詩歌
除非詩人吟唱得風格高尚
教我相信他心藏寶劍
如今我苟能實現初衷
願我冷若游魚聾啞又安靜
---
Fallen Majesty
Although crowds gathered once if she but showed her face,
And even old men's eyes grew dim, this hand alone,
Like some last courtier at a gypsy camping-place
Babbling of fallen majesty, records what's gone.

The lineaments, a heart that laughter has made sweet,
These, these remain, but I record what's gone. A crowd
Will gather, and not know it walks the very street
Whereon a thing once walked that seemed a burning cloud. 
失落的莊嚴 
她每露面人們即聚集歡呼
連老漢亦引頸瞻仰
我如流浪侍臣在做記錄
嘆息莊嚴已經失落
我心依然充滿甜蜜的歡笑
但逝去的史蹟在案
人群如今不知他們足下
前人的莊嚴如彩雲燃燒
---
He Tells of the Perfect Beauty 
O CLOUD-PALE eyelids, dream-dimmed eyes,
The poets labouring all their days
To build a perfect beauty in rhyme
Are overthrown by a woman's gaze
And by the unlabouring brood of the skies:
And therefore my heart will bow, when dew
Is dropping sleep, until God burn time,
Before the unlabouring stars and you. 
他訴說完美 
啊夢矇的灰暗眼睛
詩人日夜辛勤不息
創作韻律完美的詩
卻比不上美人一瞥
不如優悠自在青天
上帝在夢裡閒息
我衷心接受
你與星星的隨意賞評
---
On Being Asked For a War Poem 
I think it better that in times like these
A poet's mouth be silent, for in truth
We have no gift to set a statesman right;
He has had enough of meddling who can please
A young girl in the indolence of her youth,
Or an old man upon a winter's night. 
應邀賦詩誌戰爭 
此際詩人最宜保持緘默
我們實在缺乏天才
不能改變政客的錯失
他們擅長向任何對象諂媚
像輕易感動天真少女
或者受冬夜冷寞的老人
---
 'Mong Meadows of Sweet Grain 
 'Mong meadows of sweet grain and musing kine
Wanders my little rivulet. I like
Her more than those mad singers who passed by,
And following her shaded shores I'll rest
Where she within the cherry orchard sings
Forever in the bulrush beds about
Herself and to herself, sweet egotist 
在香穀坪裡 
在青葱草坪和靜默牛群中間
緩緩流著我的彎彎小河
我愛她遠比過路的狂熱歌手
在她的綠蔭岸邊我將憩休
聽她於櫻桃園中歌唱
長久依在香蒲床上
細聽她自對自我迷戀
---
The Dew Comes Dropping 
The dew comes dropping
O'er elm and willow
And soft without stopping
As tear on pillow
Yea softly falls
As bugle calls
On hill and dell
Or liquid note
From the straining throat
Of Philomel.
As the dew drops dart
Each one's a thought
From heaven brought
To the evening's heart 
露滴淅瀝 
露珠點點滴落
蓋滿榆樹和楊柳
柔和不息
像淚水潤濕香枕
如号角和鳴
響徹山崗和幽谷
或如流暢的音符
發自冗奮的
菲洛梅爾的咽喉
露珠如飛鏢
如每個人的意識
以天堂的恩賜
安慰黃昏心靈
---
Wherever in the Wastes 
Wherever in the wastes of wrinkling sand
Worn by the fan of ever flaming time
Longing for human converse, we have pitched
A camp for musing in some seldom spot
Of not unkindly nurture, and let loose
To roam and ponder those sad dromedaries
Our dreams, the Master of the pilgrimage
Cries, "Nay-the caravan goes ever on,
The goal lies further than the morning star." 
不管荒漠何處 
不論在荒漠的何處
火焰長時對沙地加熱燃燒
設想荒漠渴望與人交往
我們紮營在最偏僻的地點休憩
冥想單峯駝群為何要流浪
夢裡的朝聖者輕呼
噯,早該想起
駝群漫步金沙
志在越過晨星之家
---
To Some I Have Talked with by the Fire 
While I wrought out these fitful Danaan rhymes,
My heart would brim with dreams about the times
When we bent down above the fading coals
And talked of the dark folk who live in souls
Of passionate men, like bats in the dead trees;
And of the wayward twilight companies
Who sigh with mingled sorrow and content,
Because their blossoming dreams have never bent
Under the fruit of evil and of good:
And of the embattled flaming multitude
Who rise, wing above wing, flame above flame,
And, like a storm, cry the Ineffable Name,
And with the clashing of their sword-blades make
A rapturous music, till the morning break
And the white hush end all but the loud beat
Of their long wings, the flash of their white feet.
給爐邊共話的友人 
當我停息這丹能音響
我心將洋溢往昔之夢
當我們聚首於漸熄的爐火
談論一些熱誠生活者的憂心
像倒掛在樹上的蝙蝠
再談那些沉迷於暮色的落荒者
如何用嘆息表呈他們的得失和悲傷
只因人們不分善惡濫展慾望
愛好擺出戰鬥性的比拼陣容
翼高於翼光覆熾光
以風雷之聲高呼天主之名
劍鋒交擊
掀起震撼心魂的音樂
直至黎明破曉
潔白的心鎮靜四方的舞蹈節拍
留住閃現在純白脚下的恒定安寧
---
The Old Men Admiring Themselves In The Water
I heard the old, old men say,
'Everything alters,
And one by one we drop away.'
They had hands like claws, and their knees
Were twisted like the old thorn-trees
By the waters.
'All that's beautiful drifts away
Like the waters
老叟臨水自憐 
我曾聽垂垂老者訴說
萬事都變化不息如同人之逝世
死神手如利爪膝似荆棘
在水之濱
我聽著垂垂老者訴說
一切美好事物皆要消失
即如流水
---