Details

Created:

25 June 2011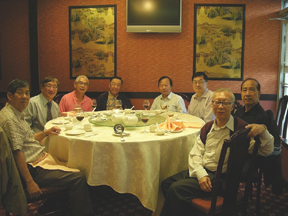 Wong Hin-Shing writes, "The Toronto class of 1961 had their 50th Anniversary reunion on Wednesday, June 22, 2011 at Golden Court Abolone Restaurant, Richmond Hill. We were fortunate to have a room reserved for us through our classmate, Michael Chan.
There were altogether eight of us, including our honored guest Mr. Anthony Ho. Classmates present were: David Chan, Michael Chan, Clement Ching, Stephen Lam, Martin Lee, Bernard Wong and Hin-Shing Wong.
Mr. Ho had prepared a slideshow "In Memory of Fathers, teachers and classmates, R.I.P." with photos and data supplied by Hin-Shing. So the first event in the evening was viewing the photos of our dear Fathers, teachers and classmates who had passed away. We were indeed very moved as we remembered them.
After the serious moment, we began a lighter event, a guessing game of photos of Fathers, teachers and classmates. The photos of classmates were taken in their Primary Six and Form one years. It was quite a hilarious occasion admidst all the "Oo's" and "Ah's". It was really amazing that even though some of the photos were very blurred, most of us could still manage to recognize either ourselves or our classmates.
In between various dishes at the sumptuous dinner, Mr. Ho told us stories about what happened at WYK long time ago and recent happenings about the government proposal of downsizing classes. Other classmates also talked about what had been happening to them. One topic that occupied our mind was the recent discovery of the passing of our beloved Maths/Physics teacher Mr. James Fung Kin-Fung. Clement mentioned that in 1964, he took a nuclear physics course at Kansas University and was surprised to see Mr. Fung entering the classroom. They became classmates!
We ended our very enjoyable dinner with some gift sharing. The gifts were not expensive but it was the sharing that counted.
We all left with fond memories of the dinner and our special thanks to Mr. Ho and Michael and were looking forward to our next reunion."
(Click the image to view the album.)