Class 1965
Articles and News of Class 1965
---
Details

Created:

18 August 2019
《與陳重祥午聚》
日月如梭,訉間,陳重祥遷往長者會所將近一年。昨日興到來電,相約今早在華麗宮午聚。與會者有楊佐行夫婦、陳國強夫婦、何芄芄夫婦、鄧偉燊夫婦。鑒於知會時間短率,馮康泰、賀㷸樑、李榮輝等同學,未暇出席,兹附上照片數楫。
Details

Created:

31 July 2019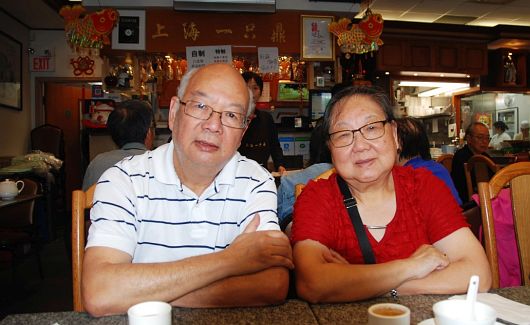 一年一度的溫哥華遊,以探望女兒、女婿、孫子、親家、六五同學與其家人、前儲蓄互助社協會志願助理、及在十七年前,經吳錫基同學在北京介紹認識的朋友;探望親友為首要任務,食為先乃次之。
在逗留溫市期間,曾經嘗試及值得一提,有讚有彈的食肆:金豪的雲吞麵、水餃麵、筋肚麵;喜悅粥麵美食的豬膶肉片粥、油條、炸兩;上海一只鼎的生煎包;隨園的招牌熏煨肉、擔擔麵;魯豫食府的招牌雞燜魚泡餅、蒜蓉粉絲娃娃菜、大拉皮、蕃茄疙瘩湯;油雞洪燒臘菜館的龍崗玫瑰油雞、金沙炒溫哥華蟹、清蒸游水石斑;皇燕的越南蟹羔湯米粉、招牌特別魚蛋湯米粉,可比美香港仔謝記山窿潮州魚蛋;鮮豐鐵鍋料理的豬什粥;黎良記的板筋腩麵,但用料比以前差;誼園茶餐廳的秘製豉油雞、金菇腐皮球、咖哩牛筋腩;粥麵館的薑葱炒頂角溫哥華肉蟹;東海樓的福建炒飯;還有在朋友家烹調的陳皮蒸鮮鮑魚、清蒸游水石斑魚、菜薳油泡石斑球、油泡象拔蚌等海上鮮;還有在Hastings 街之 Enoteca Cotto Pizzeria 的蛤蜊意大利粉、蒜蓉焗麵包、炸魷魚圏、意大利烤餅;Yew街之marine drive golf course 會所的咖啡、烤原條鱒魚、燒烤牛肋骨;Steveston 碼頭之Sockeye City Grill 的圓錐盤盛放的炸魷魚條、冰凍啤酒,能夠坐在路旁,觀看這繁忙的花花世界;Gastown 之 Flying Pig 的炸魚薯條,但她的手撕熏豬肉就不敢恭維了。(註:食物乃純屬個人口味)
這次遊溫,沒有開車之便,馬死落地行,學習乘搭公共交通,以巴士來往高貴林住所至skytrain,穿梭 skytrain 全線系統,暢遊各大商場地標,計有高貴林中心、 Metropolis at Metrotown、 Waterfront、Gastown、McArthurGlen Outlet、香港仔中心、列治文中心、唐人街、以至來回機場。- 鄧偉燊
點擊觀看更多照片。
Details

Created:

30 July 2019
七月十一日,李佩基夫婦,邀請徐志信夫婦、何世傑同學、鄧偉燊夫婦,在其高球會會所,品嚐美味午餐,享用燒烤牛排骨、羊排、燒原條鱒魚美味佳餚,配上地道紅酒,相得益彰。
七月十二日,余尉廷夫婦、徐志信夫婦、何世傑同學,宴請鄧偉燊夫婦,在金福源酒樓晚膳。飯後,更出席尉廷女兒及孫女的夏威夷风情舞蹈表演。
七月十六日,余尉廷與鄧偉燊下午到達何世傑寓所,先來一輪乒乓外交,然後拉隊去粥麵館,與徐志信夫婦同步到達,共進晚餐。
- 鄧偉燊
點擊觀看更多照片。
Details

Created:

30 July 2019
4 WYK'65 having dinner at Gerrard's Corner in London UK. From left to right: Vincent P C Lee 李平章, from Edmonton, Canada, MinKang Cai 蔡敏康, Hong Kong, Lydia Cai, Linda Lee, Margaret Hu, Stella Lee, Frankie Lee 李兆輝, Perth, Australia, Bonbon Hu 何芃芃, Toronto, Canada ~ July 28, 2019.
Details

Created:

29 July 2019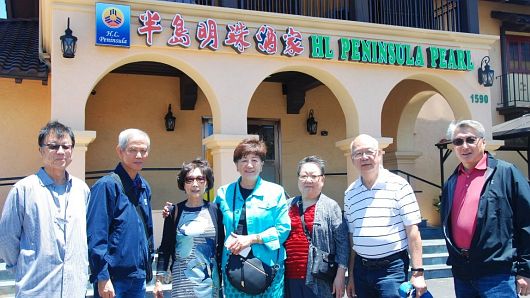 六月二十八日,熊信茂夫婦、徐偉新夫婦、李定詒及李明鼎同學,在三藩市近郊之半島明珠酒家,宴請鄧偉燊夫婦午膳。大埠即係大埠,點心及石斑魚粥味道鮮甜,與多倫多美味不能同日而語。~鄧偉燊
點擊觀看更多照片。
Details

Created:

12 May 2019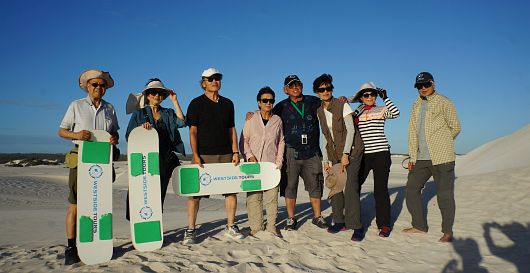 Click the following to see more pictures (Album-1, Album-2).
"It's a memorable, enjoyable and fun gathering under Frank's and Stella's planning and coordination. Frank was playing multiple roles as a planner, tour guide, chauffer and leader. Some of you may not already know that he is a singer too.
Details

Created:

30 April 2019
(Picture above) Standing L to R, Norman So, Lam Kam Poe, Matthew Tam, John Shek, KC Lee, Albert Lee, Lau Tze Man, Regis Lo, Leslie Chang, Helena Chang, Lydia Choi, Joe Pang
Sitting L to R, Francis Choi, Adrian Leung, Petrus Wai, Henry Zee, Stephen Chan, Rowena Chan, Carrie Choy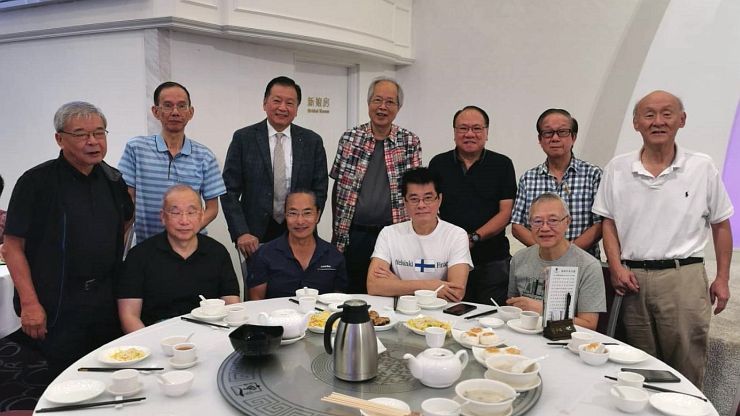 Details

Created:

12 April 2019
Blessed indeed, Frankie's mom looks about 80, wouldn't you agree (see photos)!
Very alert, active, hearing and sight probably better than mine......
captions: photos from L to R & T to B
1-3: as we were introduced to Frankie's mom - she's so happy to meet us....
4: Alex Lau Ying-Yuan, whom I met last time KC and I visited Frankie some 12-15 years ago;
5: Someone handed me a bottle of beer....; I found a good way to use it.....;
6: Frankie's beautiful house, which HE BUILT IT HIMSELF, literally, had recent additions to it on second floor; very nice job! 9: Our tour bus parked on the driveway.
(When I said "I built my house....", I hired a contractor. Frankie didn't, just got some help, handled everything himself, amazing talents!);
7: Our driver and tour guide.....; kept us entertained... Thanks Frankie, nice job. Lucky us! Felt very safe and comfortable with this driver, who is used to driving heavy-duty fire trucks.... "Piece of cake!" he says.
8. BBQed huge lobster-halves...., yummy! (technically crayfish, no claws.)