Welcome to our Special 1964 Web Section

This section contains articles submitted by classmates of 1964
- We love to share your latest news -
---
---
Details

Created:

23 March 2019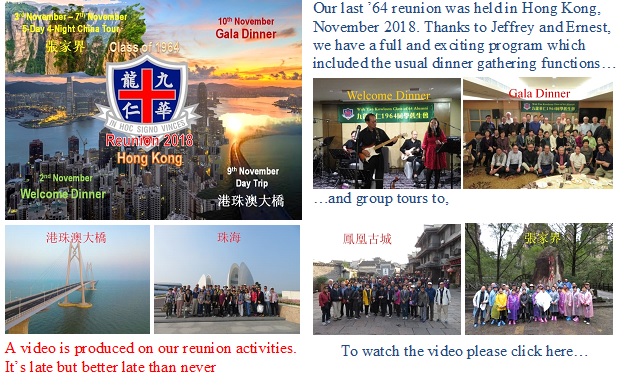 To watch Welcome dinner show,
click http://video.wykontario.org/?p=1884
To watch Reunion activities,
Details

Created:

19 November 2018
Welcome dinner is always the first event of our reunion program. It's no exception for this year. However, there is a difference this time. For the very first time, Jeffrey and his band Metronauts provide us with a great show. A number of classmates also perform...
The Profesionals
To watch the video Now or Never and 上海灘 by Alex 馮浩棠 click here
Details

Created:

16 November 2018
2018-11-04九華64屆校友,年已古稀,攜眷遊湖南張家界。離開鳳凰古城後,黃昏途經紅石林國家地質公園。嶙峋奇石,原藏海底,今傲向蒼天;夕陽晚照,團友如仙童玉女,精神爽健,更似紅石,沐照霞光,樂度暮年!試題五絕。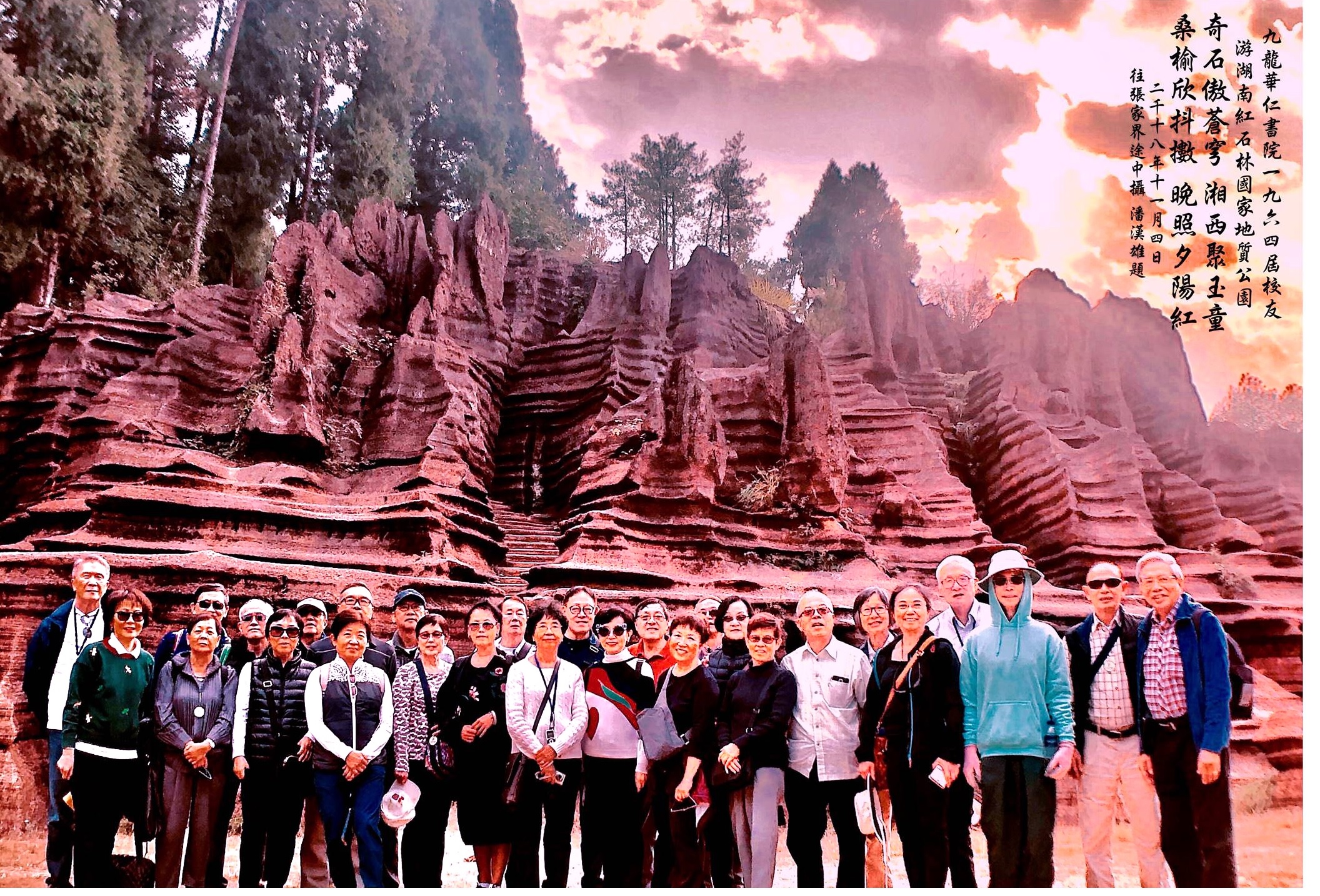 《同窗攜眷遊湖南紅石林地質公園》
奇石傲蒼穹,
湘西聚玉童;
桑榆欣抖擻,
晚照夕陽紅!
蒼穹:蒼天。
傲:指紅石挺拔,堅不可屈。
湘西:指紅石林國家地質公園位於湖南省湘西土家族苗族自治州古丈縣紅石林鎮。
玉童:即仙童少女。晉 王嘉 《拾遺記·燕昭王》:「 西王母與群仙遊員邱之上,聚神蛾以瓊筐盛之,使玉童負筐以游四極。」此指團友精神爽健,未覺老態

桑榆:本指桑樹及榆樹,因日落時光照桑榆樹端,借指日暮,比喻晚年。
抖擻:振作;奮發。 清 龔自珍 《己亥雜詩》之一二五:「我勸天公重抖擻,不拘一格降人材。」
Details

Created:

09 November 2018
2018-11-05雨中探張家界,霧靄瀰漫,視野迷濛,萬籟無聲,嶙峋柱石,高聳獨立;縱目群山,若隱若現,真幻難分;想到世情人生,混沌中偶有澄明,試賦七絕寄意。 ---- 潘漢雄
Details

Created:

28 December 2017
今晚(Dec 28)又係我哋多倫多64班同學 兩個月一次的餐聚. 除了兩位女仕喺香港唔來得, 其他全部都參加.唔信咩! 請睇以下相片,
請估以上好似嗰波碟餸是甚麽東東? 估中亞Bo請你遊船河 (由天星碼頭開出)
Details

Created:

24 December 2017
Gregory 於達
YU, Gregory Tat (D.M.D.)
January 2, 1947 - December 17, 2017
It is with great sadness that we announce the passing of Dr. Gregory Yu on December 17, 2017 at the age of 70. He is survived by his beloved wife Melanie, his son Jeffery, daughter Andrea, son-in-law Graham. Born in Hong Kong, Gregory immigrated to Vancouver in 1966. He graduated from the Faculty of Dentistry at U.B.C. in 1972.
Details

Created:

13 November 2017
Both Joe Pao鮑大雄 & William Ng 吳偉泉 visited Hong Kong at the same time in November and Chairman Eddie Lau treated them with other classmates to a Shanghai restaurant (泰豐屢) on Saturday (Nov. 11). William, Joe, Ming, Cecil, Chairman and Dennis got together with their better halves. They had a rowdy fun time according to Dennis who submitted the photos below.