Class 1965
Articles and News of Class 1965
---
Details

Created:

22 August 2015
適逢何鎮源老師八十大壽,我等六五同學,齊來參與安省同學舊生會主辦的盛會。從遠道而來的,有旅居中國上海的方澄,及美國費城的徐念明同學。念明剛好代表美國隊參與,在多倫多舉辦之泛美殘奧運動會,勇奪兩面乒乓銀牌,其一為單打比賽,落敗於年僅廿三歲的巴西選手,另一為團體賽。其他出席者,有馮康泰、陳重祥、陳國強夫婦、曾守傑夫婦、及鄧偉燊夫婦。李平章同學更從亞省愛明頓,送上鮮花、生日蛋糕祝賀。與此同期,亦有同學在多倫多聚會。茲附上照片數輯,以供參閱。
Details

Created:

21 June 2015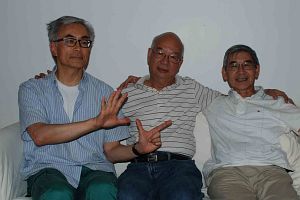 Driving to Montréal is a breeze if you love driving.
Catherine and I took a ride from Toronto on the 12th June, starting at 10 in the morning. We stopped by at the Quinte Mall in Belleville at noon, the right time to enjoy a leisure lunch with barbecue pork and soy cuttle-fish purchased the day before; and a cup of hot coffee from Tim Hortons. We even took a shopping tour around the mall with an extra 20% on top of the 50% discount sale.
Details

Created:

31 March 2015
Dear Classmates,

Based on our various meetings here in Hong Kong, I have compiled a document containing all relevant information for our 50th Reunion. There are links on the first page taking you to the daily itineraries and various major topics within the document. There are still quite a few issues to be resolved as you can see.  In our last planning meeting here in Hong Kong, we agreed that getting a firm handle on numbers for certain events is needed in order to make solid progress from here on.
 
This report seeks your support to make a deposit of roughly 50% for each of the three dinners and the Fujian trip; participation in other activities do not pose logistical problems and therefore do not require good estimates of numbers. The deposit for each dinner is set at HK$200 per head per occasion and that for the Fujian trip is HK$2,500 per head; for the convenience of those overseas, an approximate amount in foreign currencies can be paid locally. To reduce exchange losses, payment can be made to regional coordinators who will then settle with Leslie later on here in Hong Kong; our coordinators are CK 陈中健 for USA,Andrew 邓伟燊 for Canada,Frankie 李绍晖 for Rest of Word,Vincent 梁子正 and Leslie 张叔千 for Hong Kong.  They will contact all known classmates and secure deposits to help finalize events requiring firm estimates.  Regis 罗烈光 has kindly set up a Facebook account to locate members not in contact so far, please help him in this effort. I have done up an Excel spreadsheet containing those known in various regions, including previously published complete class lists so that all can see who are still missing and help to bring them onboard.
 
Norman 苏中平 produced a list of teachers who taught us, are still living and in good health.  Apart from Father Smyth, a maximum of three teachers live overseas.  Joe 彭振声  is managing the teacher sponsorship programme.  For those who are able and willing to make contributions, please contact Joe. We ought to send out invitations to teachers by the end of May at the latest so that travel plans could be made.
 
On behalf of all those involved in planning our reunion here in Hong Kong, I count on your enthusiastic support.
 
Best wishes to you all.
 
Francis 敏康
Details

Created:

04 March 2015
50th Reunion Programme Planning #2 (2015-02-21)
Please click here to read the details from reunion planning #2.
Details

Created:

19 January 2015
Click the following link to read the planning report #2:
Details

Created:

06 December 2014
Dear classmates,

A few of us in Hong Kong had a meeting yesterday to discuss plans for our Reunion and we agreed on the following:
Our Reunion officially starts at 16:00 at WYK on Saturday 2015 10 17;
Full day in Hong Kong on Sunday 2015 10 18;
Full day in Zhuhai/Macau on Monday 2015 10 19; and
Three day trip to China with a possible two day extension from Tuesday 2015 10 20 to Saturday 2015 10 24 for those interested.
The shift of one day is to accommodate those of us in Hong Kong who are still working but would like to participate in local activities as much as possible.

To allow those of you from overseas to firm up your travel arrangements, the period for our 50th Reunion shall be fixed from Saturday 2015 10 17 to Saturday 2015 10 24.

You are urged to offer your ideas and suggestions on the following tentative plans for each day/event.

Saturday 2015 10 17 at WYK

16:00 - 18:00  Kick off of our 50th Reunion followed by casual activities on campus; dinner at YWCA across the street 18:00 - 22:00.   Prior to 16:00 some of you may wish to be there earlier, especially those who have not been back for quite some time.  I am happy to arrive around 14:00 to welcome you and your family.  I shall work with Norman So 苏中平 regarding specific details and would like to ask Vincent Leung 梁子正 to book the dinner venue.

Sunday 2015 10 18 in Hong Kong

Many ideas were proposed but no single one dominated.  Leslie Chang 张叔千 has agreed to take the lead to work with many classmates who are experts in local attractions - Regis Lo 罗烈光, Hugh Choy 蔡洪卿, Ling Shin Poe 林鑫宝 and Tam Wing Biu 谭永彪 to name a few.

Monday 2015 10 19 for Zhuhai/Macau

There are many developments in HengQin Zhuhai 珠海横琴 and a trip would offer insights to the pace of change in the area.  Edmund Kwok 郭少棠 has agreed to work out a schedule for sights in the area ending at 16:00 in Macau.  Joe Pang 彭振声 shall take over in Macau with help from Regis with the aim of having dinner at a suitable time so that the return trip to Hong Kong shall not be too late.

Tuesday 2015 10 20 to Saturday 2015 10 24  Trip to China

One of the key factors for China's rapid economic development is the comprehensive implementation of her infrastructure.  A ride on the high-speed train is a must.  John Shek 石如鹏 has agreed to take the lead, with help from other classmates who have done many trips before, to work out some options for a suitable 3+2 (optional extension) day trip to China.

A fairwell dinner is planned.  Depending on the travel plans for overseas classmates and attendance of the China trip, the specific day shall be determined nearer the time of our Reunion.

We shall all be closer to 70 than 60 next year and long distance travel could become progressively more challenging.  Hopefully, our overseas classmates would make an effort to return to Hong Kong to relive some memorable moments in our formative years and to share valuable life experiences amongst ourselves.

Not counting spouses, I hope we can get at least 20 from overseas and 30 locally.  Please help to spread the news.

Francis 敏康 (2015-12-05)
Details

Created:

16 September 2014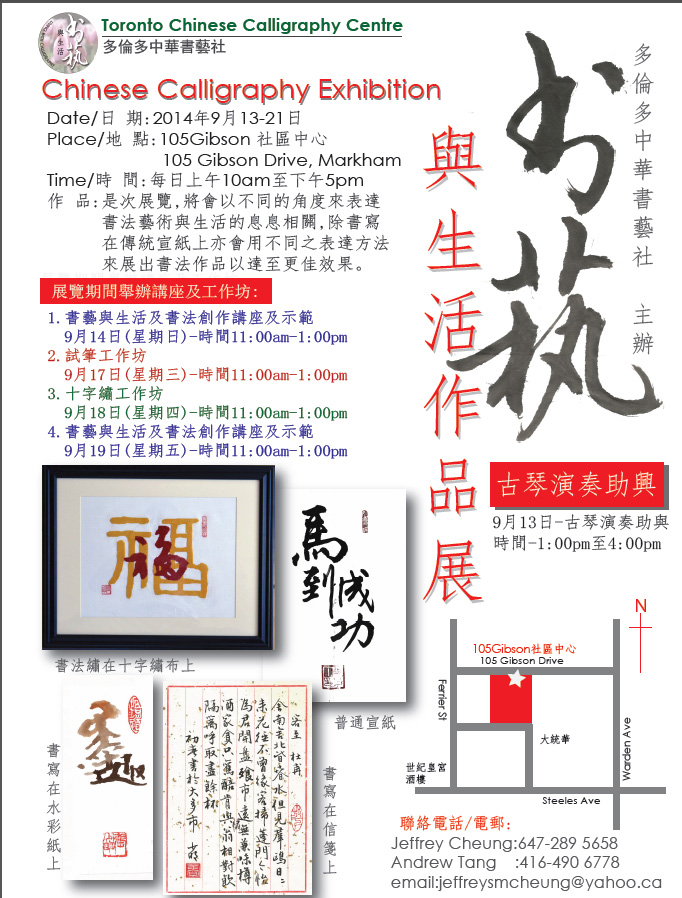 You are invited to the Chinese Calligraphy Exhibition where Andrew Tang (65), secretary of WYKAAO, has some of his works on display. His wife, Catherine, shows 2 pieces of cross-stitch embroidery of Chinese calligraphy.  Please click the image for details and photos.
Details

Created:

06 August 2014
去年十月,六五同學暨十一旅童軍,李平章、何芃芃、張叔千、馮康泰、鄧偉燊、與其他親友,由康泰領隊遊四川。

在四川成都集合,部份成員提早到達,參觀武候祠,在隔壁錦里之三顧園酒樓喫午飯,品嚐特色菜肴「新錦囊妙計」、「火燒赤壁黃魚」、「關公骨」、「號角聲聲」、「草船借箭」、餃子、擔擔麵等,飯後遊杜甫草堂。

翌日正式開始團隊行程,參觀熊貓基地、都江堰、青城山、寬窄巷子、金沙遺址、三星堆、上峨嵋金頂、下樂山大佛、飛九寨黃龍、爬四千米山凹、遊黃龍彩池、九寨山水、大足石刻、回重慶後,便各奔前程。 附沿途相片,以供查閱。
Details

Created:

24 July 2014
Tony Fong with IBM in Shanghai for years has been in town for a month with his family.  He treated his classmates and his Form 1A Form-master, Mr. Ho, to breakfast in Markham on Thursday, July 24, before heading back to work the following week.
Please click the image to view more photos.