Class 1965
Articles and News of Class 1965
---
Details

Created:

04 January 2017
Against the backdrop of an Orthodox Christian church built some 600 years ago, I smelled the aroma and tasted the thick, bold and dark Ethiopian coffee, mesmerized by the ceremonial regalia, drifting in the swirl of frankincense smoke and soaking in a tradition dated back many centuries. I am in the land where coffee was birthed as attested by Kaffa, a southern province, so called for its namesake.
Having traveled north and south of the country, tomorrow I will begin my service at a Mother Teresa's home for the poor in Addis Ababa with Brothers of Missionaries of Charity.
Please pray that I see the face of God reflected on the faces of the poor.
"Most are called to salvation primarily through witnessing to God in man by loving service to others. The contemplative... finds salvation primarily through witnessing to man in God by a life of fidelity to contemplative prayer." (Father Daniel Walsh, Thomas Merton's mentor)
Pray also that in my solitary union with God during contemplation, I hold the poor's suffering as mine, seeing their faces in God.
"Let the weight of compassion in you weigh you down until you feel in your heart the same compassion that God has for the world." (Isaac of Nineveh)
As the aroma of your prayer ascends to God, I breathe the fragrance of frankincense your way. The next cup of Ethiopian brew is on me. Sorry, Starbucks.
With gratitude for your solidarity,
Ernest
Addis Ababa, Ethiopia
December 15, 2016
------------------------------------------------------------------------------------------------------------------------------------
Details

Created:

30 December 2016
It's been gradually warming up here in Edmonton. (around -4 to -10C)


My daughter (Ariane) and her hubby (Ian) and I took my granddaughter Ella (3) out to try out a couple of winter sports.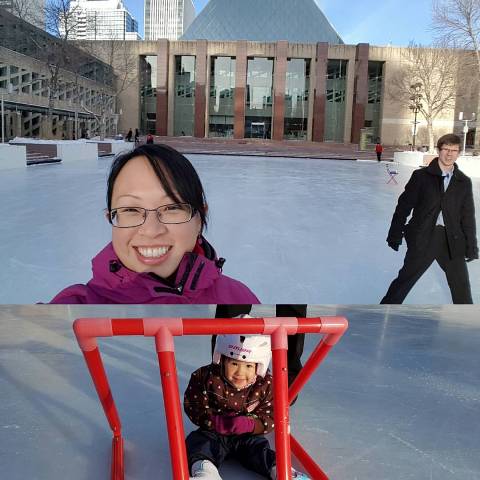 Ella started skating with the "learner" device out in the open rink at City Hall (water fountain in the summer). She pushed the device away and skated on her own for about half a minutes......, then got back to it probably thinking she was going to fall.
Will soon be rid of that thing, I think. I wish I had something like that when I learned to skate as an adult.
Her first time ever on a learners' ski slope. After being grabbed from behind only once going up, she went up the conveyor (like escalator) belt on her own 6 or 7 times without our support. Parents stayed with her close by of course; we took turns to stay with her skiing down.
Her first time down the slope with Ariane's support. After that, she told us "I want to go on my own...."; and she did!

Then she saw me taking the chair lift going up to the top, and pointed her little finger in my direction telling her parents "I want to go up there.......with 公公(Gong Gong)!"
Details

Created:

26 December 2016
"Visiting Vancouver – the main purpose of our visit was to see our daughter and her family, in particular, our grandson, Carter, who was 16 months young.

At the same time, we were able to re-acquaint with our friends and classmates; played a game of table tennis at Stephen Ho's residence; had dinner, lunch and dim-sum at different occasions before returning home.
Details

Created:

26 September 2016
From Toronto, Stephen will drive eastward to Quebec City to take a cruise going down south. Click the photo to enjoy his stops on the way.

Stephen will take more shots to add to the album as he continues his trip.
Details

Created:

23 September 2016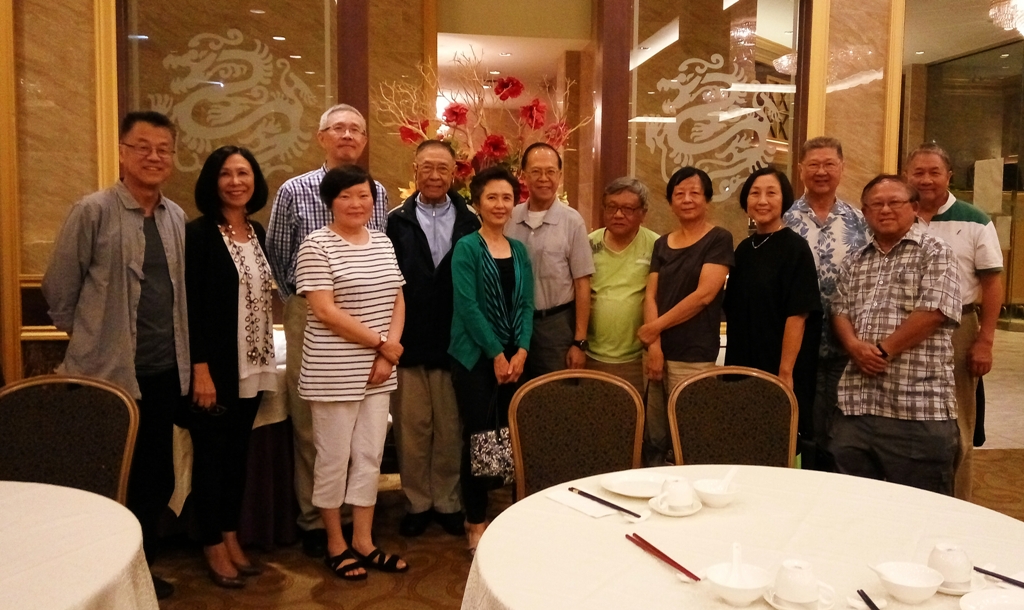 Vincent Lee writes, "THANK YOU all for coming out to share a most sumptuous meal with me, Stephen/Doris & BonBon!!
All eight WYK former scouts, including Ho Sir our Group Scout Leader are looking good!
Thanks John Fung for the update re next year's Rhapsody; you and Andrew Tang did so much footwork to lay the path, now joined by BonBon.
Special thanks for Jimmy Chan who had to cancel and reschedule his students just to come out to see us.
Another special thanks to Francis Ho for the very rare "appearances", according to Ho Sir, bestowing on Stephen & me a "Big Face"!
Raymond Lee had not changed at all, still the quick wit and sense of humour!
Thanks to all the spouses present, sharing our laughter and fun of just being together..........!"
[Click the group photo to view the album.]
Details

Created:

04 August 2016
現居上海的方澄伉儷,與旅居溫哥華之何芃芃夫婦,無獨有偶,今年兩度在多倫多會面。我等六五同學有機會相聚,濟濟一堂。李榮輝首先安排愉園新閣、及後鄧偉燊提議魚樂軒,先後品嚐廣東點心及龍蝦午餐,兹附上相片數輯為記。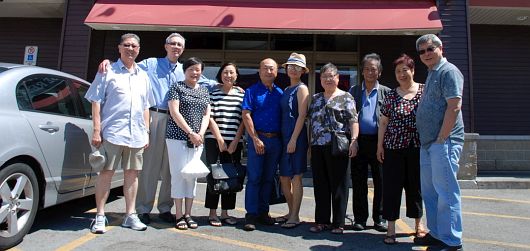 Details

Created:

19 March 2016
Please click the photo to view the album. (Andrew Tang 160319)
Details

Created:

27 January 2016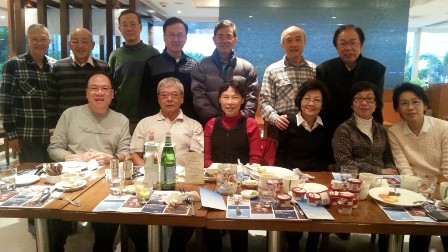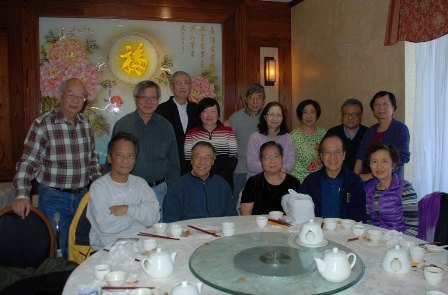 一年容易又新春,謹此,恭賀猴禧。
港加兩地六五同學,分別齊來團年聚會,各自表述,各自分享。
附上相片數輯,便利覽閱。
鄧偉燊 /160127
Details

Created:

26 January 2016
Classmates of 65ers braved the subzero temperature to reminisce the good old days at the Tai Mo Shan & Kowloon Peak in Hong Kong; and that of the Marmot Basin ski resort in Jasper, Alberta. [Click
here
to view the album.]

Since KC disclosed the secret, I'll send you these photos to reminisce our youthful days; and I could not let KC get away without disclosing his latest Look at Luke, per lmw65wyk.
Thanks Tsai for letting us see what the elusive, unpredictable and "now you see him, now you don't" KC looked like when he materialized at the peak of Mt. Flying Goose at -3 degrees...... Looks cute, almost like a "smurfat" (or whatever they were called, cute shorties living amongst their mushroom houses, always cheerful and mischievous.....). At that temperature, he should last longer.....!, with less kinetic energy propelling him thrashing around.
Attaching a few photos of my own, taken ~2 weekends ago at the peak of Jasper's Marmot Basin ski resort, about 2,700 m above sea level, at something like -23 degrees C - considered to be "warm" at that altitude, with bright sunshine and little wind. Just the three of us: Sarah, Sigmund and myself. Derek had to work making sure the planes could fly at the airport; mom did not want to risk slipping on ice; the Doktors had to babysit.

At my age, I'm fully aware of the potential dangers of speed going down at 45 degrees on icy slopes..... So I go slow, only on beginners' runs; letting the young do their own thing on steeper and higher slopes. Just plain glad that I am still able to enjoy myself sliding down the long winy mountain slopes; sheer fun! Hope to do it again, at least one more time before winter's out for the year; may be in March just before my Peru trip.
Keep warm; I heard HK is still getting pretty cold especially at night. Kids got lost and had to be rescued while doing a winter marathon in the frozen slippery mountain roads or treks in HK....? Didn't get the details of the news. I saw some ambulance tires spinning on ice toward the end of the video shot.
KC, you are lucky in HK, didn't have to deal with that deadly snow storm just blew over the Atlantic east coast. DC was pretty devastated, with 2.5 to 3 ft. of wet snow! Your apt. should be all right as long you closed all doors and windows when you left!
I am having some headache AND fun at home: There's a full grown porcupine living in my backyard!!! Amigo poked his nose into the spiny creature couple of weeks ago and came back in pain, with 6 to 8 sharp "needles" sticking out of his nose. I had to pull them out one by one with tight gripping forceps! And the kid never learned, or is a slow learner - he got hit two more times later. Now I got a metal trap from the Dept. of Fish and Wildlife, but the smart bugger doesn't seem to take the bait so far. Will see. Problem is, he is stripping the bark off my apple tree! Somehow I have to find a way to get rid of the slow moving ball of needles! Will take pictures if and when I capture the creature. Someone gave me a recipe for porcupine meat ball...., a Mexican delicacy, so I was told!
Best wishes, Vincent