Class 1965
Articles and News of Class 1965
---
Details

Created:

30 October 2012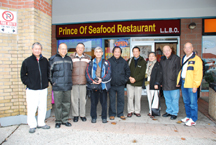 Yiu-Kwok Chan (65) drove 5 hours from Ottawa to attend our 30th Annual General Meeting and the Dinner, held on Saturday, the 27th October 2012, at the Golden Regency Restaurant. Coincided with the return of John & Rose Ho from Hong Kong , Dermot Chan, Andrew & Catherine Tang attended the meeting and enjoyed a wonderful dinner at the table with those of the 63ers. 
For those who could not join the AGM dinner, Dermot organized a luncheon on Monday, the 29th October, at the Prince of Seafood Restaurant; and thus, Gus Yeung, Jimmy Chan who has returned from an earlier European river cruise, John Fung who has just returned from a concatenated 126-days around-the-world cruise from Fort Lauderdale the night before, Yiu-Kwok, John & Rose, Ho Laoshi, Andrew & Catherine attended. After that, Yiu-Kwok had to brave the Hurricane Sandy's mighty wind and heavy rain pouring down the Highway 401. 
On another occasion, Francis & Lydia Choi flew in from Beijing earlier in the month to visit his folks in town. We enjoyed a coffee break with them on Monday, the 8th October, at the nearby Unionville Town ; followed with a stroll around the Toogood Pond and a dinner at the Vince Seafood Restaurant with Dermot, Raymond & Anissa Lee. They visited Yiu-Kwok in Ottawa & Edwin Tse in Montréal; and returned to Beijing on Wednesday, the 24th October 2012. 
有朋自遠方來,不亦樂乎。
Until next time and herewith are some photos taken with our visitors. (Andrew Tang reports)
Details

Created:

26 June 2012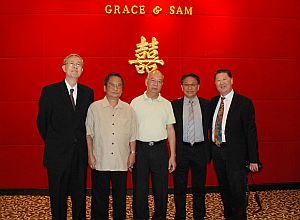 Bonbon & Margaret Hu arrived from Vancouver to host a dinner party for the celebration of the marriage of their daughter, Grace to Sam, held at the Diamond Banquet Hall in Markham on Saturday, the 23rd June. His high school classmates and classmates from the Loyola College of Montréal were invited. Jimmy Wong (66), organizer of the IC2012 and classmate of Loyola, came all the way from New York to join the fun and promote the upcoming IC event. 
 
Gus & Betty Yeung invited Larry Hsiung & his Family for a lunch on Mother's Day at the Ala Kitcken. Larry lives in San Francisco ; flew to Buffalo to attend his son's convocation; drove to Mississauga the day before; and returned to Buffalo after having xiaolongbao in Markham .
 
Chung Yu-kwok happened to be in town and joined our class-luncheon gathering on Thursday, the 17th May at the Landmark Seafood Restaurant in Scarborough . Francis Ho & Dermot Chan organized another dinner get-together at the Prince of Seafood on Friday, the 15th June, before Yu-kwok's return to HK later in the month.
Lim-ming Chui came from Philidelphia to support our participation of the Raimondi College Old Boys' Association Table Tennis Tournament held on the 7th July; and had lunch with his classmates at the Prince of Seafood Restaurant the next morning.
(Click here to see the pictures of the above occasions)
Details

Created:

10 September 2011
Don Yau from Calgary, Heny Zee from LA and Francis Choi with Lydia from Beijing were entertained by the local Class of 65 members. Henry was last in Toronto for a world class Bridge Tournament in Royal York Hotel.
Sung Yun-wing with Pauline talked about his annual Marathons in Hong Kong. 
Andrew Tang was the expert oganizers of the two lunches and the dinner.  Click the image to view his pictures.
Details

Created:

02 August 2011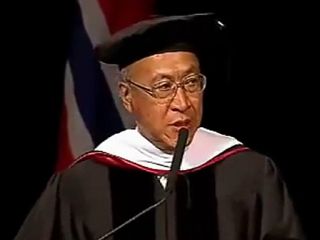 Edmund Siu Tong Kwok 郭少堂 (65) was awarded a Doctor of Humanities Honoris Causa in the States. Click here to see a video.
 
From Francis Choi (65), "You may know that Edmund had the job to create UIC - a joint Venture between Baptist U and 北京师范大学 in Zhuhai, China - from nothing some 5/6 years ago.  I had the privilege of working there for a short while and can attest to the dedication and hardwork that Edmund put in. Today, UIC has a brand new campus with 4,000 students, attaining the original target of full registration at UIC.
 
I am sure you will join me in congratulating Edmund for such a wonderful and ground breaking achievement."
Details

Created:

13 March 2011
Rose, wife of John Ho (65), left Toronto on March 1 to tour Japan and was at Nikko when the disastrous quake hit Japan on March 11.  A seasoned traveller, she writes on her experience and observation during these difficult days.  Her reports from Nikko, Tokyo and Narita Airport are in our Blog site.
Details

Created:

25 June 2010
Eliza and Don Yau (65) married recently.  They were in town and attended a welcome dinner on June 24.  They brought along a Red and a White which paired nicely with a menu drawn up by Gus Yueng and Andrew Tang.  It was a very happy evening.
[Eliza and Don were at our 2008 AGM dinner held at the same restaurant.]
Click here for pictures taken by Andrew.
Details

Created:

08 September 2009
Leaving this September, Francis to Beijing, John to Hong Kong and Gus to Chicago, they were at a potluck dinner at Gus' apartment with other 65ers in Toronto on Labour Monday. Betty showed what hospitality should be. Good food, wonderful company ... See here.

Invited guests were Miss Chan and Mr. Ho.

N.B. Francis and John will be definitely visiting again next year. Gus will settle in Toronto soon.
Details

Created:

18 August 2009
Sunny and rainy days, Toronto is the eating place to meet with long lost friends. Francis Choi from Beijing and Francis Ho from Victoria, BC saw Stephen Chan from Austin, Texas, for the first time after more than forty years. They were all in Form 1C in Mr. Aras' class in 1961. Joining the happy occasion were the local 65ers, Andrew Tang, Raymond Lee and Jimmy Chan. Spouses enjoyed their lady-talks too. Mr. Ho was invited to share their happy mini-reunion.
Sung Yun-wing, the scholarly economy professor from Chinese University, was treated at a very good eating house. (Contact Andrew Tang for info.) It was such a happy time that Prof. Sung promised to speak to our members on his next visit.
Please click here for photos of the 2 dinners.
Details

Created:

04 May 2008
Since the formation of the forum in 2003, an annual gathering has been organized by the class of 65 in North America. This year, rhapsody 2007 was held in Sidney-by-the-Sea in Victoria from the 5th to 8th in October. Francis Ho (賀燁樑) took over the reign from Edwin Tse who organized the rhapsody 2006 in Ste-Agathe-des-Monts in the Laurentians.