Class 1965
Articles and News of Class 1965
---
(From Andrew Tang '65)
無獨有偶,蒙城中華語文學校卅周年校慶,適逢我校舊生同學會卅周年慶典。內子與我應邀出席蒙城晚宴,與分別多年的義工好友再聚一堂,樂也融融。席間由校長及董事長頒發義工獎牌,五年十年者彼彼皆是,廾年者有十多位,卅年者亦有三人。國會議員狄安(Dion)  先生更多謝蒙城中校,在其選區推廣多元文化活動,頒發獎牌以茲記念。這次遊蒙,一為神功二為弟子,更可在小兒住所掛單,享用為我們準備的羊鞍晚餐,意式即磨熱奶咖啡,法式麵包,加上中式油菜薳。內子亦回饋她的拿手咖哩牛坑腩,配上意粉助膳。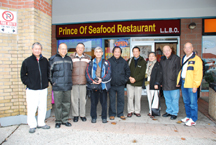 Yiu-Kwok Chan (65) drove 5 hours from Ottawa to attend our 30th Annual General Meeting and the Dinner, held on Saturday, the 27th October 2012, at the Golden Regency Restaurant. Coincided with the return of John & Rose Ho from Hong Kong , Dermot Chan, Andrew & Catherine Tang attended the meeting and enjoyed a wonderful dinner at the table with those of the 63ers. 
For those who could not join the AGM dinner, Dermot organized a luncheon on Monday, the 29th October, at the Prince of Seafood Restaurant; and thus, Gus Yeung, Jimmy Chan who has returned from an earlier European river cruise, John Fung who has just returned from a concatenated 126-days around-the-world cruise from Fort Lauderdale the night before, Yiu-Kwok, John & Rose, Ho Laoshi, Andrew & Catherine attended. After that, Yiu-Kwok had to brave the Hurricane Sandy's mighty wind and heavy rain pouring down the Highway 401. 
On another occasion, Francis & Lydia Choi flew in from Beijing earlier in the month to visit his folks in town. We enjoyed a coffee break with them on Monday, the 8th October, at the nearby Unionville Town ; followed with a stroll around the Toogood Pond and a dinner at the Vince Seafood Restaurant with Dermot, Raymond & Anissa Lee. They visited Yiu-Kwok in Ottawa & Edwin Tse in Montréal; and returned to Beijing on Wednesday, the 24th October 2012. 
有朋自遠方來,不亦樂乎。
Until next time and herewith are some photos taken with our visitors. (Andrew Tang reports)