Welcome to our Special 1964 Web Section
Details

Created:

06 December 2014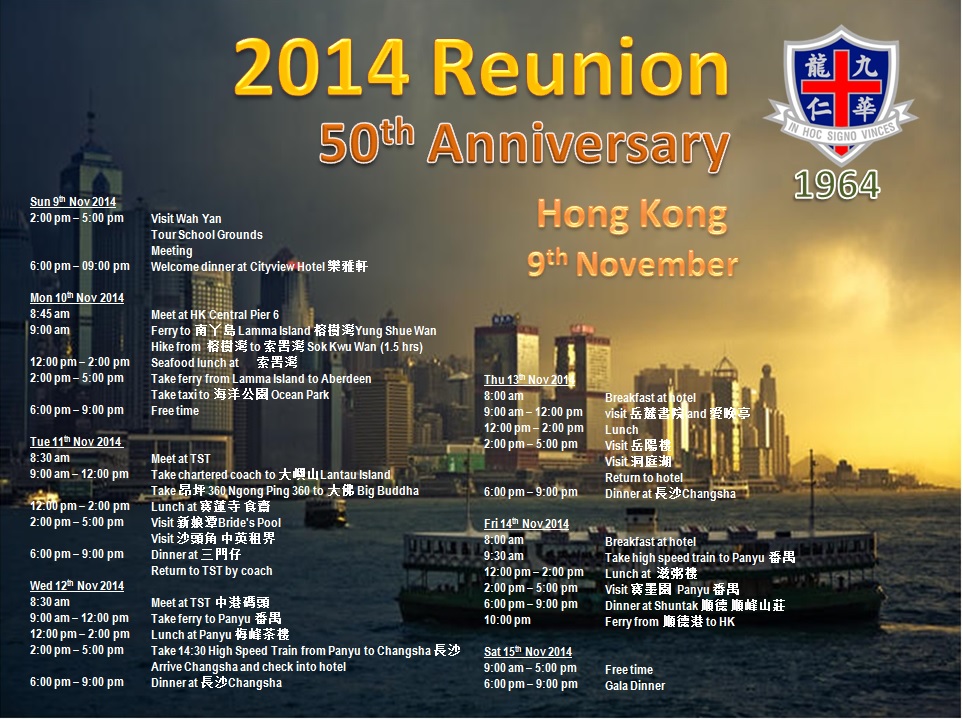 Our 50th anniversary reunion event started on 9th November and ended on 15th November. Thanks to those classmates in Hong Kong, notably Jeffrey Cheung and Ernest Ng, for organising such a memorable event that all of us could enjoy every minute of it. Thanks also to Ambrose Lau for hosting the gala dinner on the last day of reunion; excellent choice of food and a fantastic venue. All of us will remember this reunion for many years to come. The entire reunion activities have been recorded into two videos.
To watch the Reunion HK activity video click here
To watch the Reunion China Tour video click here
Our next reunion will be in 2016 San Francisco and Vancouver; looking forward to another great event.
Other comments:
John Kwan: "Indeed, many thanks to Jeffrey, Ernest, Mark, Ambrose, Wong Chee Ming and others who have contributed time, effort, and dough to this reunion and to Dominic for putting the event on record. It was a wonderful occasion to share information and further friendship among us."