Welcome to our Special 1964 Web Section
Details

Created:

18 June 2015
Palm Spring, California
We had a wonderful 20 day road trip with Gary and Lola after they picked us up from our hotel in L.A. We stopped at Palm Spring for a couple of nights and drove through Joshua Tree National Park and the Mojave Desert across to Arizona. Truthful to its name, Palm Spring is an oasis full of palms made famous by Hollywood film stars somewhere in the middle of the Mojave Desert in California. The Park is punctuated with outcrops of rocks and spare vegetation such as the Joshua Tree and the Teddy-bear cholla. Palm trees are seen wherever there is an oasis and human habitation. We stayed in Palm Spring for 2 days with daily excursions into the desert where we did trail hiking.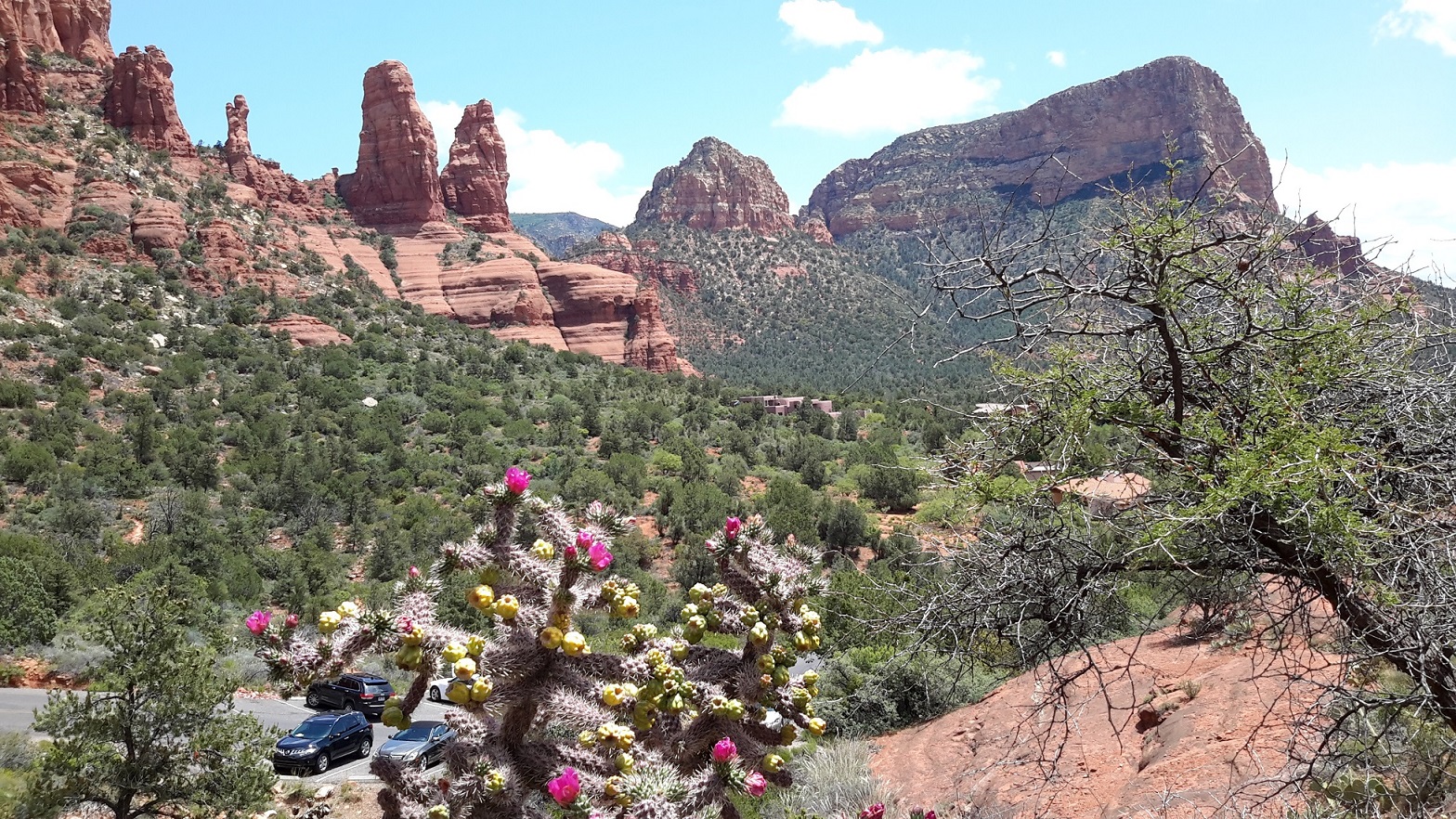 London Bridge and Lake Havasu, Arizona
Continuing on the desert road and crossing the Californian border into Arizona, out of nowhere came a town called London Bridge.  Spanned across the banks of a section of Lake Havasu it was re-assembled from bricks transported all the way from London! To make the surroundings more English, there is a fountain flanked by English Lions and even an old English red phone box nearby. We walked across the Bridge and wondered how pioneers could think of this idea to liven up the town. There is a ferry which takes people across Lake Havasu to California and the ticket only costs $2. Little wonder that the destination is a casino. We didn't have lunch there because at my request I asked for the opportunity to try out the hamburger jaunt, In and Out. I was not disappointed as it tasted quite different to MacDonald's and much more substantial.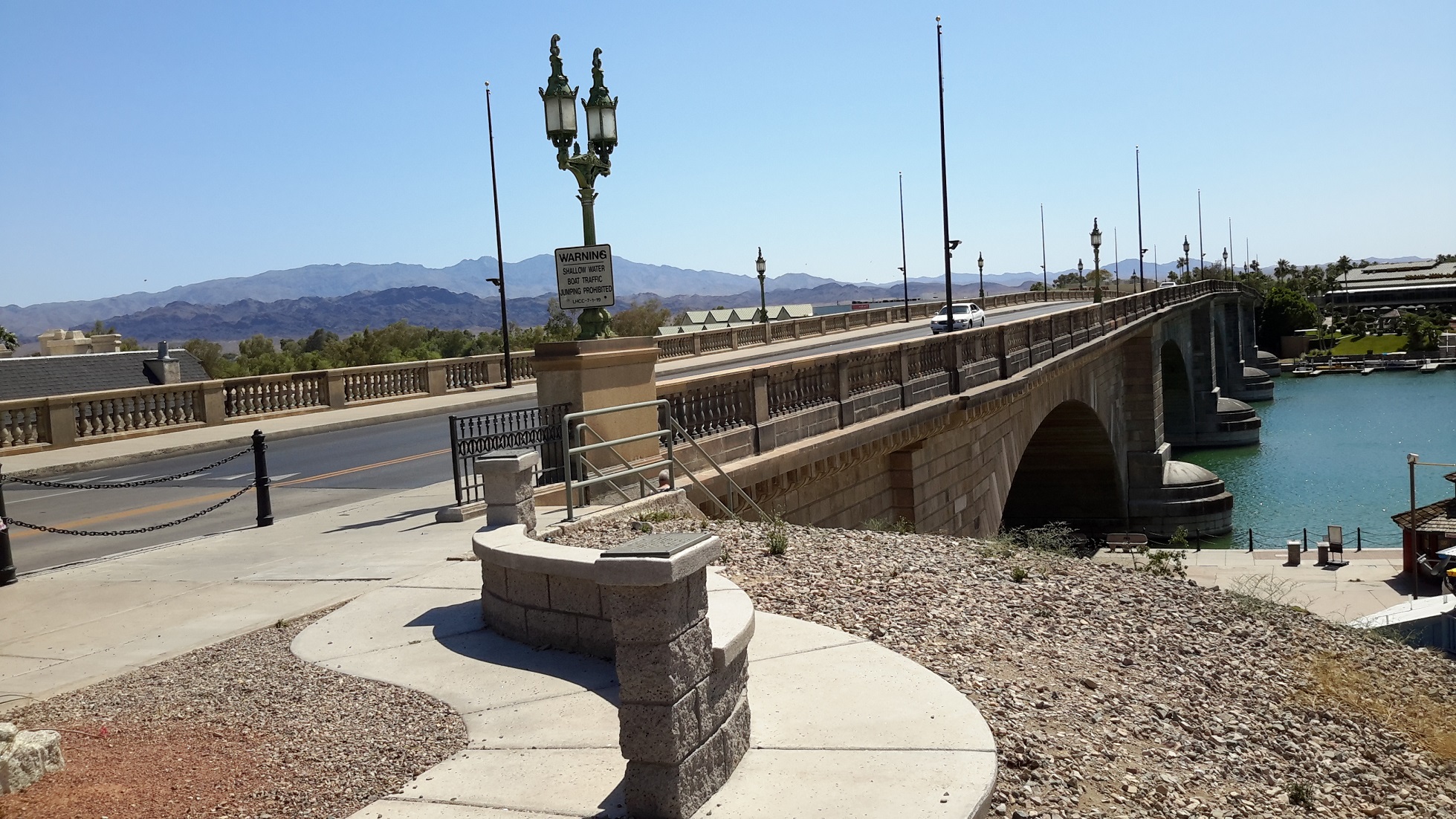 Phoenix, Arizona
Departing London Bridge, we hit the highway to Phoenix, the capital city of Arizona. Driving on highways into a US city was quite an experience to Magdalen and I, even as a passenger. The driver has to be very focussed and alert in what he does because other motorists don't slow down when he changes lanes and there are up to 8 lanes in one direction to negotiate. For this reason Gary and Lola did not let us drive. After we checked in our hotel we ventured out in the evening for more driving. There were so many vehicles on the road that sometimes I wondered how they avoided an accident. 
Camelback Mountain, Phoenix, Arizona
We decided to climb the Camelback Mountain, the famous landmark overlooking Phoenix.  The trail was about 1.4 miles long one way but quite steep for most of the climb. Magdalen and Gary stopped about 1/3 of the way when it became apparent that handrails were built to assist the climb. Undaunted by the challenge, Lola and I continued for another hour and succeeded to reach the summit at the height of 1280 ft. It was quite a satisfying feeling for a man of my age to climb such steep mountain! Along the way we saw many wildlife. There were colourful lizards, a rattle snake hidden under a big rock, and rabbits. There were many colourful desert wild flowers and the giant saguaro were everywhere, some of which were 10 m high. The descent took another hour and much more difficult than. I thought. We were advised to bring 2 bottles of water for this trail but we only brought one each so by the end of the 3 1/2 hour we were quite exhausted with dehydration. We joined our spouses after Camelback and drove to the old town of Schottsdale for a bit of American history. Shopping was Lola's pastime so we strolled around the town and Gary noticed a sign in a shop which was quite revealing. I took a photo for your reflection.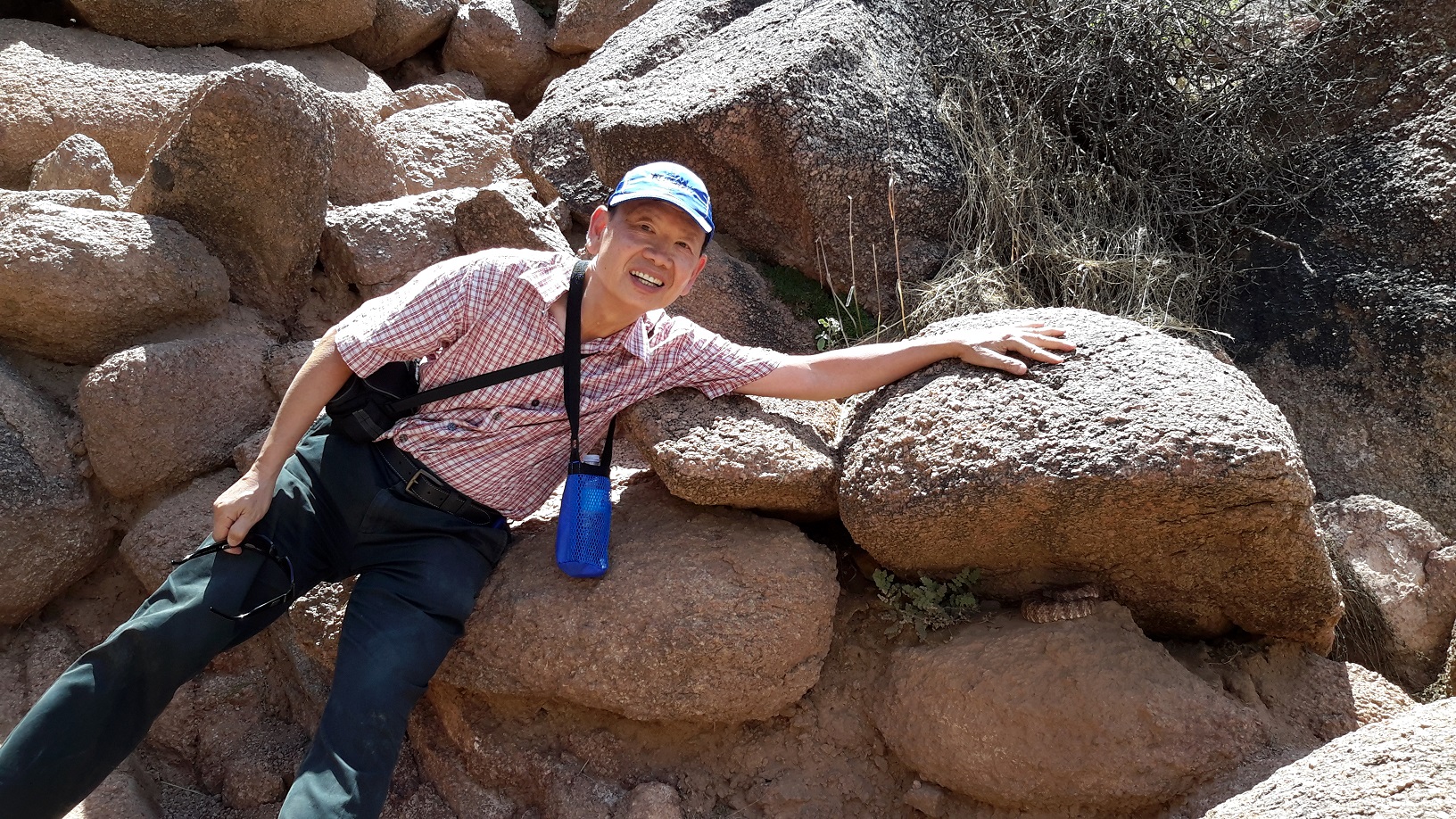 Sedona and Flagstaff, Arizona
Our first taste of the South-West could be summarised in the landscape of Sedona. The local tourist guide began with the title: "Upflow meditation sites are mountains and mesa tops which enhance meditation and prayers. Inflow sites are associated with valleys, canyons and caves, and help with introspection." Sedona has got them all. The famous Bell Rock was once believed to be an alien spaceship or the work of supernatural forces but now viewed as natural formations where people feel more meditative due to its surroundings. After lunch we passed Downtown Flagstaff to visit the ruins of Montezuma Castle and the volcanic rocks at Sunset crater, both of which gave us a contrast of blonde limestone and black volcanic rocks against the red rock of Sedona. We spotted a Chinese restaurant in Flagstaff called China Star which served Asian Buffet. The food was delicious and it had a great selection of dishes. The cost? We got senior discount of 10% each and paid US$8.90 including tax which is less than half price in Sydney.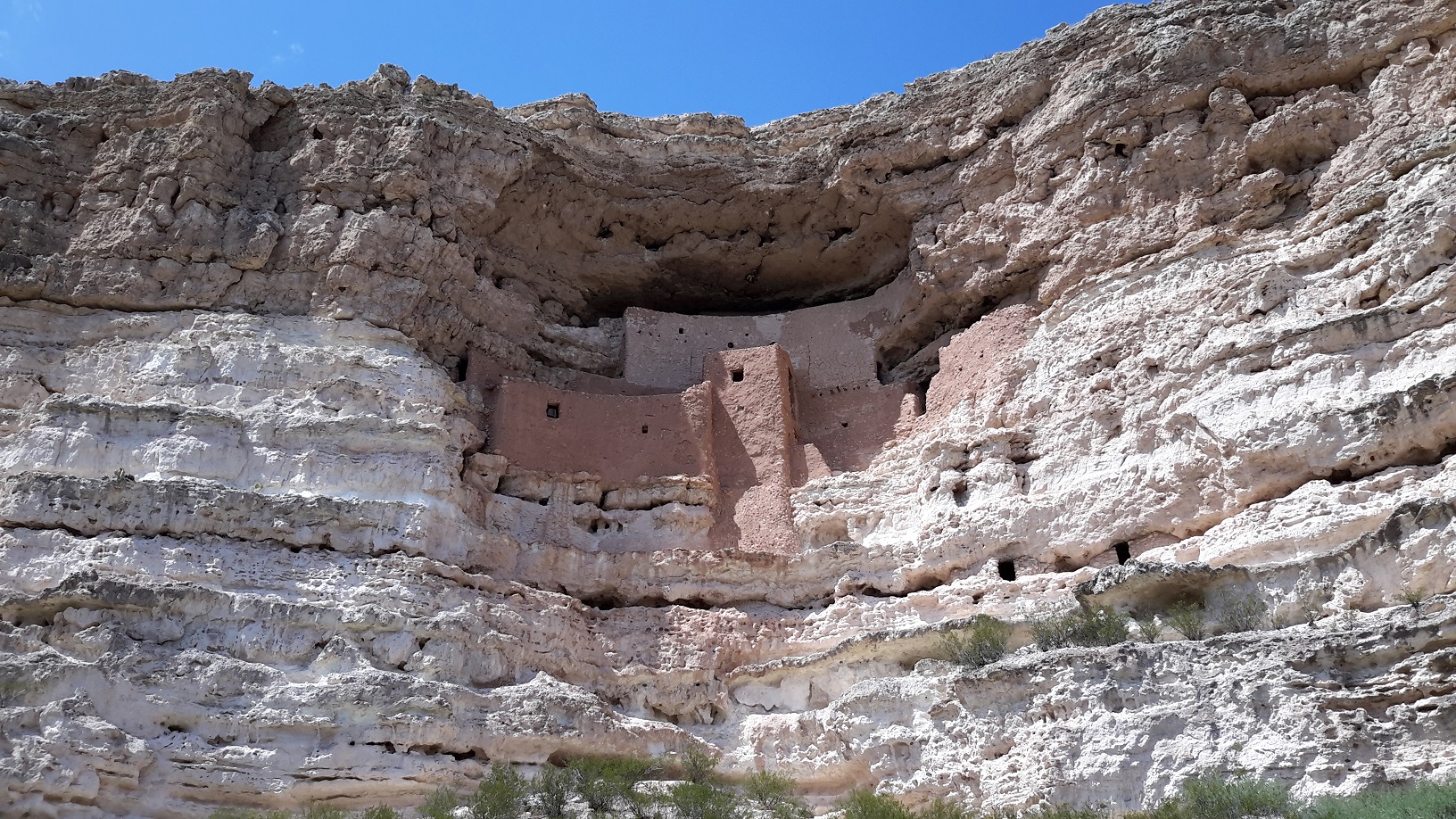 Route 66, Winslow, Arizona
Travelling along Route 66, we reached the town of Winslow and got off the car to take photos with the bronze balladeer standing on a corner in Winslow Arizona. Gary asked me if I heard of the lyrics of the classic rock ballard "Take it Easy" which actually has a line in those words. Although I was vaguely aware of this song in the early 70s, I couldn't believe that I actually found myself becoming a fan of the Eagles standing on this famous "corner" of Kinsley Avenue and Second Street --- the more famous section of Route 66. We spent some time in the beautiful La Posada Hotel built in the 1930s with old world charm. Our visit to Winslow was a delightful detour from our main activity of the day which was to see the Petrified Forest National Park. 
Petrified Forest National Park, Holbrook, Arizona
I have been attracted by the colourful Rainbow Mountains in China over the years and was intrigued by the idea that similar ones exit in northeastern Arizona. Travelling east of Holbrook we entered Navajo and Apache counties, the land of petrified wood and dinosaur fossils dated about 225 million years ago. The Petrified Forest National Park covers 46 square miles (380 km2), encompassing semi-desert shrub steppe as well as highly eroded and colourful badlands. The Painted Desert was declared a national park in 1962 and the spectacular display of colours attracted over 600,000 tourists a year. We drove through sections of the park and took many pictures. While the landscape were unbelievable colourful and majestic, it was very windy which added the sense of desolation in the wilderness.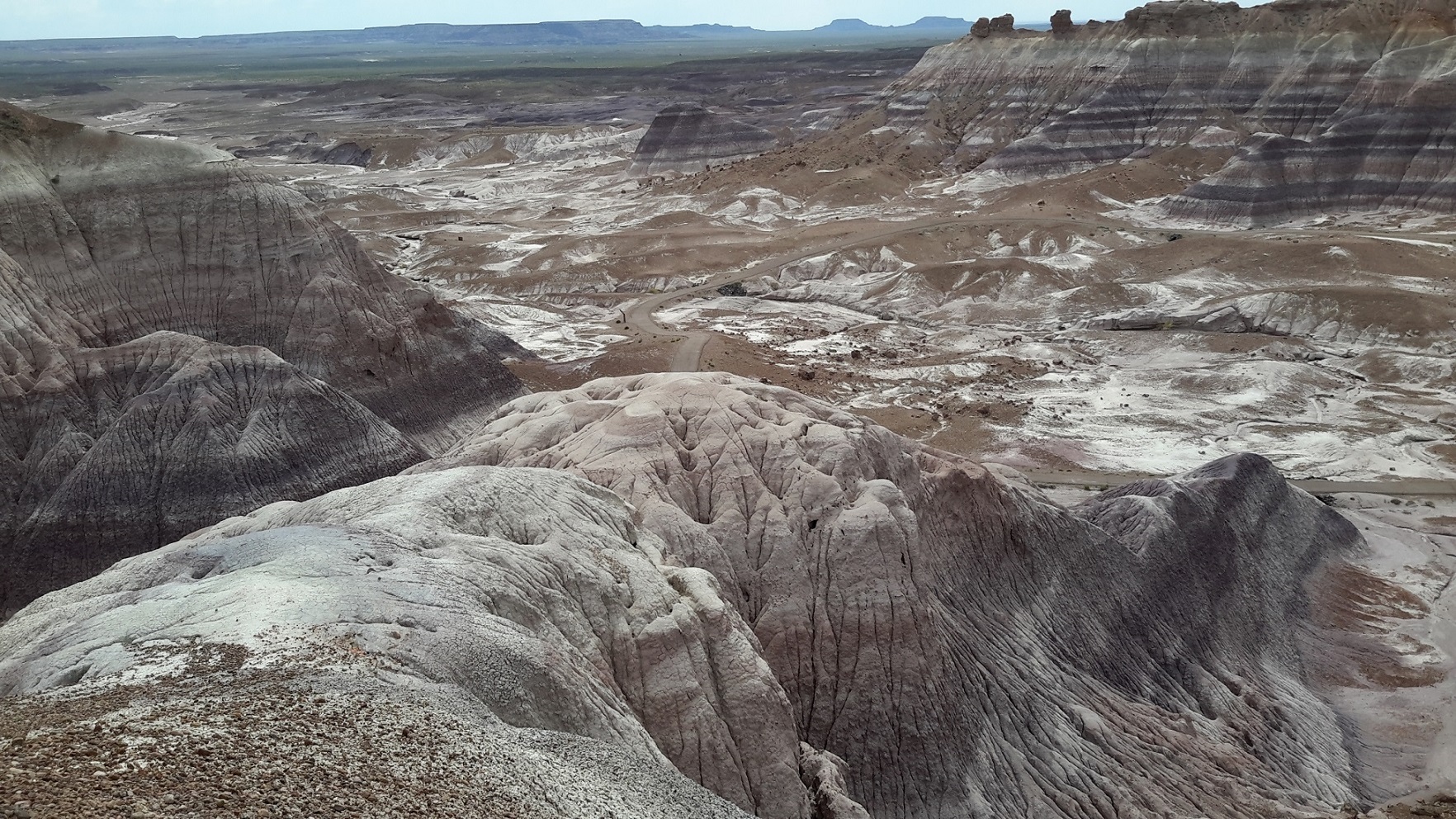 El Rancho Hotel, New Mexico
I agree that Arizona is the land of the Grand Canyon. We were blessed with backdrops of the Grand Canyon wherever our vehicle took us. The canyons are so extensive and majestic that they continue on to New Mexico, albeit not as colourful and spectacular. Not far after our arrival to the border to New Mexico was the legendary El Rancho Hotel where many famous movie stars in the 50s and 60s had patronised. The photos which decorated the walls, the grand timber staircase, the huge foyer-lounge area with antique furniture and the log fire all reminded us of legendary movie stars in classic Western movies in the late 19th and early 20th centuries. It was like going back to my teenage years when I treasured these images. After we left El Rancho, we drove into the nearby Taos Mountain Casino for dinner. I thought it was worth mentioning that I won US$30 from a slot poker-machine game out of the free play money that the casino offered for new membership!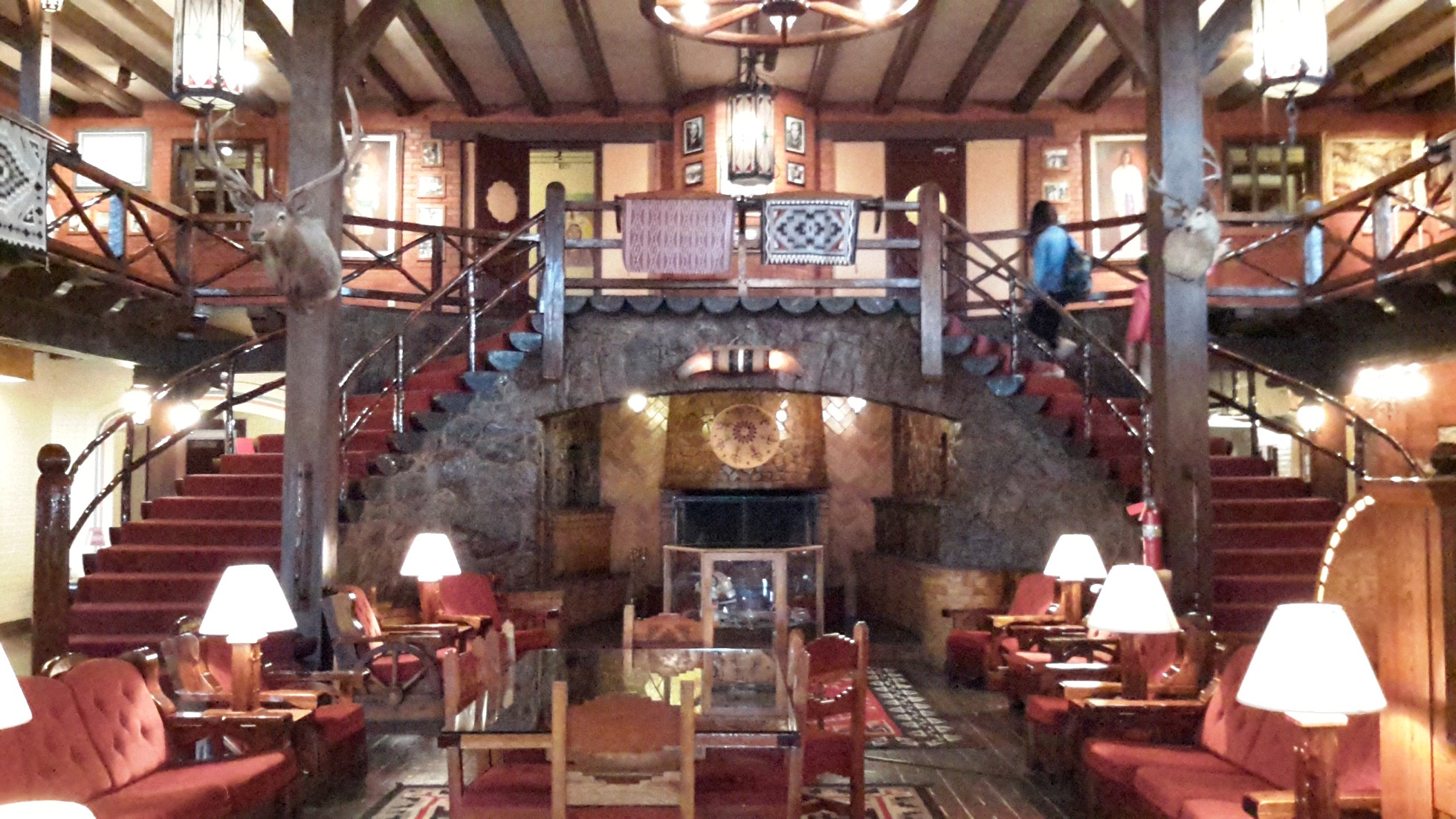 Petroglyph National Monument, Albuquerque, New Mexico
We arrived Albuquerque late as we had spent too much time at the casino. There was a drop in the temperature when we entered New Mexico and the next day was overcast and rainy so we decided to have a relaxing day to do a short trail at the Boca Negra Canyon-Trails Petroglyph National Monument. Not far from downtown Albuquerque, the Petroglyph National Monument was set aside in 1990 to protect and preserve one of the largest petroglyph concentrations in North America. It features more than 25,000 highly petroglyph images pecked into dark boulders along the volcanic cliffs of the West Mesa. Petroglyph are cultural images which possess deep spiritual significance for the Pueblo Indians. We climbed through the rocks to search for these petroglyph which to me resemble Chinese pictographs commonly used by minorities in Lijiang in Yunnan province of China. 
Old Town Albuquerque, New Mexico
In the afternoon we found our way to the Old Town of Albuquerque. The tourist township was full of visitors. The Catholic church looked Spanish and so did the architecture in the town in general. There were many Indian traders lining the sidewalk with their wares. Lola and Magdalen spent a lot of time inspecting the shops and they eventually bought some Indian jewelry. We had a typical Mexican lunch with 3 musicians serenading our requests of Spanish songs at our table. At dinner time we decided to have a Chinese meal. We chose a Mandarin restaurant operated by a Cantonese family from Guangzhou. The food was nice but we got charged US$3 per person (US$12 in total) for some tasteless tea which I thought was common Chinese hospitality. After the incident, Gary suggested me that maybe I shouldn't be too friendly when eating out in a Chinese restaurant!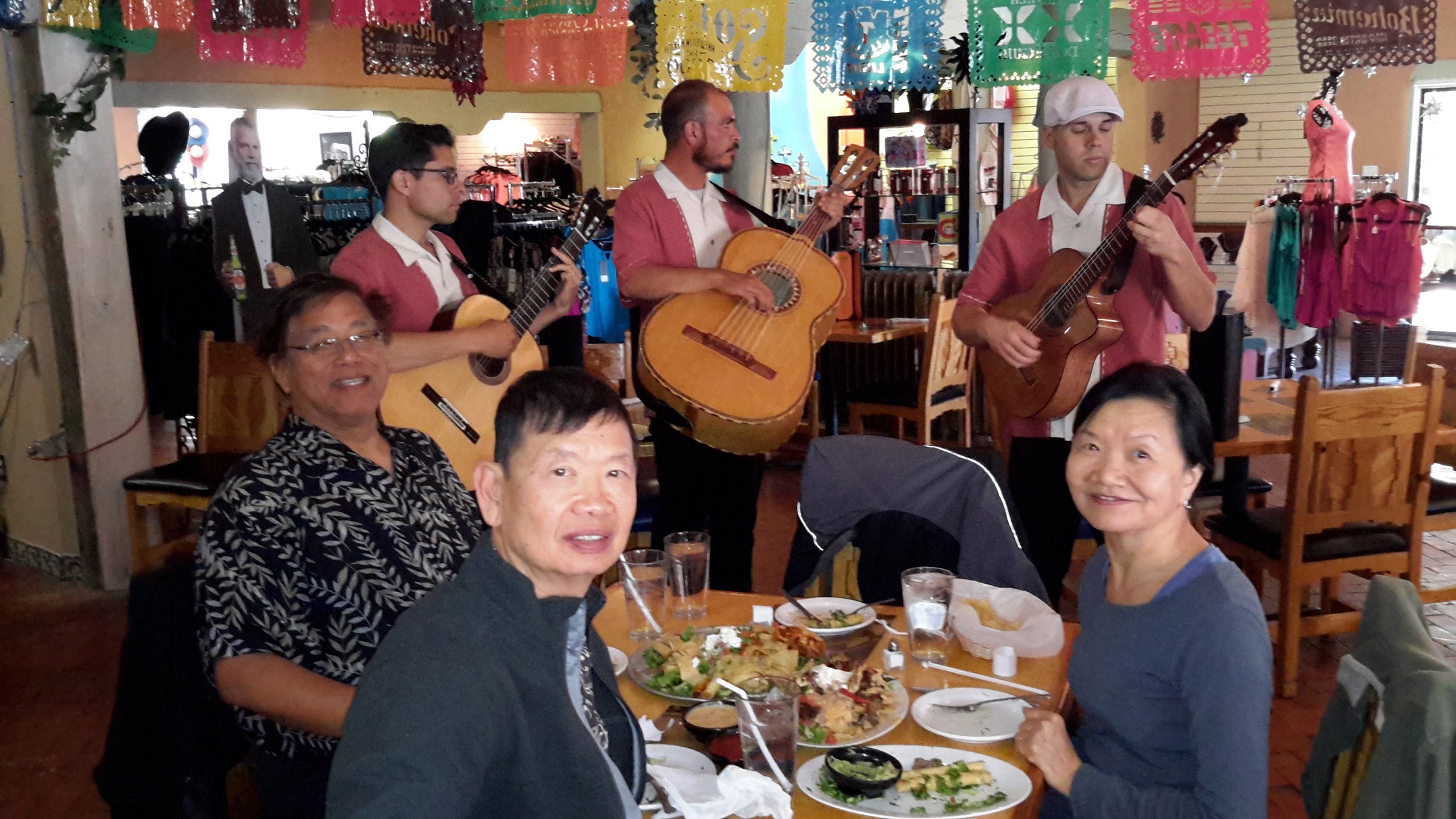 Kasha-Katuwe Tent Rocks National Monument, New Mexico
Kasha-Katuwe means "white cliff" in the Pueblo language and the cone-shaped rock formation resembles a tent which are the products of volcanic eruptions that occurred 6-7 million year ago and left pumice, ash and tuff deposits over 1000 feet thick. Tremendous explosions from the Jemez volcanic field spewed rock fragments while searing hot gases blasted down slopes in an incandescent avalanche called a pyroclastic flow." Precariously perched on many of the tapering hoodoos are boulder caps that protect the softer pumice and tuff below. While fairly uniform in shape, the tent rock formations vary in height from a few feet to 90 feet. This landform was different to anything we saw in Arizona. For this reason we found it more unique and interesting. The four of us had a great time hiking our way to the top which has an elevation of 6760 feet, snapping photos along the way. We walked for 3 1/2 hours and were the last tourist to leave the park, in fact, the rangers had to keep on honking to encourage us in our descend and eventually escorted us out of the National Monument. 
It was Mother's Day so we dined out in a Mexican Restaurant that evening. From our dine-out experience in New Mexico, we noticed that people like to dress up in cowboy style complete with vest and hat.  Gary concurred that this is the Southern style and added that people dress the same way in Texas. We finished the day immersing ourselves in hot spa in our hotel and spent the night working out our traveling plans for the next day.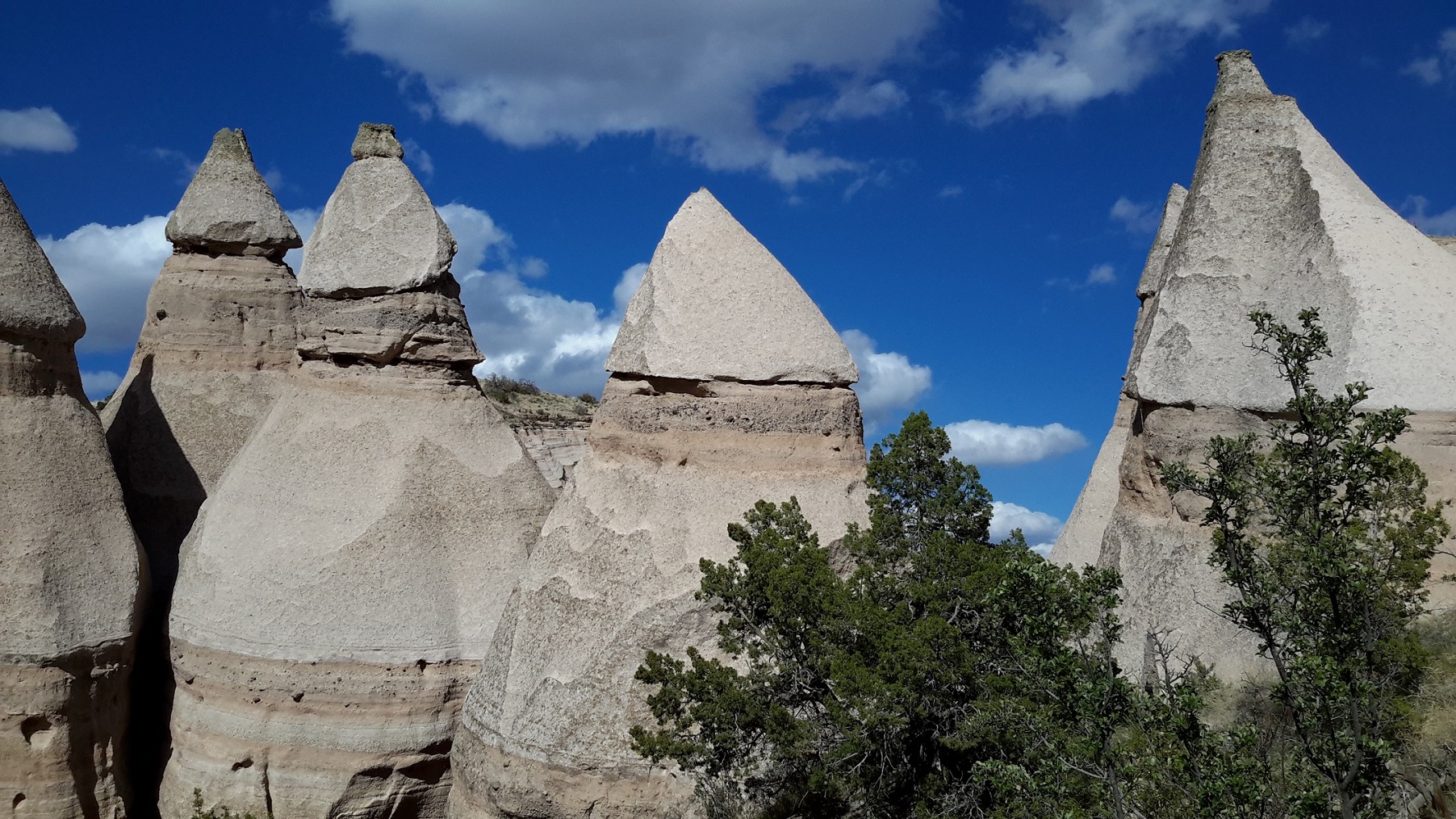 Taos Pueblo heritage in New Mexico
The next day we visited the World Heritage site of the Taos Pueblo people. The native owners proudly call it the First Living World Heritage as it is considered to be the oldest continuously inhabited community in the USA. What was impressive to me was the adobe Pueblo building structure believed to be well over 1000 years old. The buildings are actually many individual homes built side by side and in layers with common walls and no connecting doorways. The Pueblo looks much like it did when the Spanish conquistadors first arrived. The exception is the introduction of doorways. At one time the only entryway into the homes was by ladder through an opening in the rooftops which serve as a safeguard against intruders of the Pueblo. If an enemy was approaching, the ladders were pulled from the ground levels to the rooftops.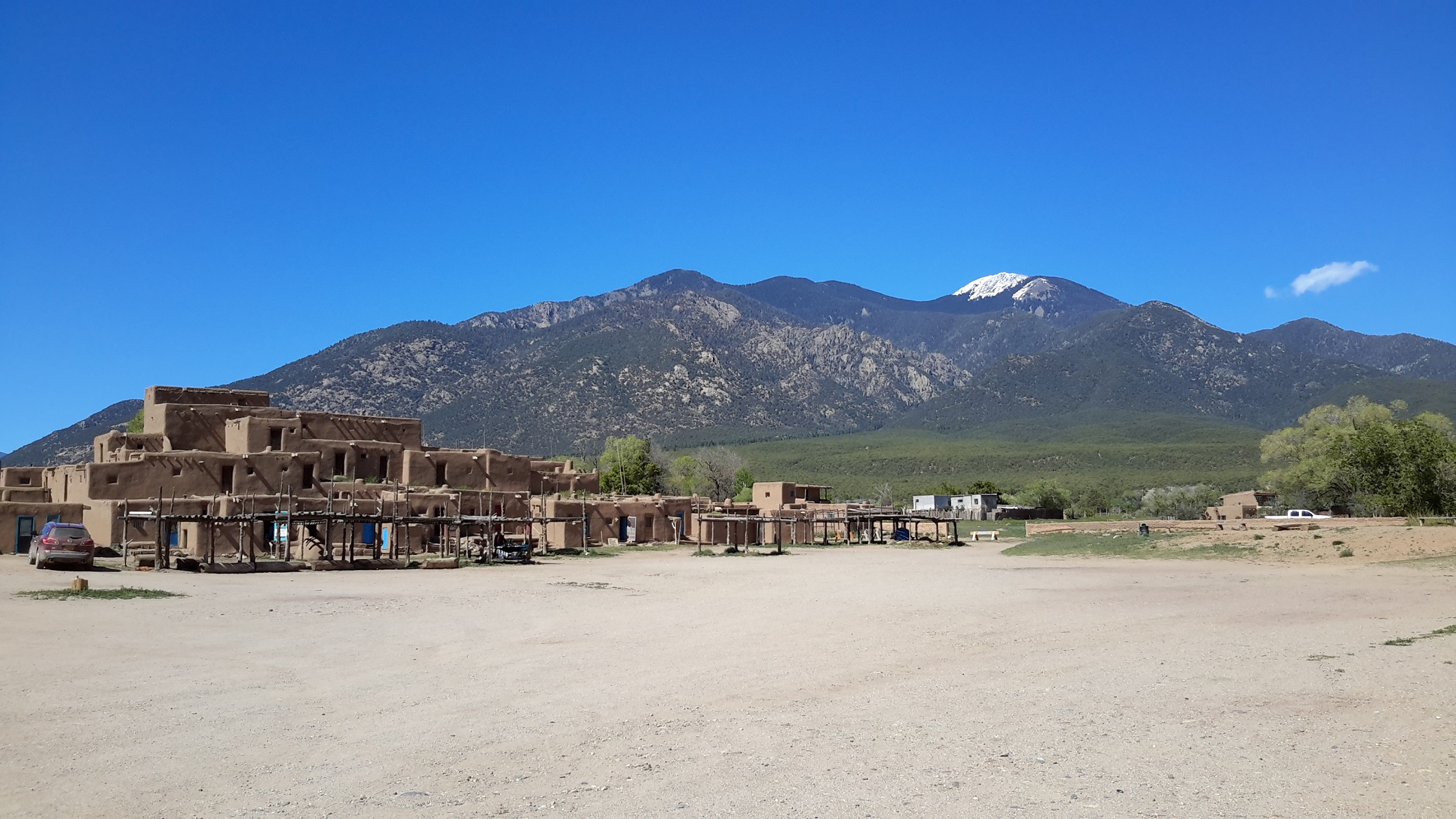 Santa Fe and across the border to Colorado
Santa Fe (meaning "holy faith" in Spanish) is the capital of New Mexico. Founded in 1610, it is the oldest capital city in the US. The city has a strong Pueblo heritage as reflected by the style of adobe Pueblo architecture we visited in the Pueblo village the day earlier. The Spanish ruled it for 200 years until the outbreak of the Mexican War of Independence in 1810. We visited the Santa Fe Plaza in the morning. Our car was parked not far from St. Francis Cathedral and Loretto Chapel. I took a few photos but didn't go inside for a closer look as Lola and Magdalen were already heading for the Santa Fe Market. 
There was a park in the middle of the plaza and the building surrounding stand just as they did during colonial Spanish times. Lola and Magdalen spent more time than they should shopping in the Plaza Market for Indian Jewelry and scarves while Gary dosed off for a morning nap on a bench. After lunch it took us more than 4 1/2 hours to cross the border to Mesa Verde Colorado. The weather changed from sunny sky to a storm and hail and rain came down so heavily that we had to stop by the roadside for a while before we continued our journey. However we were sure that the locals welcomed the rain because the South-West region had been drought-affected for a long time.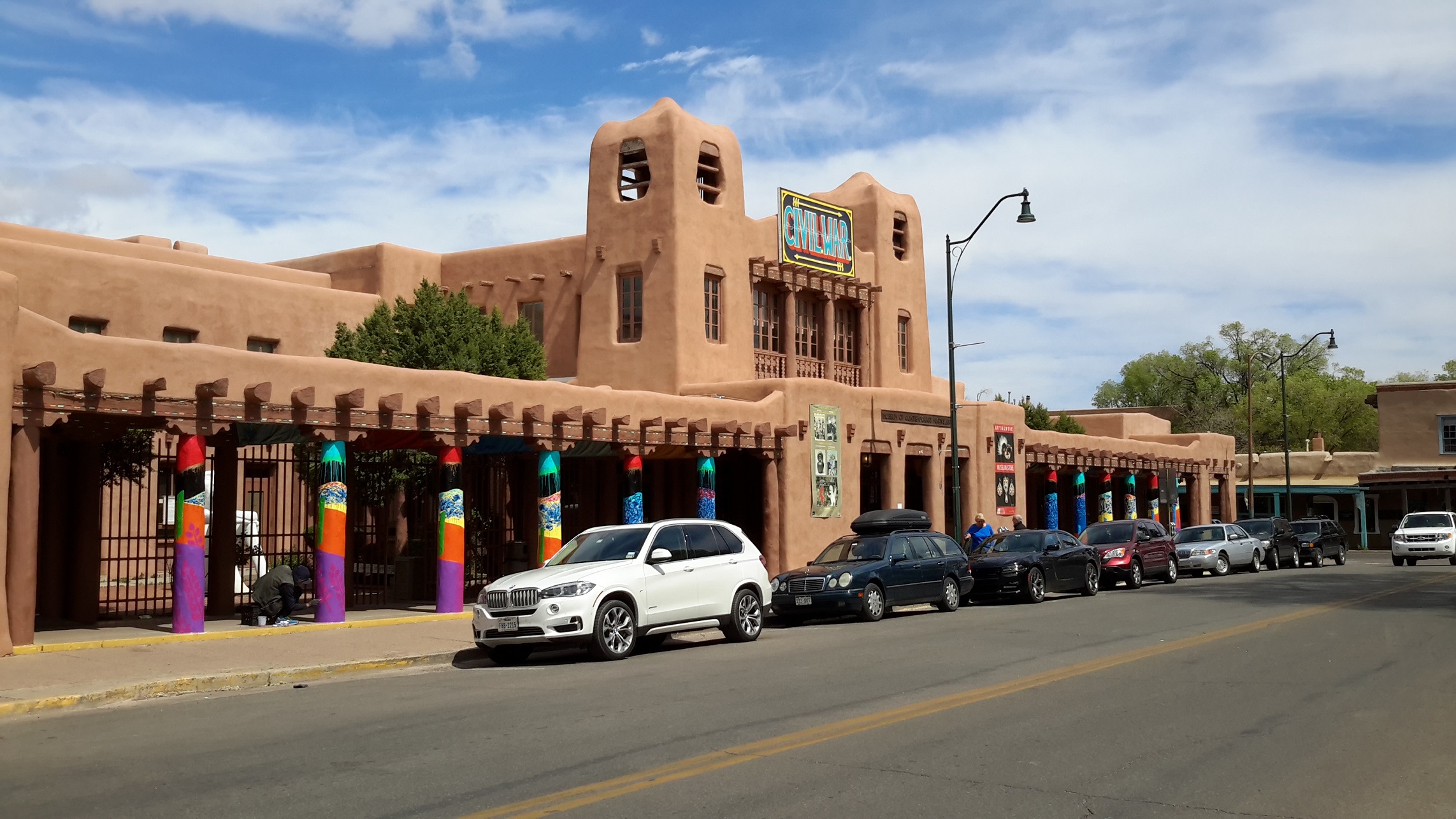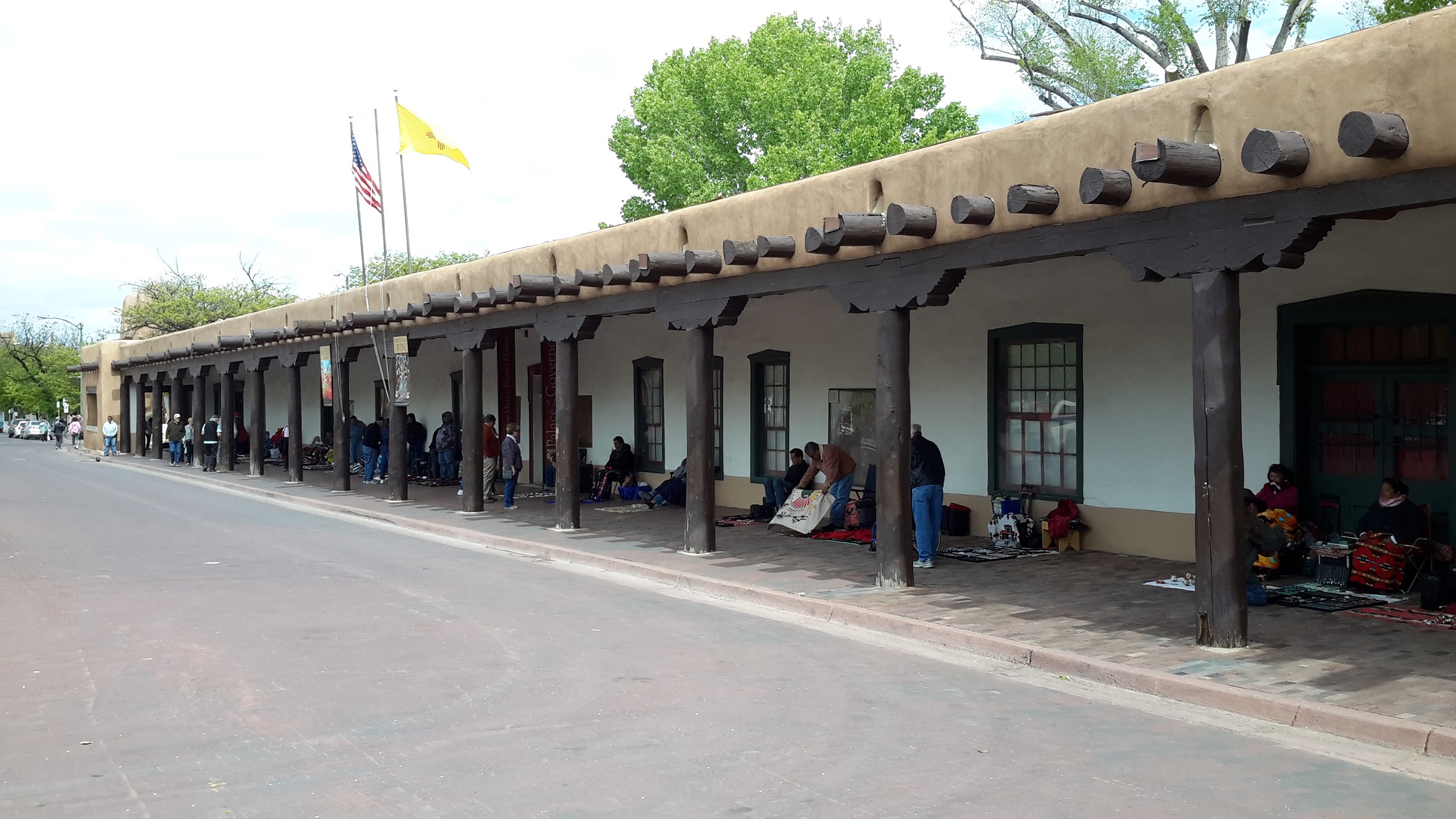 Cliff Dwellers in Mesa Verde, Colorado
We arrived late to Mesa Verde National Park  to stay for the night. Thanks to Lola who booked two comfortable cabins in the national park, we were able to survive the freezing night 6000 ft elevation from civilisation. We had a delicious dinner in a 5-star restaurant overlooking the park. My choice was elk steak and I was not disappointed. Gary had a stomach complaint earlier on so he lost his appetite but everybody had enjoyed their meal. 
The Mesa Verde Dwellings are some of the most notable and best preserved archaeological sites in the North American Continent. About the late 1190's, the Ancestral Puebloans began building dwellings beneath the overhanging cliffs after living on the mesa tops for 600 years. The structures ranged in size from one-room storage units to villages of more than 150 rooms. While still farming the mesa tops, the Puebloans continued to reside in the alcoves, repairing, remodeling and constructing new rooms for nearly a century and then due to a prolonged drought began migrating south into present-day New Mexico. By 1300, the Ancestral Puebloan occupation of Mesa Verde ended. We spent a whole day at Mesa Verde National Park visiting the Balcony House, Cliff Palace and Spruce Tree House. For the Balcony House we joined a guided tour led by a ranger but later found it more relaxing just wandering around in this world heritage site.
Monument Valley, Utah
From Colorado we came back to Arizona through the four-corner point where New Mexico, Colorado, Utah and Arizona meet and finished the day at Monument Valley in Utah. This was of course cowboy country and where John Wayne and John Ford made their movies. The landscape was a journey back to memory lane in the 50s and early 60s. We arrived at Monument Valley at dusk and took some beautiful shots on the Overlook next to the famous View Hotel. This is a Navajo-owned hotel and we had dinner there to sample their national dish which is a kind of a goulash soup/dish with a pancake-shaped bread. We filled our stomach but the Navajo national dish was not much to brag about. We stayed in Monument Valley for 2 nights and spent 3 hours driving and stopping in the Navajo Nation country to enjoy the scenery up-close.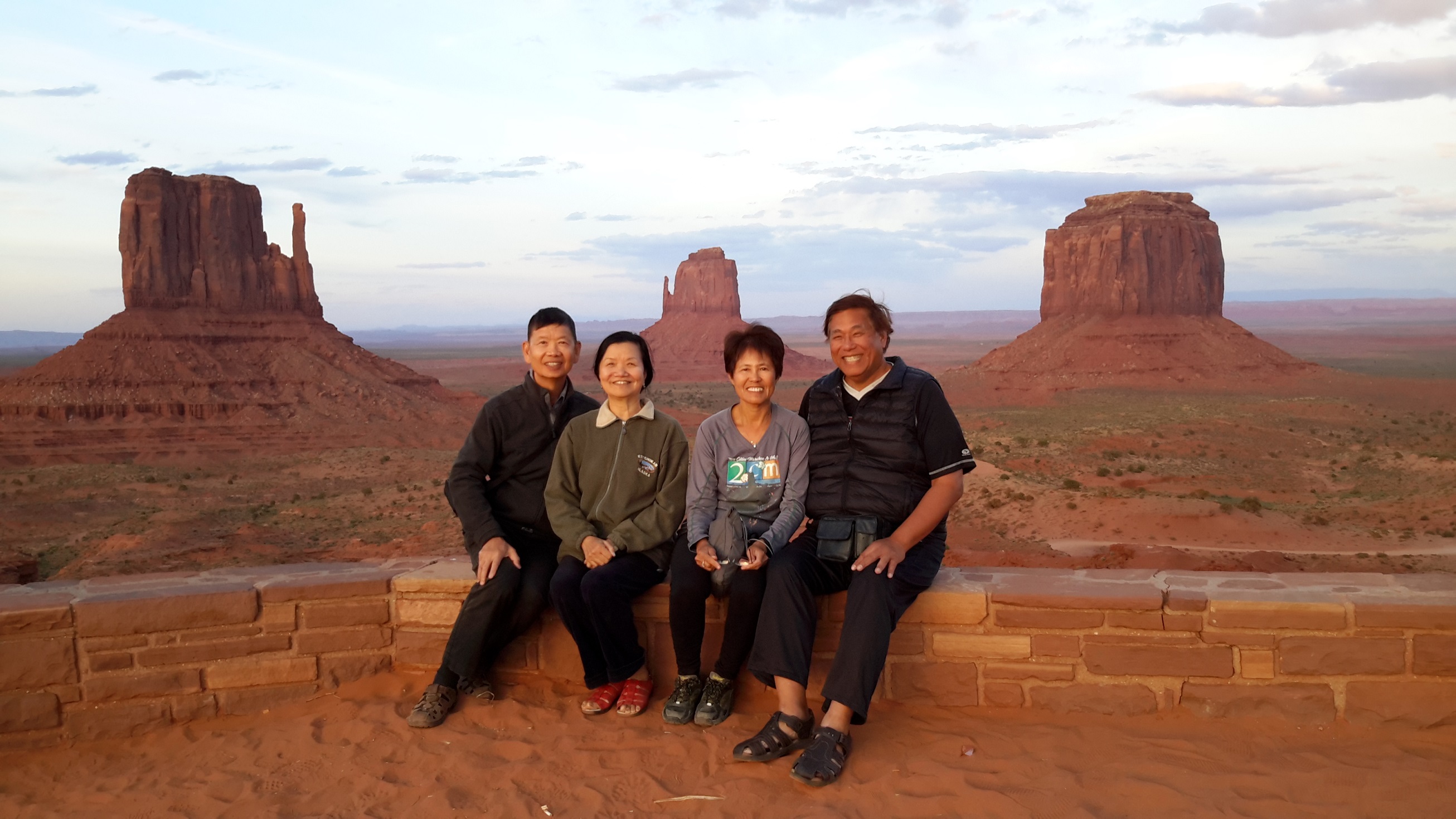 Natural Bridges National Monument, Utah
The driving northwards away from Monument Valley was even more spectacular as it gave a better perspective of the vastness of the Navajo Nation country. Our destination was the Natural Bridges, 42 miles west of Blanding . The monument is known for its striking multi-coloured sandstone bridge formations. They bear the Hopi Indian names of Sipapu, Kachina, and Owachomo. Sipapu means "place of emergence", the entryway by which the Hopi believe their ancestors came into this world. Kachina is named for rock art symbols that resemble symbols commonly used on kachina dolls. Owachomo means "rock mound", a feature atop the bridge's east abutment. 
We spent about an hour admiring these natural bridges. At Sipapu Overlook we were awed by the wonder of this massive natural bridge so we decided to take the trail down the cliff-face to get a closer look. As we descended we passed overhanging cliffs and slopes and eventually reached a huge flat boulder so that we could stand and pose before the second largest natural bridge in the world! It was raining quite heavily when we reached Kachina so we didn't do much there as our spouses wanted to stay in the car. When we reached Owachomo we wasted no time to inspect this natural bridge as it spans across a creek. We took a short trail right down to the water and stood under the "bridge" to absorb the feeling of being part of this natural wonder.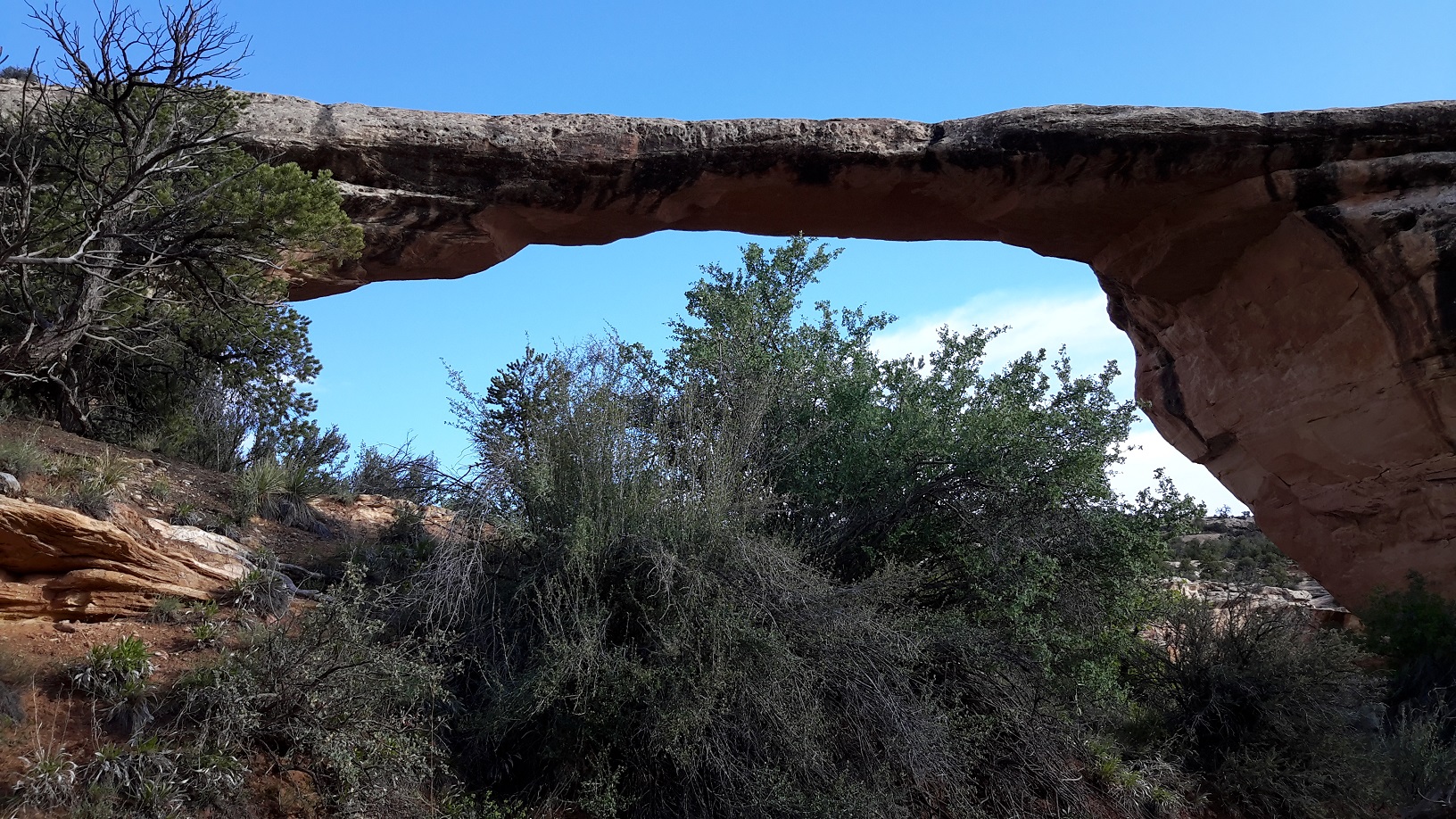 Page, Arizona
Instead of continuing our journey north into Utah to visit the Wave Rock in Kanab, Lola suggested that we should return to Arizona to see Antelope Canyon as we need to make special arrangements to see this geographic wonder. By noon we reached the beautiful town of Page. We went to the Visitor's Centre to find out what we could do in Page which is reputedly the central point which offers easy access to the astounding natural wonders in the American Southwest. We spoke to a Navajo Indian consultant who gave us the most passionate and inspiring information on her country. She noticed that we are Chinese so she told us about her trip to China and Mongolia. Her account of her visit to Mongolia was interesting as she found a lot of similarities between the Mongolian culture and her own Navajo heritage. On her advice we went to the Horseshoe Bend Overall and viewed the 270 degree turn in the Colorado River from vertical cliffs 1000 feet above. Quite an experience if you want to get close to the cliff to pose with the Bend in the background. Gary was afraid of height so he needed a lot of persuasion to edge near the Bend.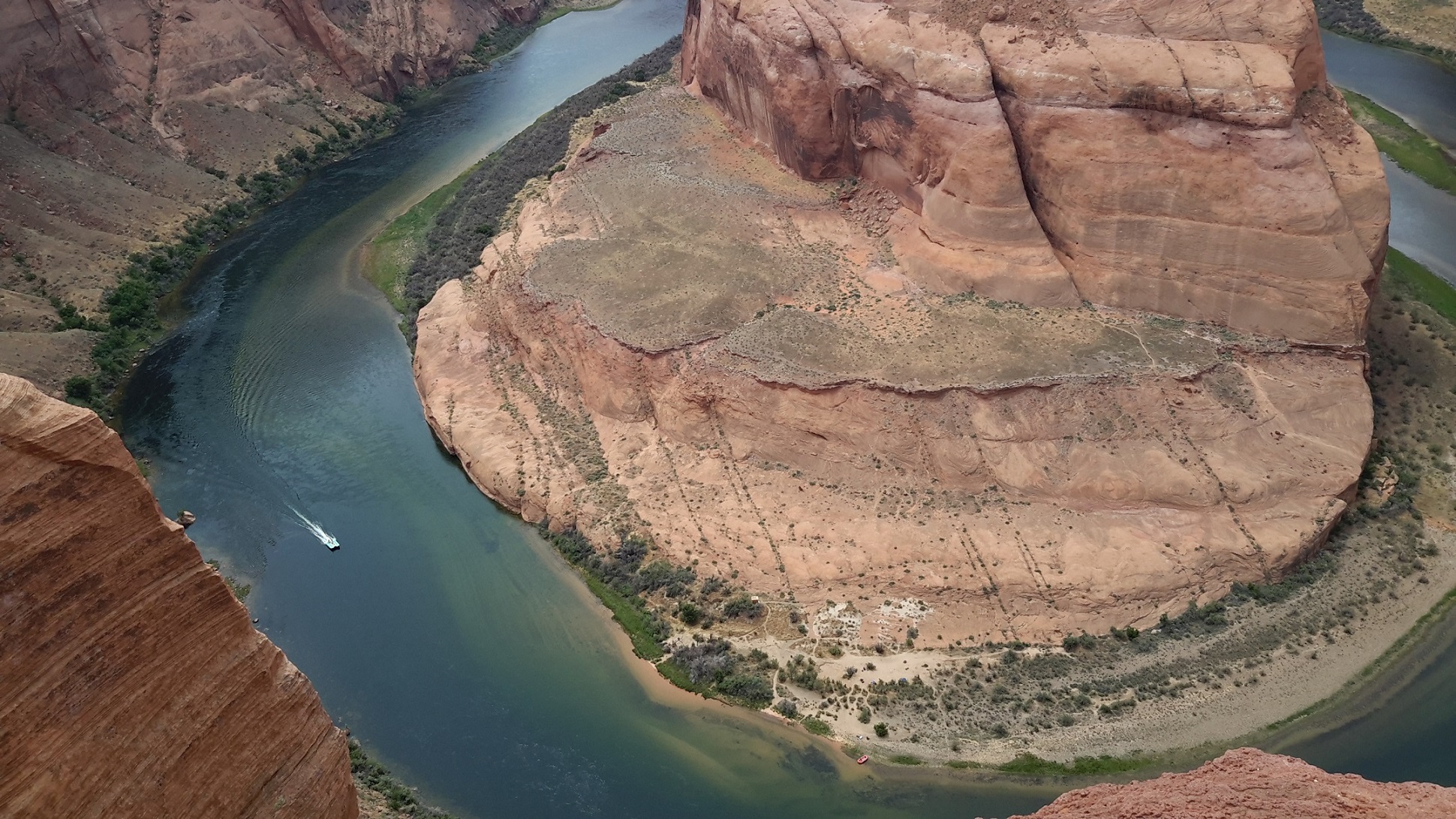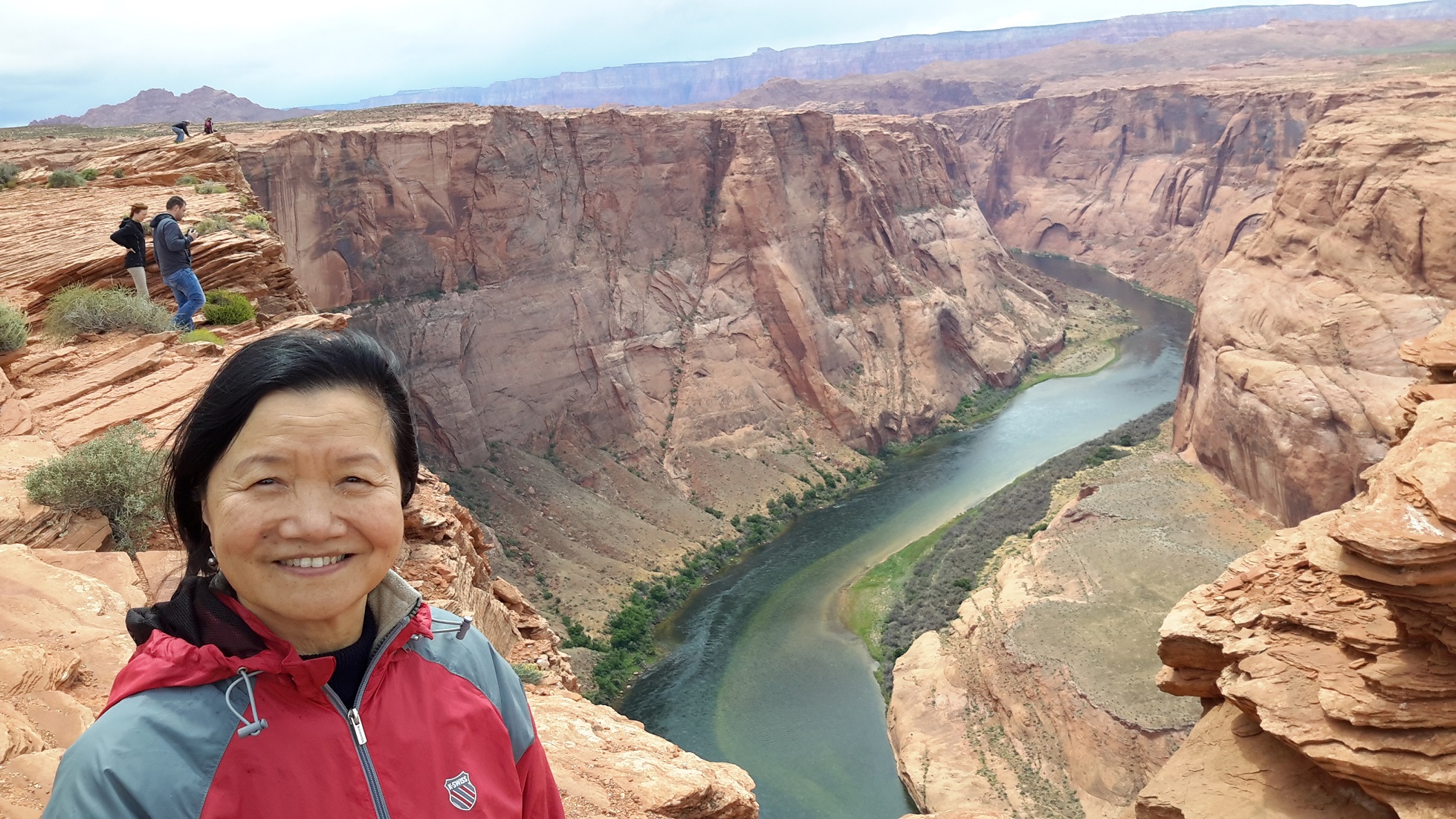 Antelope Canyon, Arizona
The spectacular Antelope Canyon was a special place of reverence for the Navajo people. They call Upper Antelope Canyon "the place where water runs through the rocks" and Lower Antelope Canyon "special rock arches". Page is the town where you can book a tour to see them. Our first choice was the Lower Antelope Canyon. However, it had been raining for a few days so the Lower Antelope Canyon was considered unsafe and while we were there it had been closed intermittently for fear of flash floods inside the Canyon. By 4 pm we finally decided to tour the less strenuous Upper Antelope Canyon walk instead. We were not disappointed as it was breathtaking and awe-inspiring! Our Navajo guide told us that the spectacular colours and natural waves in the rocks were made by centuries of water flow and wandering and whistling winds. Even though we only spent half an hour inside the narrow Canyon all of us agreed that we will never forget the glorious views afforded by Mother Nature. Luckily we took enough photos to refresh our memories from time to time. 
Glen Canyon and Lake Powell, Arizona
It was getting rainy when we exited Antelope Canyon so we decided to have a drive through Glen Canyon and inspected the Glen Canyon Dam which created Lake Powell. The splendid view across Lake Powell and the surrounding mesas were so pretty and expansive that we forgot that it is a reservoir and the Dam provides water for 25 million people downstream in Phoenix, Las Vegas and LA. The lake area and the canyon backdrop was particularly beautiful in the twilight. The next day we drove passed Glen Canyon again on our way back to Canyonlands Utah.
Canyonlands National Park, Utah 
Canyonlands is wild America. Few people knew these remote lands and rivers well when the national park was established in 1964. Only American Indians, cowboys, river explorers, and uranium prospectors had dared enter this rugged corner of the southeastern Utah. It is a wilderness of rock at the heart of the Colorado Plateau. The land's prime architects are water and gravity which cut flat layers of sedimentary rock into hundreds of canyons, mesas, buttes, fins, arches and spires.  
Canyonlands National Park is huge and it took nearly a whole day's drive to cut across. We came through Arizona passed Monument Valley once more and followed US Highway 191 to cross Southeastern Utah to the township of Bluff where there is a museum to record the history of the pioneers into this Navajo country. After lunch we passed Blanding again and then the tourist enclave of Monticelle to turn off Hwy 191 into Hwy 211 where our first stop was the Newspaper Rock. We have seen petroglyph before but on this occasion there is a whole rock face of about a hundred petroglyph or more for our inspection. We spent a fair bit of time driving through the Needle districts of the Canyonlands National Park and visited the Devils Kitchen, Angel Arch, Elephant Hill and other landforms of sculptured rock spires, arches, canyons and potholes. The Needles --- rock pinnacles banded in red and white --- are dominant. Earth movements fractured the rocks, and water and freezing and thawing eroded it as today's jumbled terrain. Grass meadows in Chesler Park contrast with The Needles's bare rock and arches lend the region an unusual touch. When we came out of the Needle Districts back to Hwy 191, it was getting dark although I managed to take some photos of Wilson Arch on our way to Moab where we stayed for 2 nights.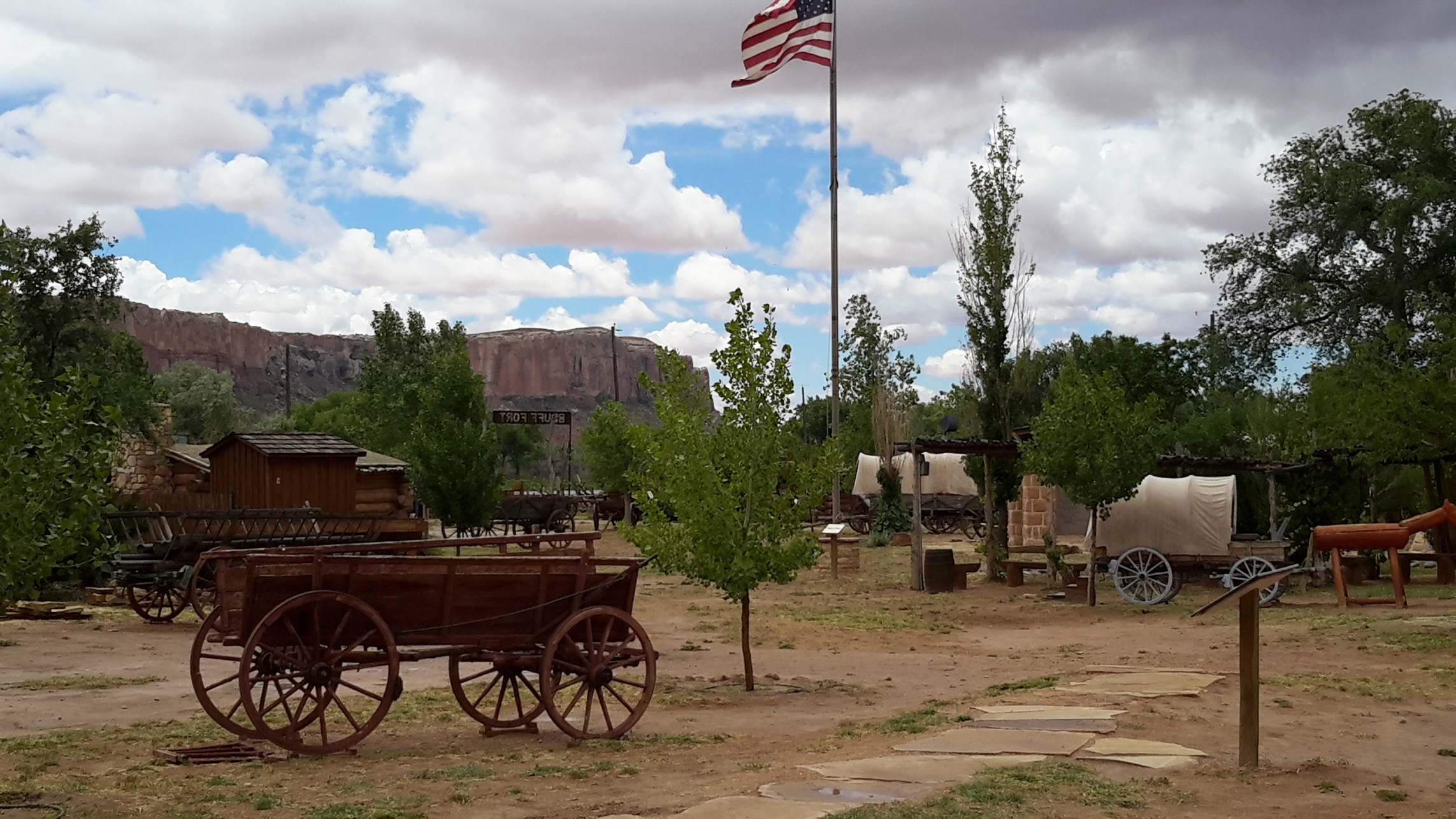 Arches National Park, Utah
Moab is another venue for Western movies in our US visit. The next morning we visited the Red Cliff Lodge Museum and saw a video which showed how different genres of movies were made in this location in the second half of the 20th century. Then we went to the Arches National Park and spent the day in awe to see different rock formations in delicate balance. It was Sunday so we had to queue up for about half an hour to get into the Park. In Delicate Arch, for example, we couldn't get to park our car so we decided to move on to see other arches and rock formations.
Water and ice, extreme temperature, and underground salt movements are responsible for the sculptured rock scenery of Arches National Park. It was difficult to comprehend the forces of relentless erosion and weathering when we saw the arches but it certainly did a good job over 100 million years to give us the present form. We followed the several trails to see the Pine Tree Arch, Sand Dune Arch, Double O Arch and a number of other arches. There were also towering spires, pinnacles, and balanced rocked which vie with the arches as scenic spectacles. 
Island of the Sky in Canyonlands National Park, Utah
We had a bit of time left so instead of visiting the Delicate Arch which we couldn't earlier we decided to bypass it and went back to the Canyonlands to see the Mesa Arch which is one of the spotlight attractions in the Island of the Sky District of Canyonlands. We followed the marked trail and as we approached our destination we noticed people setting up their cameras and posing for photos. Before long we saw Mesa Arch perfectly framing a set of snow-capped mountains in the distance so we followed other people's example and posed for photos of our own. When we got to Mesa Arch we were amazed by the view through the window under the arch with the view of the valley a thousand feet below. It was a magical feeling and we allowed ourselves to soak in its grandeur.
After snapping shots of overlooks along the Grandview Point in the Island of the Sky, we arrived at the Upheaval Dome Overlook and found a crater 5 km in diameter, estimated to be less than 170 million years old. It has a dome structure as most of the rock strata of Canyonlands National Park are flat-lying. It is an eroded impact crater from a meteor as it was confirmed in 2008 that the rocks were subjected to high pressures only possible in an impact or a nuclear explosion. It was quite a strange feeling to witness such a intergalactical incident.
Dinosaur National Monument, Utah                                                                                                
After our feast of landforms in the Canyonlands and the Arches, we decided to do something different and we found it in the Dinosaur National Monument. It was a journey back to Jurassic Time 149 million years ago. The museum itself was actually built on the quarry face where more than 1500 dinosaur bones were buried in an ancient river. Over time the sediments turned into rock, protecting the bones in a bone time capsule. Ten different species of dinosaurs were discovered in the quarry. The gigantic plant-eating sauropods were the most numerous and the meat-eating theropods only account for less than 5%. We were allowed to touch dinosaur bones some of which were as long as half our body height. You can imagine the sense of going back in time 150 million years. We spent the rest of the day visiting dinosaur trails and witnessing evidence of later human occupation 8,000 years ago in these lands in unique glyphs pecked or painted onto natural rocks.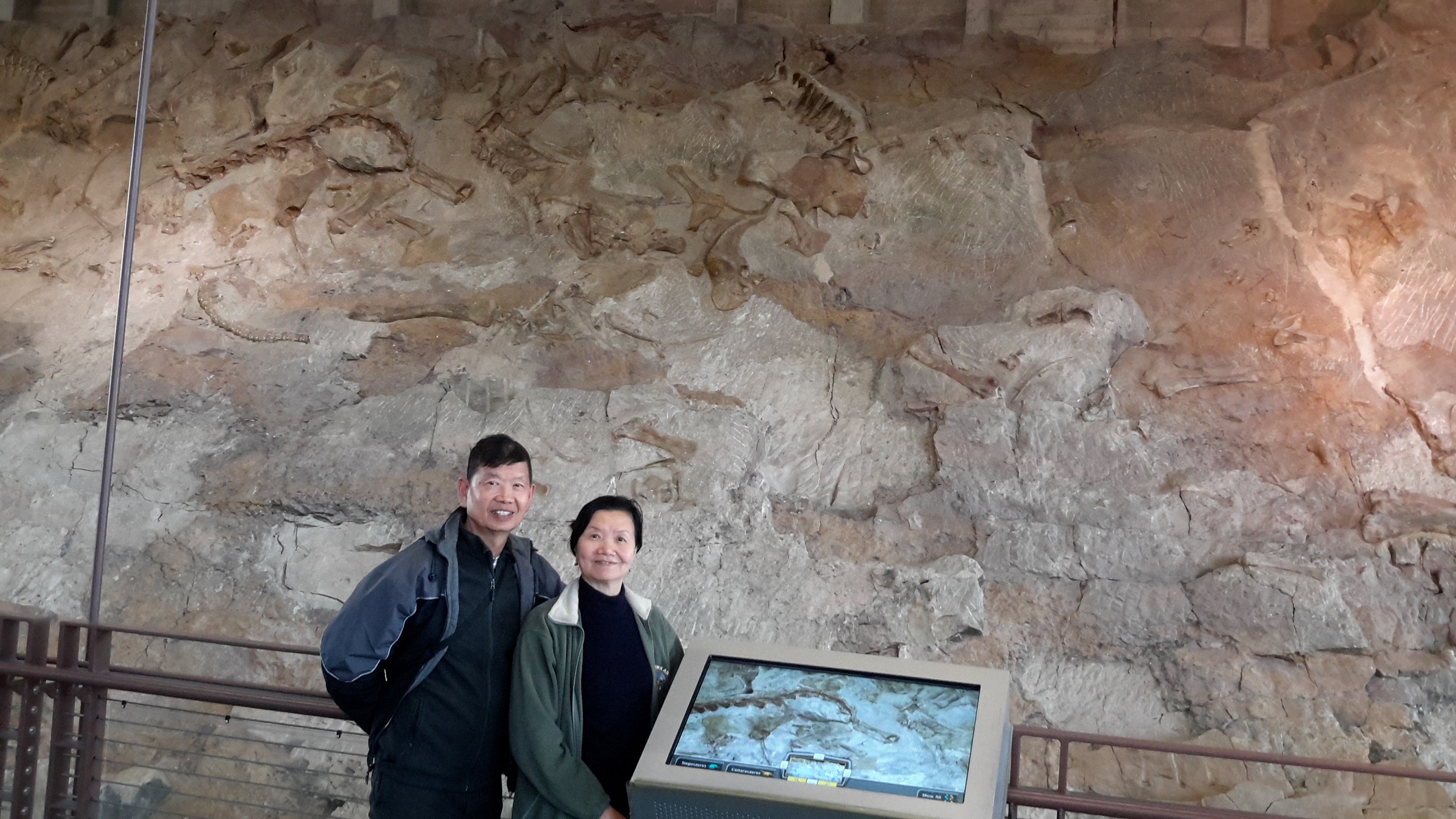 Salt Lake City, Utah
Originally we were going to visit the Grand Staircase National Monument in Central Utah but decided to see something different instead, so we drove west to Salt Lake City. Just outside the city we visited the township of Park City where the 2002 Winter Olympics was staged. It was an old town with heritage and a modern ski resort. We had lunch there before entering the Mormon mecca of Salt Lake City. The City was dominated by a nexus of buildings which they call Temple Square. Everything there was new and immaculate, even the 19th Century hotel which the Mormons took over and now became part of the Mormon Establishment. The people we met there were evangelical as we were not accustomed to constant smiles and friendliness in the US. Despite their efforts, however, we were not convinced the history of the Mormon religion.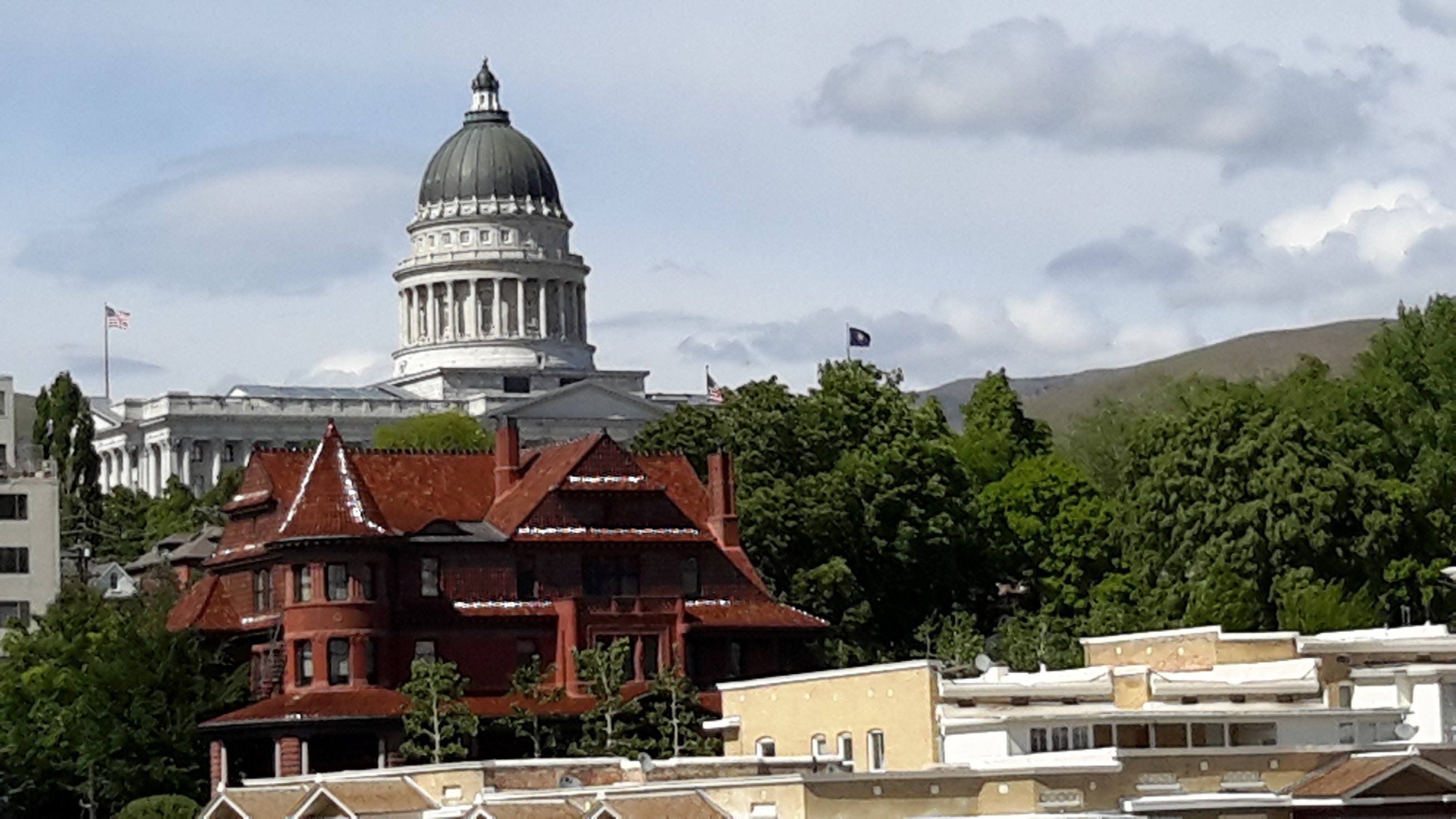 Bryce Canyon National Park
From the capital of Utah we ventured south and after a good night's rest in Richfield we proceeded to Bryce Canyon National Park. This was the second time Magdalen and I visited Bryce Canyon but from a different entry point. I think the northern entry to the Park gives it a better perspective as we were gradually introduced to the grandeur of Mother Nature's creation. 
The high elevation in Bryce Canyon creates a climate which weathers and erodes the cliff and bulbous columns called hoodoos. As snow and ice melt, water seeps into fractures. As it re-freezes, it expands and cracks the rock around it. The brochure on Bryce Canyon has this to say about the forces of weathering and erosion: "About 180 days a year temperatures swing widely between freezing nights and warm afternoons. The combination of gravity and meltwater causes soil creep, moving the stone fragments downhill. Rain from summer thunderstorms further dissolves the limestone into a clay ooze and generate enough water to help remove the debris." which makes Bryce Canyon so unique when compared to other canyons.  
There are thousands of hoodoos to be enjoyed. The brochure also explained that " ... hoodoos are eroded out of the cliffs where rows of narrow walls form. These thin walls of rock are called fins. Frost-wedging enlarges cracks in the fins, creating holes or windows. As windows grow, their tops eventually collapse, leaving a column. Rain further dissolves and sculpts these limestone pillars into bulbous spires called hoodoos."
You can look in different angles at hoodoos from Bryce Point, Sunset Point, Sunrise Point etc. and can never get tired of them. The colours range from different shades of whitish blonde to rusty red in perfect formation and balance. Collectively the hoodoos resemble a conifer forest with individual hoodoos standing out uniquely throughout the whole valley for as far as your eyes can see! I kept on snapping shots from my tablets until it ran out of battery! Over 400 photos in total! 
A look at the brochure map tells us that the pink cliffs at Bryce Canyon are the top step of the Grand Staircase National Park which stretches 100 miles in length. So in effect we have done this section of the Grand Staircase National Park! Zion Canyon is also part of this geological structure and so is the Grand Canyon in Arizona, both of which we have visited. Maybe we can say we have visited the Grand Staircase National Park after all!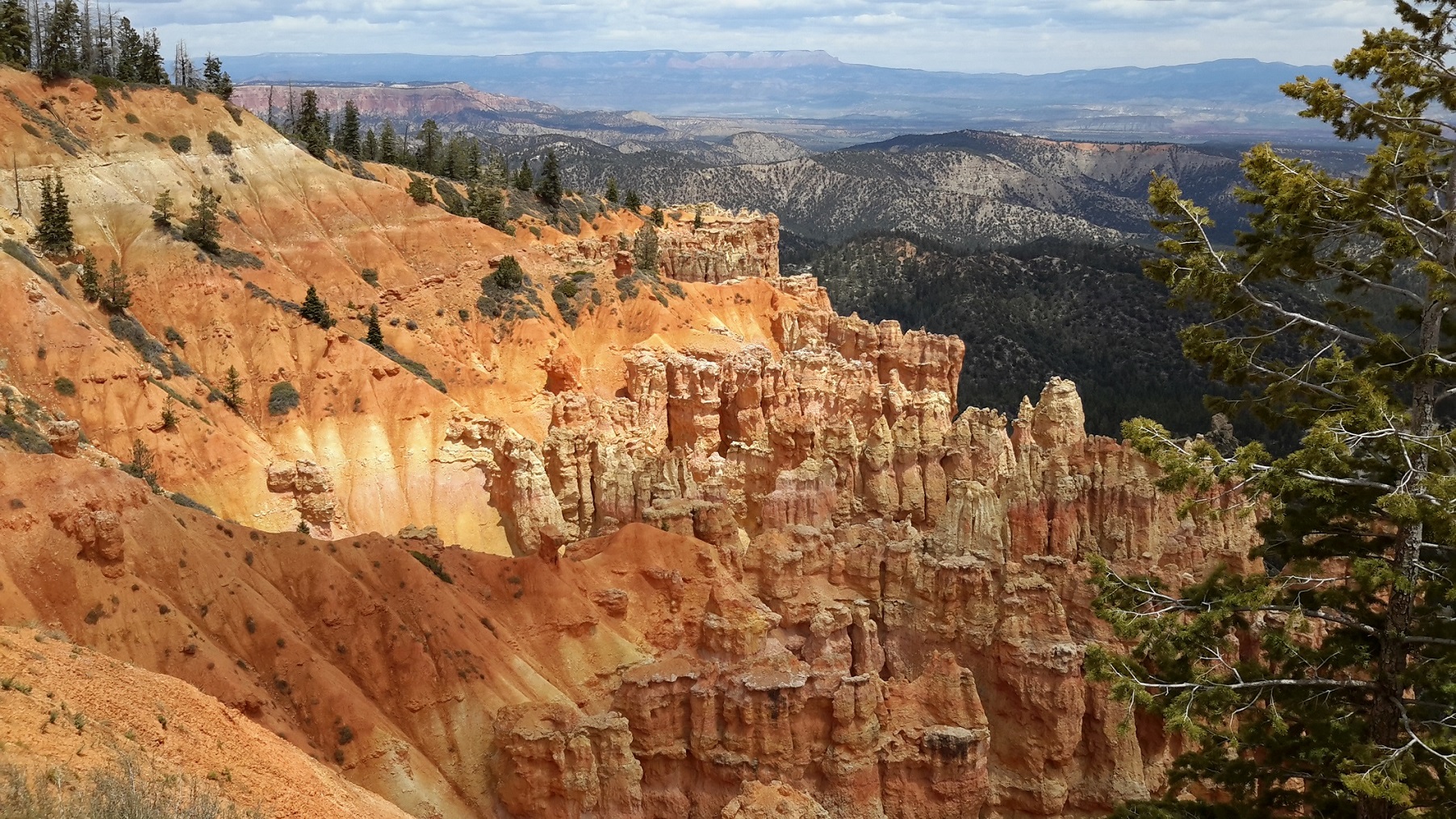 Las Vegas, Nevada
It took 3 1/2 hour to travel to Las Vegas. Along the highway we passed Zion Canyon and the Great Canyon and I could recognise parts of the scenery which we enjoyed 3 years ago. We spent 3 nights at Las Vegas. The city was familiar territory for us as we spent nearly a week in Vegas 3 years ago. After dinner at Chinatown, we visited Downtown Las Vegas and spent time there until midnight. Again this was our second visit there so we could notice that there was renewed activities to rejuvenate the Downtown area for the tourists. There was a light show every half hour, 2 bands playing continuously and street artists performing everywhere. It was enjoyable to soak in the festive atmosphere! When we checked-in at the Linq Hotel, it was passed midnight. Lola booked this hotel because it came with a high-roller ride which we used the next day. On top of the roller we could see the whole of Las Vegas including its airport. Lola and Gary were perfect hosts even on the last day when they took us shopping in an outlet outside Las Vegas and drove us to our hotel for check-in. 
This time we stayed at Monte Carlo which gave us free rides from the Monorail next to the hotel. We spent the next 2 nights at the Strip refreshing our memories of the Bellagio Fountain Show, the beautiful girls at Paris Casino tables and of course the gondoliers singing at the canal at Venetian Hotel which left us with fond memories and motivation to go back again in our next trip.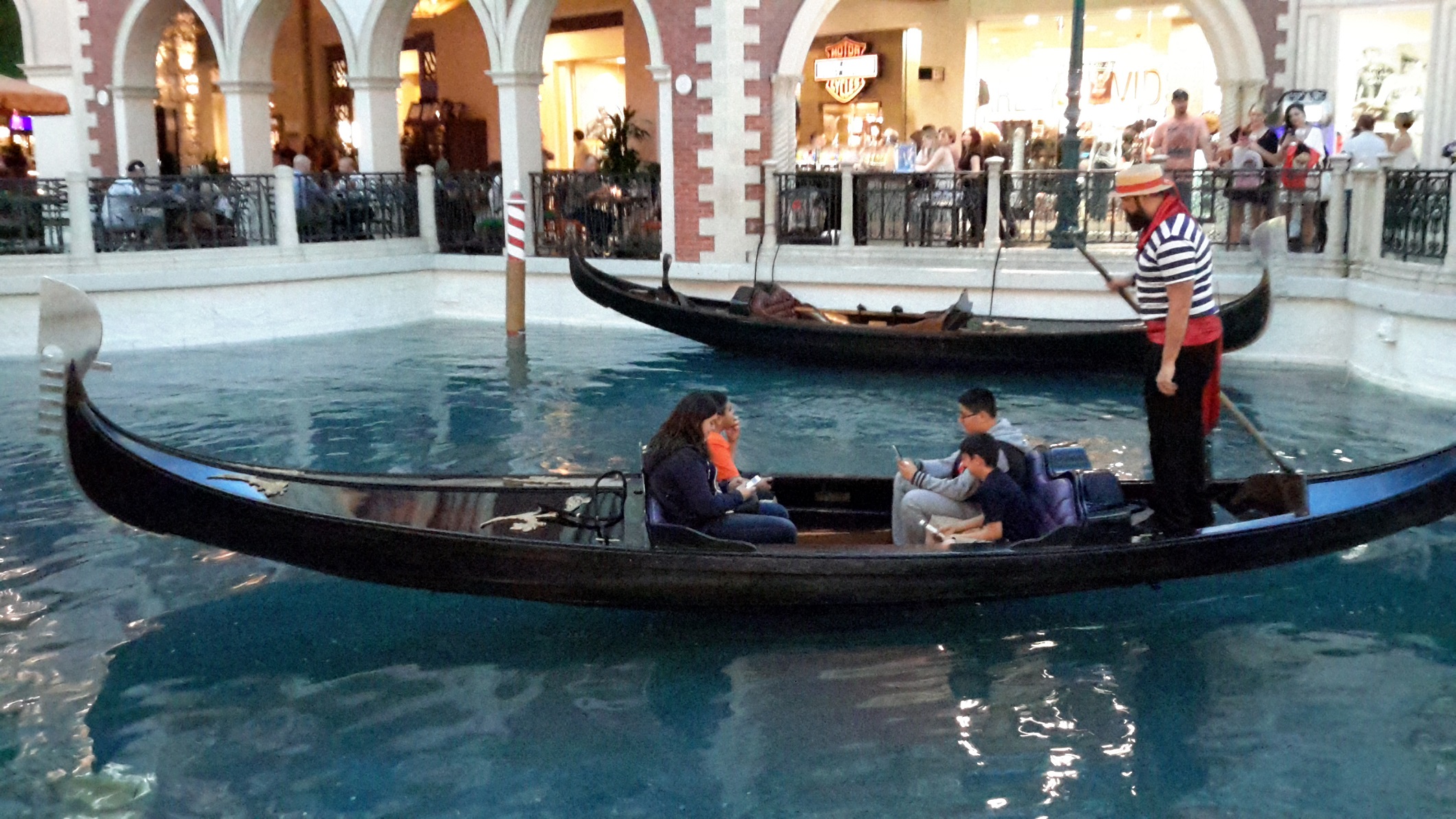 Goodbye to Gary and Lola, our perfect host and travel buddies
Gary and Lola picked us up from our hotel in West Hollywood California to begin our road trip which ended in Las Vegas Nevada. In the 20 days we were together we had traveled more than 5,000 miles or 10,000 km and saw most of the best scenery in South-West US. Magdalen and I had wished that the journey would continue forever but they have other things to attend to and their dog missed them and wanted them back. Reluctantly we said goodbye but had agree that we should travel again in the near future. Another road trip? You bet!
Mexican Riviera cruise 
We flew to L.A. from Las Vegas on the morning of May 23 to join our Mexican Riviera cruise for the next 7 nights. The 3 ports we visited were Cabo San Lucas, Mazatlan and Pueblo Vallarta. Shore excursions from a cruise are different to actually travelling and visiting a place with your own transport. We didn't join any of the ship's excursions as they were expensive and of long duration. After constantly travelling for 20 days on our road trip we decided to tone down our activities. While ashore we were constrained with time to explore these seaside resort and port cities on our own but we managed to get ourselves in local buses and found our way to tourist spots by asking many questions. Luckily there were enough US tourists about in this part of the world and they were quite helpful. 
Just to get the record straight we actually were invited to the home of a middle-class Mexican family briefly and took photos of the family home. We found them very hospitable even though they didn't speak much English. This was in Mazatlan. In Pueblo Vallarta I was also invited into the home of an American resident to take a aerial photos of the Old Town This time Magdalen didn't come in but waited outside the apartment for me to finish the photo-taking. In Pueblo Vallarta we ran into a festival in the Old Town in the square of the Cathedral with clowns jiggling and drums beating, performing all the tricks to please the crowd. It was an experience to watch! The weather in Mexico was hot and humid which made our excursions tiring and we were glad to get back to air-condition comfort on board the cruise ship.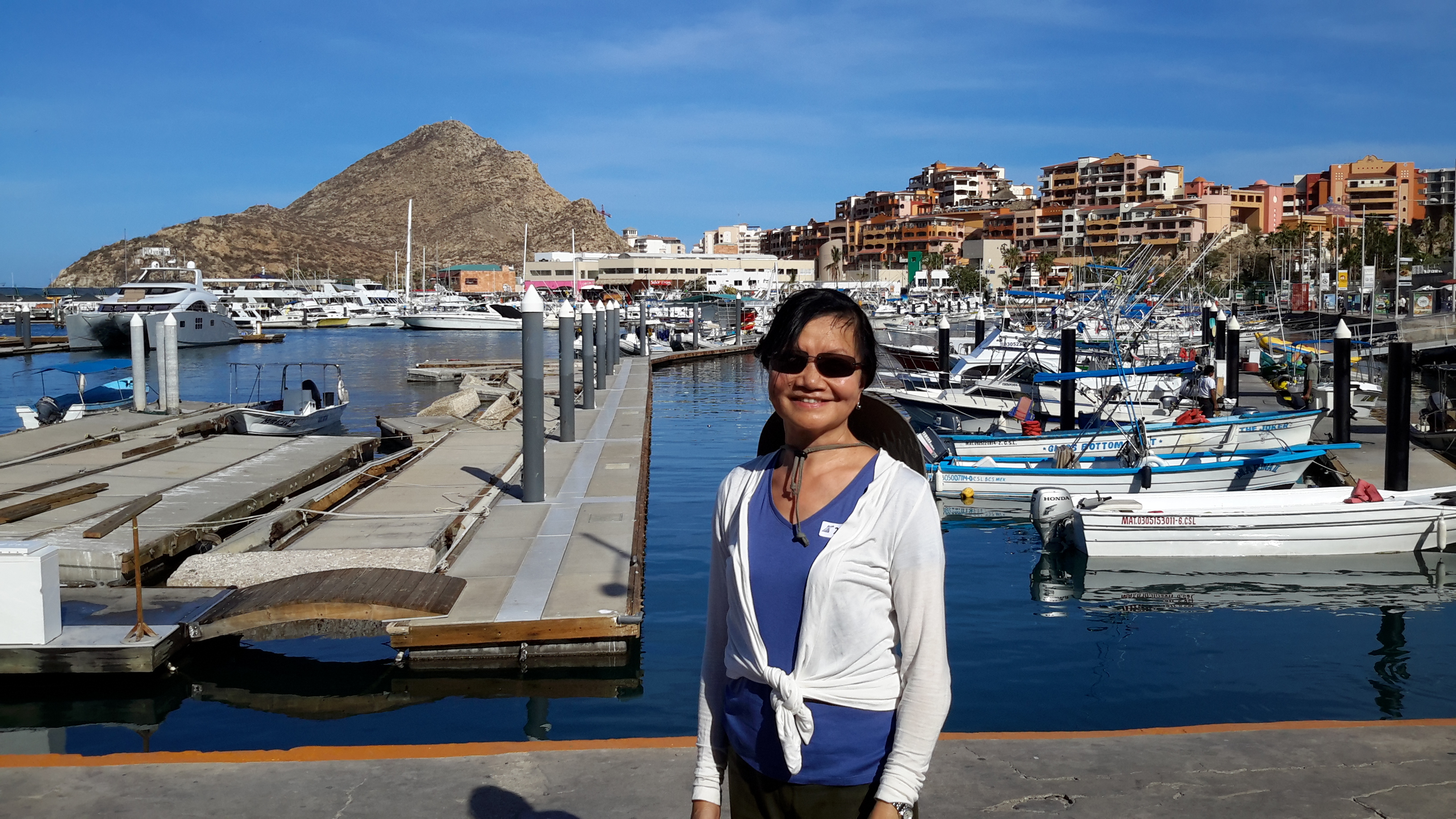 After we disembark the cruise ship we spent another day in L.A. before flying back to Sydney.