Details

Created:

30 December 2016
It's been gradually warming up here in Edmonton. (around -4 to -10C)


My daughter (Ariane) and her hubby (Ian) and I took my granddaughter Ella (3) out to try out a couple of winter sports.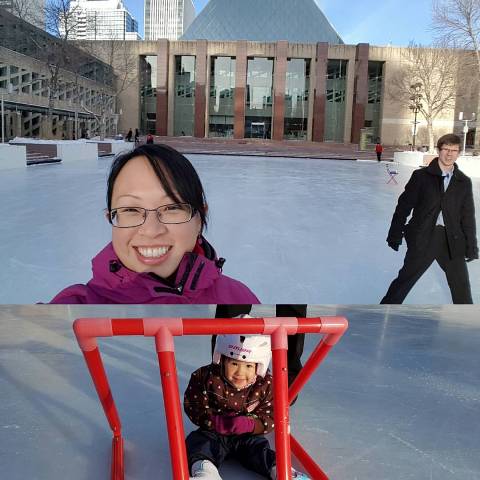 Ella started skating with the "learner" device out in the open rink at City Hall (water fountain in the summer). She pushed the device away and skated on her own for about half a minutes......, then got back to it probably thinking she was going to fall.
Will soon be rid of that thing, I think. I wish I had something like that when I learned to skate as an adult.
Her first time ever on a learners' ski slope. After being grabbed from behind only once going up, she went up the conveyor (like escalator) belt on her own 6 or 7 times without our support. Parents stayed with her close by of course; we took turns to stay with her skiing down.
Her first time down the slope with Ariane's support. After that, she told us "I want to go on my own...."; and she did!

Then she saw me taking the chair lift going up to the top, and pointed her little finger in my direction telling her parents "I want to go up there.......with 公公(Gong Gong)!"