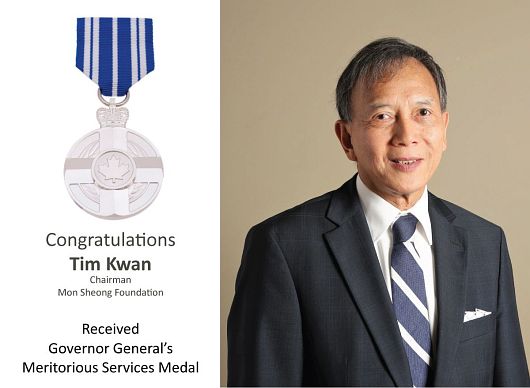 Congratulations to Tim Kwan ('67), for receiving the Governor General's Meritorious Services Medal for his leadership in the design and establishment of Mon Sheong Court, a series of culturally relevant residences for seniors in Toronto's Chinese communities.
As the Chairman of Mon Sheong Foundation since 2009, Tim's focus has always been to give back to senior care and improve the quality of life for seniors. Under his leadership, Mon Sheong has flourished. Mon Sheong's senior campus model, which consists of Community Centre for seniors, Senior Apartments, Adult Day Program, Private Care and Long-term Care, was the brainchild of Tim's vision of an all-encompassing senior care. This concept takes care of seniors with different needs for the different stages of their lives.
Tim has been an example of volunteerism at its finest.
Congratulations again Tim!
(Announcement from The Governor General of Canada)