Details

Created:

07 November 2017
Francis Kai Tak Lee 李啟德 ('78), passed away peacefully on Nov 5. The following is the funeral arrangement:
Place: Holy Cross Funeral Home
211 Langstaff Road East, Thornhill, ON L3T 3Z2
Nov 10 (Fri) 4-8pm 守靈
Nov 11 (Sat) 8:30am visitation, 10:30am mass followed by reception
WYKAAO will send condolences and donations (in lieu of flowers as wished by Francis and his family) on behalf of all WYK alumni here in Ontario. Here is the link to the funeral home.
Obituary for Francis Kai Tak Lee
Francis Kai Tak Lee, loving father, devoted son, and supportive brother, passed away from cancer on November 5, 2017. He was born in Hong Kong on October 19, 1960 to Ignatius Lee and Agatha Cheng, the second of five children. He attended Wah Yan College Kowloon before bravely setting out, at the age of 19, to the United States.
He attended Anna Maria College in Paxton, Massachusetts for his Bachelor's, and Drexel University in Philadelphia, Pennsylvania for his Master's in Engineering. He then attended the University of Alberta for medical school, and conducted his residency in Boston, Massachusetts.
A dedicated psychiatrist who touched many lives, from Boston to Toronto, he spent his life helping others with care and compassion and providing comfort to those suffering from mental illness. As a friend, he brought wit, humor, and wisdom. He always gave to those in his life, setting a shining example to all.
He loved playing Risk with his children, watching Star Wars, drinking Heineken, and eating good food.
He is survived by his 2 children, Jeremy and Jocelyn, and by the many lives he touched. He will be dearly missed by all. In lieu of flowers, memorial donations may be made to Holland Bloorview Kids Rehabilitation Hospital.
---
At the Visitation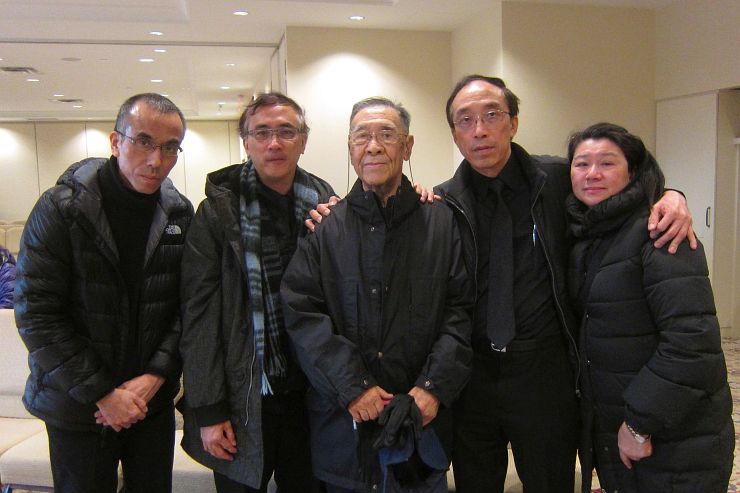 Mr. Anthony Ho with the brothers of Francis Lee and sister-in-law
---
At the Mass
賴建雄, 梁鶴松(74), 馬逸德, 黎偉林, 黎奐謙, 李啓文(77)
李德亮(77) was at the Mass too.