Details

Created:

23 September 2013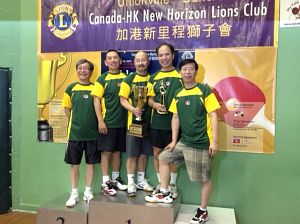 Congrats to WYKAAO Team A (David Ho, Mike Yam, Allan Lee, Michael Luk) for winning the new Alumni Cup in the New Horizon Lions Club 5th Charity Table Tennis tournament at MTTC today.
First runner-up  (which we beat 3-0) is Cheung Chuk Shan College Alumni with two OTTA high ranked players, 2nd runner-up is last year's champion Ying Wa College Old Boys Association with a huge support group.
Other participants include WYKAAO Team B, Raimondi College Old Boys' Association, DBS, Tsung Tsin College Alumni and Victoria Technical School Alumni.
A job well done and displaying true Wah Yan spirit throughout the tournament!
WYKAAO Team B (Wilfred Wei, Bill Ip and Chris Tam with Sonny Sie a late scratch due to injury) had a very hard fight in a group consisting of CCS ( 1st runner-up), DBS, #4 seed and 4th in final overall standing (we lost 2-3 with several 3 setters) and beat Raimondi College 3-0 and showed continuous progress).
Thank you for our usual great supporters who have come to cheer and shared in the glory: Tim Cheung, Sonny Sie, George Cheng, Millie Luk (wife of Michael Luk), Vinnie Yam (wife of Mike Yam) and our honourable advisor, Mr. Anthony Ho.
Some of the players and Coach Diana Zhu went for celebration dinner after.
Good job WYKAAO Teams!
---
"The Tournament is now recognized by Ontario Table Tennis Association as the biggest charity table tennis tournament in Ontario in terms of the number of participants and the diversity in ethnic and cultural involvement. We started with 6 teams and 40 participants developing to 52 teams and 284 participants within 5 years.
On top of that,  with much thanks to our sponsors, we have raised over $10,000 at this Event this year. The fund will be donated to Markham YMCA, Vision Youth and Under the Banyan Tree center respectively."
--
Danny Leung
David Yung
Event Co-chairs
Canada-HK Unionville-Doncrest New Horizon Lions Club
---
More pictures (provided by the organizer) can be found here.