Welcome to our Special 1964 Web Section
Details

Created:

12 October 2012
The rising of the wind blew away a lot of interest. We were going to walk to the restaurant yet the chill deterred us from loitering around.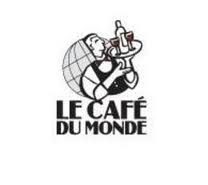 The outside of the restaurant right by the river bank...
                                          ...the inside of the café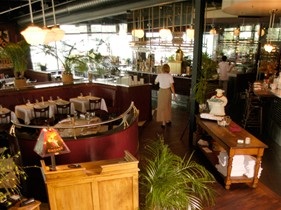 The restaurant was situated right be the river bank with the custom building perching from a platform. This building was constructed with steps that led directly into the river. When the tides rolled in, the steps would be soaked. The restaurant building was separately constructed and it had a balcony that overlooked the river bank. It was dark and we could not see much of the river yet there were customers sitting outside with candle lid tables and enjoying their meal.
The manager on duty came out and greeted us. We also exchanged e-mail a few time and he found my call name most amusing. He recognized wongtons = wonton and he was laughing. He can find humour in that handle but he would not give us any price break, not even discount for seniors.
We were put in a corner long table and we started exploring the menu.
Our server François was such a delight. He was so helpful. 
The French Onion soup is of nouveau style which did not see the caramelized onion and the melted cheese 
                       We did not have this...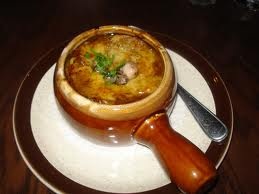 The pan seared fois gras was good but it could be done just a bit more. the apple sliced on the bottom of the goose liver also broke away from the traditional candied sauce
         Here we have scallop carpaccio.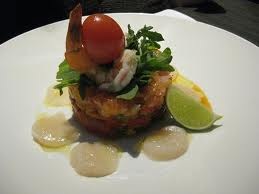 Carpaccio in Italian almost = tartar
                               The whole grill fish   
The star of the show was a whole grilled fish. It looks good with its grill mark and the smell was so comforting.
There is also a seafood medley which consisted of 5 varieties of fish, mussels and shrimp and it was steamed and served in a bamboo steamer. It was novel for appearance but the bamboo steamer prevented to retain the juice of the food. The heat of the food also dissipated fast.
I chose the safe way and order pork chop. It was moist and meaty but the sauce is a bit watery.
Mussels were ordered as well...
This restaurant adapted a new fusion concept and I cannot accept this idea of strangely marrying different foods at random.
 Black pudding which is a version of sausage but they also infuse blood into the sausage. Taste ok but be aware of the calories.
We went back to the hotel. It was nice and comfortable. We were too tired to discuss anything else – to-morrow is another day.
-- By David Wong