Class 1961
Articles and News of Class 1961
---
Details

Created:

17 December 2014

Here is the transcript by Wong Hin-shing and Yu Fong-ying:
                                                                                                6 December, 2014 
Dear Hin-Shing: 
Your letter and attached photos complete with names arrived a few days ago. 
Details

Created:

28 November 2014
 
At the happy lunch meeting, there was talk of the next reunion.  Would it be Toronto or Hong Kong?
[Please click the image for more pictures.]
Details

Created:

03 November 2014
(Standing L-R) Michael Tang, Yu Fong Ying, Gilbert Chinn, Robert Lee, Augustine Lam, Ho Kar Wing
(Seated L-R)  May Yu, Margaret Chinn, Lily Lee, Martina Lam
Details

Created:

12 October 2014
After the San Francisco Reunion in September 2014, Augustine and Martina Lam went to visit Father Farren in Ireland.
"Father had been recovering well from recent surgery. He looked younger than a 91 year old."
Details

Created:

27 September 2014
Please click the image to view the album.
Details

Created:

11 September 2014
Father Mallin turned 101 years old on September 13, 2014.
Every year, Wong Hin-shing sends a birthday card to Father Mallin on behalf of Class of 61.
The hand-written reply from Father Mallin himself is amazing.
Details

Created:

11 September 2014
Background
Our elder son Jason got married to Miss Florence Lau on July 26th 2014 in Vancouver. For that occasion, I composed a Chinese wedding couplet with the help of a friend and then asked another friend who is a calligrapher to write it out in Chinese ink on red paper. Then I hung it in on the wall of the dining room in our house a week before the wedding day. I also prepared some explanatory notes for those who wanted them, as below.
Some thoughts that motivated the writing: Jason plays the flute and the piano, and Florence plays the piano and the violin to performance level. The allusion to the soaring dragon was the suggestion of a friend, but I avoided too many allusions to the classics, making it easier for those not fluent in classical Chinese. The reference to a fine home is also an approving remark referring to the fact that the young couple had taken out a mortgage on a townhouse before getting married. The double meaning of "accompany" was deliberate. Altogether I aimed to create a lively musical mood.
Details

Created:

06 September 2014
Details

Created:

15 June 2014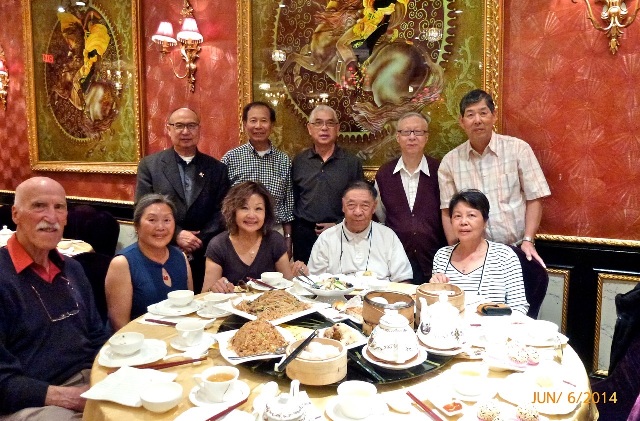 After the successful Chinese Brush Painting seminar at the Toronto Chinese Cultural Centre, a lunch was arranged by Peter Wong. 
Travelling with Gilbert were his sister, Christine and her husband, John Read, from England.
Please click here to view the photos sent in by Gilbert and Peter.
Details

Created:

26 May 2014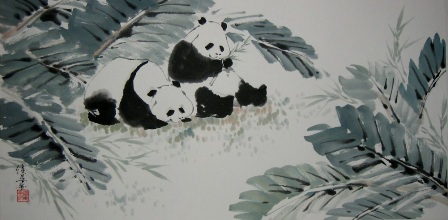 Margaret and Gilbert Chinn ('61) of Vancouver will be in Toronto in June.  During their stay, Margaret finds time to hold a Chinese Brush Painting Seminar of demonstration and exchanges of ideas.
"Margaret's paintings hang among prestigious collections, private and public world-wide, including the National Museum of Civilization in Ottawa."
Date :    Friday, June 6, 2014
Time :    10 45 a.m.
Venue : Chinese Cultural Centre
               5183, Sheppard Ave. E
               Scarborough, ON.
Free Admission