Class 1961
Articles and News of Class 1961
---
Details

Created:

11 September 2014
Background
Our elder son Jason got married to Miss Florence Lau on July 26th 2014 in Vancouver. For that occasion, I composed a Chinese wedding couplet with the help of a friend and then asked another friend who is a calligrapher to write it out in Chinese ink on red paper. Then I hung it in on the wall of the dining room in our house a week before the wedding day. I also prepared some explanatory notes for those who wanted them, as below.
Some thoughts that motivated the writing: Jason plays the flute and the piano, and Florence plays the piano and the violin to performance level. The allusion to the soaring dragon was the suggestion of a friend, but I avoided too many allusions to the classics, making it easier for those not fluent in classical Chinese. The reference to a fine home is also an approving remark referring to the fact that the young couple had taken out a mortgage on a townhouse before getting married. The double meaning of "accompany" was deliberate. Altogether I aimed to create a lively musical mood.
Details

Created:

06 September 2014
Details

Created:

15 June 2014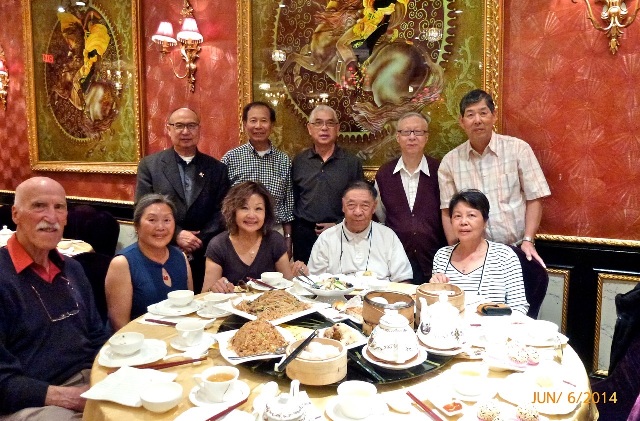 After the successful Chinese Brush Painting seminar at the Toronto Chinese Cultural Centre, a lunch was arranged by Peter Wong. 
Travelling with Gilbert were his sister, Christine and her husband, John Read, from England.
Please click here to view the photos sent in by Gilbert and Peter.
Details

Created:

26 May 2014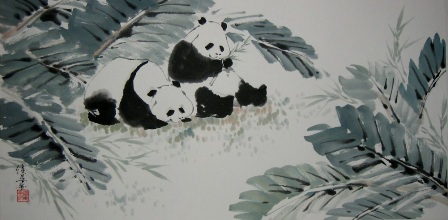 Margaret and Gilbert Chinn ('61) of Vancouver will be in Toronto in June.  During their stay, Margaret finds time to hold a Chinese Brush Painting Seminar of demonstration and exchanges of ideas.
"Margaret's paintings hang among prestigious collections, private and public world-wide, including the National Museum of Civilization in Ottawa."
Date :    Friday, June 6, 2014
Time :    10 45 a.m.
Venue : Chinese Cultural Centre
               5183, Sheppard Ave. E
               Scarborough, ON.
Free Admission 
Details

Created:

09 March 2014
Click the Class images to view large photos. (P6A #9) and Football; Basketball
Mon 03/03/2014
ERIC CHOI Yan Sang passed away about three weeks ago from cancer of the pancreas.
It was detected early, incidentally, successfully operated on but it recurred almost immediately after recovery from the operation, with peritoneal seedlings and difficulty in eating. He was in Queen Mary's Hospital for more than 6 months.
Details

Created:

08 November 2013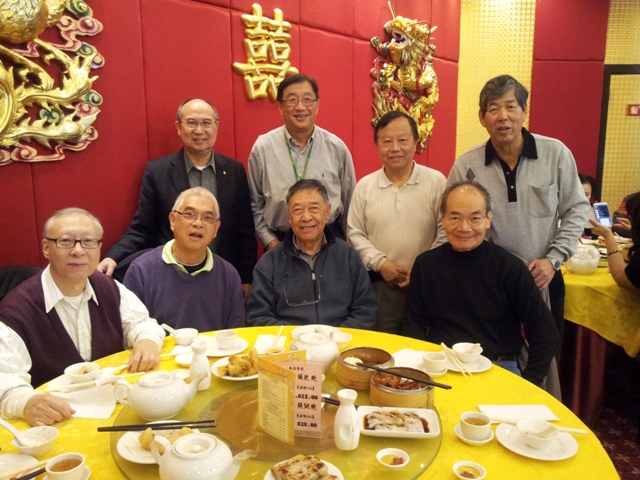 Peter Wong, Stephen Lam, Bernard Wong, Michael Chan
Hing-Shing Wong, Martin Lee, Anthony Ho, Peter Wu 
Details

Created:

27 October 2013
"Welcoming Stephen 
Stephen Lam was in Vancouver on his business trip Oct 2013.  It was wonderful that we had the opportunity to see him despite of his tight schedule.
As usual we met in a restaurant and talked about the past and the present.  Lam Yu-Ming, Michael Tang and Tony Chow were still visiting HK and were unable to attend.
Gilbert"
Details

Created:

16 August 2013
Hi Hin Shing, 
Visited Fr Farren in his nursing home in Dublin. Talked to him for about an hour. He was fine and alert apart from a broken right arm.
He received our 61-grad get-well card and also our 50 years' anniversary photo with names. Using the photos he was asking me names. Specifically, he remembered of course you, Martin Li ,Martin Lee, Albert Lam and Stephen Lam.
He remembered how Fr Reid and Francis Kong died and also the fact that he hired him. 
The first picture is myself and Fr Farren. The second one is myself, Fr Farren and Fr. Terry.  Fr Terry was our church's summer months relief priest for over 10 years. He took me to see Fr Farren.
The third picture was a 1939 ordained group picture. See whether you can spot Fr Kennedy . They were normally sent out two years after they were ordained. I went through quite a few of these group pictures and had been able to spot most of fathers who taught us. The reason is because that was what they looked like when they taught us. (Click the image to view the photos.)
Regards,
Micheal