Class 1961
Articles and News of Class 1961
---
Details

Created:

12 January 2013
Patrick Tai arrived at Toronto on Friday, January 11, 2013 for a few days.  Wong Hin-Shing arranged a welcom dinner on his arrival.  Patrick was taken to the restaurant in Markham by his friend, Chan Kai-Ming.  KM had to leave for home but he enjoyed the chat with the group as he knew some WYK boys of Class 65 very well while attending MIT.
The happy dinner went on for nealy 3 hours as Patrick has not met with some of the locals for years.  Lena Wong and Michael ordered the menu which paired extremely well with the wine, complement of Michael.
Please click the image for more photos.
"Dear all,
I am so glad to see you at dinner last night. I recognised some of you but I am afraid not all.  Some of you have changed for the better :)
I am especially glad to meet Ho Sir.
We had wonderful conversation, recalling the "good old days".
The dinner was delicious, thank you so much.
If any of you happens to stop by Cambridge, MA, please stay at my home. My wife and I would love to play host.
I would send you some photos when they are ready.
Best.
Patrick"  
Details

Created:

29 November 2012
Please click the images for larger pictures.
Details

Created:

30 October 2012
對照: 見同學新舊照片有感                        余晃英           2012年10月30日萬聖節前夕於溫哥華
-- 顯誠兄排比中學照片及近照, 相隔五十多年, 見而有感,  用七字句記下感受, 聊博一粲, 順表謝意。
Details

Created:

25 October 2012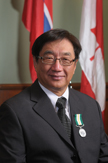 Stephen is among the 13 Ontarians who were honoured with the 2012 Ontario Medal for Good Citizenship during a ceremony at Queen's Park on October 18.  Created in 1973, the Ontario Medal for Good Citizenship recognizes people who have made exceptional long-term contributions to the quality of life in the province.
Citation reads, "Stephen Lam of Richmond Hill has led many settlement organizations in coordinating a one-stop service for immigrants in York region. He created the first of five welcoming centres for the growing diverse communities in the area, helping more than 10,000 new Ontarians with their transition to Canada."
Details

Created:

28 September 2012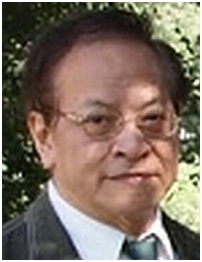 In Memoriam – Mak Wai-Kei, Gregory 麥偉基
(April 22, 1943-September 19, 2012)
Studied at Wah Yan College, Kowloon, 1955-1962
Please click here.
Details

Created:

13 August 2012
Loo Wei-Zun, May and Fong-Ying Yu are in town.  The 61ers had a dinner with them at Vince Seafood Restaurant in Markham, on Sunday, August 12.  Mr. Ho was invited.  Wei-Zun, now a Meditation/Qigong Master, and Mr. Ho have not met for over 50 years!
Details

Created:

04 April 2012
壬辰年  清明
One part of the DVD is a series of "In Memoriam." It recollects, mainly from the perspective of the Class of '61, the Fathers, teachers and schoolmates who passed away. The project is an act of love and remembrance that constitutes a living link with the past and, hopefully, will form a reservoir of collective memories that live on, for the Class of '61 and all Wahyanites.
It is now uploaded for a wider audience. The series is the work of Wong Hin-shing and Yu Fong-ying (both '61).
Please click here for the files of "In Memoriam".
Please click here for the "In Memory Of" video.
Details

Created:

28 November 2011
The 3-day programme ended with a gala dinner held on Sunday, November 13, in the school hall.  Attending were classmates with their wives, many from overseas, and invited staff.  Michael Chan, Martin Lee and Bernard Wong came from Toronto.  Invited guests were Fr Mallin, Fr Naylor, Fr Zee, Mr Wong Chin Wah, Mr Laurence Tam, Mr Anthony Ho, Principal Dr John Tan and Monty Fong from Wah Yan One Family.
The following links shows the events:
- Class of 1961 Reunion
- '61 Grads 50th Reunion WahYan Mass & Metropole Lunch
- '61 Grads 50th Reunion Kowloon Cricket Club
- WYK Class of 1961 50th Anniversary Reunion
Details

Created:

25 June 2011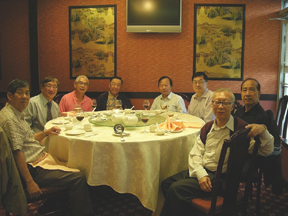 Wong Hin-Shing writes, "The Toronto class of 1961 had their 50th Anniversary reunion on Wednesday, June 22, 2011 at Golden Court Abolone Restaurant, Richmond Hill. We were fortunate to have a room reserved for us through our classmate, Michael Chan.
There were altogether eight of us, including our honored guest Mr. Anthony Ho. Classmates present were: David Chan, Michael Chan, Clement Ching, Stephen Lam, Martin Lee, Bernard Wong and Hin-Shing Wong.
Mr. Ho had prepared a slideshow "In Memory of Fathers, teachers and classmates, R.I.P." with photos and data supplied by Hin-Shing. So the first event in the evening was viewing the photos of our dear Fathers, teachers and classmates who had passed away. We were indeed very moved as we remembered them.
Details

Created:

23 July 2010
It has been more than 50 long years since John Chan Doming from Hong Kong met some of his classmates in Toronto.  During his very short stay, he and his wife, Jan, managed to find time to have dinner with the group on Thursday, July 22, 2010, the night before he left for Hong Kong via the States.
Looking back, the School Swimming Champion in 1960 found himself having studied 2 full years in Primary 6 in other schools before joining P6 at Wah Yan.  Another proudly announced that he had the fortune of repeating three years before graduating from Form 5 in 62 and then moving onto McGill.  Another record was set in the 50's in Form 3D when 8 students had to repeat another year with the same Form-master, Father Mallin.  Repeating was not unusual at Wah Yan in those years.  Interestingly enough, many repeaters enjoyed their extra time at school.
Now that many are professionals, practicing or retired, anecdotes of their work were happily shared.  Time flew by.  They discussed their 50th Anniversary reunion in Hong Kong next year.  Preparation has already been under way.  Parting, they said, "See you at reunion."
Click here for more photos.