Class 1961
Articles and News of Class 1961
---
Details

Created:

22 March 2017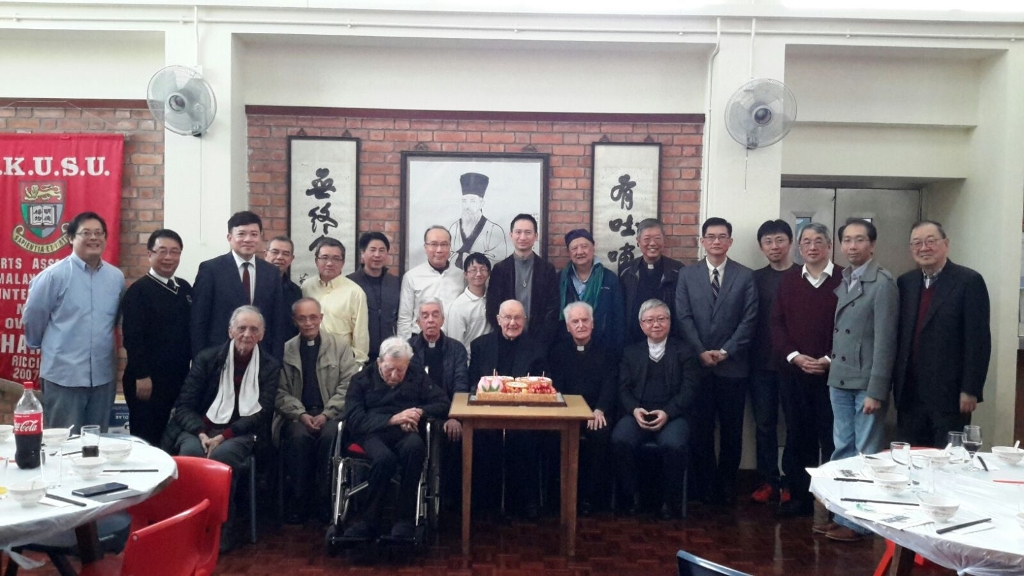 "Happy to report that 7x12 people attended the Party at Ricci Hall, HKU on March 18, including Fr Naylor, Fr.Lo, Fr Mallin, Fr Coghlan, Fr Deignan, Fr Russel, Fr Tung, Fr Leung and Fr Baptista. Start at 12:00 with photo events, sharing a beautiful cake and Ricci Hall Chinese Lunch. Attached are photos with Father Deignan and group. Fr Deignan is 90 years old and surrounded by Wah Yan boys, old and young. Everyone is happy and has no worries." __ Clement
[Please click the images to view the large photos.]
Details

Created:

03 March 2017
Please click the image to read the article.
Details

Created:

13 February 2017
Standing: Tony Chow Michael Tang Yu Ming Lam Fong Ying Yu
Seated: Ellen Chow Rowena Lam May Yu Martina Lam Margaret Chinn Gilbert Chinn
Details

Created:

22 January 2017
Transcript _ Hin-Shing and Fong-Ying
8 December 2016
Dear Hin-Shing
Just a short note to thank you for the messages and photos that have recent<ly> arrived with its various names of those who attend your local gatherings of the past students of Wah Yan College.
I hope Mr Ho has pulled through his recent fall and is as well as can be expected at his age.
As I am confined to a chair it is difficult for me to write properly. I never had really good handwriting.
Good wishes for 2017 to all your classes. Thank you for the photos; they are good resemblances of them.
Yours sincerely
J.M. Mallin - Scresani O Meallain
Details

Created:

12 December 2016
Merry Christmas & Happy New Year from Vancouver
Details

Created:

09 December 2016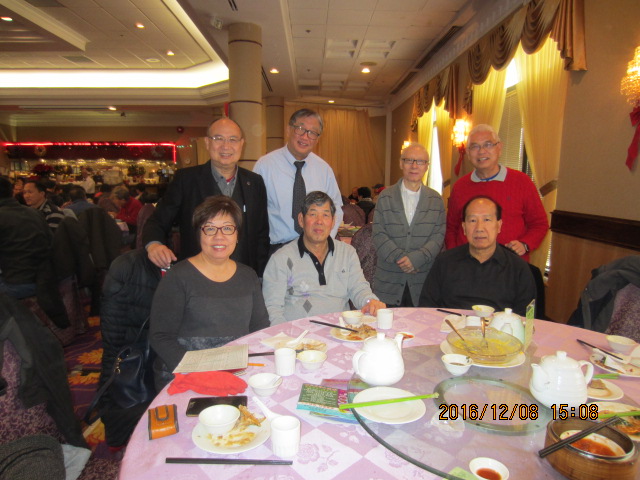 (L-R) Lena & Peter Wong, Stephen Lam, Michael Chan, Wong Hin Shing, Martin Lee, David Chan
A mini 61 group get together in Toronto celebrating Christmas. We all wish you and your family a Very Merry Christmas and a Happy New Year.
Details

Created:

14 October 2016
Details

Created:

13 October 2016
Why retire at all? A tutoring job is not that onerous an undertaking after a while. A number of reasons led to my decision to stop in 2013, 18 years after immigration. First is that the sources of good eager students were drying up. Taiwan and Hong Kong ceased to become major sources of immigrants. Second, I no longer wanted to be tied down for nine months a year; but language arts, more than other subjects, requires sustained attention, on the part of the student and the tutor. Third, from the day I took up tutoring and teaching evening classes in the first year of university, I had clocked up about 50 years of English Language Teaching. I can address my career, with sincerity and thankfulness: "To ELT, with Love". To aspiring teachers and tutors, I say, "Welcome and good luck! It is more than a job. It's a job worth doing well."
Details

Created:

11 September 2016
1) A warm-up welcoming BBQ party will be held on Fri Nov 4 evening at the Kowloon Cricket Club. Price per person is HK$450.
2) A Gala dinner will be held on Sat Nov 5 evening at the Toh Li Restaurant (2nd floor of New World Millennium Hotel, TST East). Price per person is HK$700.
3) On Sun Nov 6, visit the WYCK campus and Mass, followed by a brunch on campus, possibly a joint brunch with the class pf 1966 who will be celebrating their Golden Jubilee Reunion on the same weekend. Price per person is HK$350. Then in the afternoon a tour to the HK Ocean Park for those interested (free admission for age over 65).
4) The above prices include costs for inviting Fathers and teachers to join the events. You are encouraged to round up smaller groups to visit other attractions, such as Michelin rated eateries in HK and etc.
+
5) A 7-day tour to 江西 will be organized on Nov 7-13. Please see attachment for the detailed itinerary and conditions. Minimum 15 persons for the tour to be viable. Price per person (double occupancy) is HK$7,390. Single occupancy is HK$2,300 additional. Please send your full payment and photocopy of your travel document (passport or "港澳居民來往內地通行証" (回鄉証)) to us by September 30.
So far, the following had expressed interest for the tour:
Overseas: Terry and York Chen, Andrew Cheung, Andrew and Molly Tseung, Dr and Mrs. Michael Lee, Mr and Mrs Peter KK Wong, Shen Chi-Hung, Hui Tak Cheung, Peter Poon.