Class 1961
Articles and News of Class 1961
---
Details

Created:

15 June 2014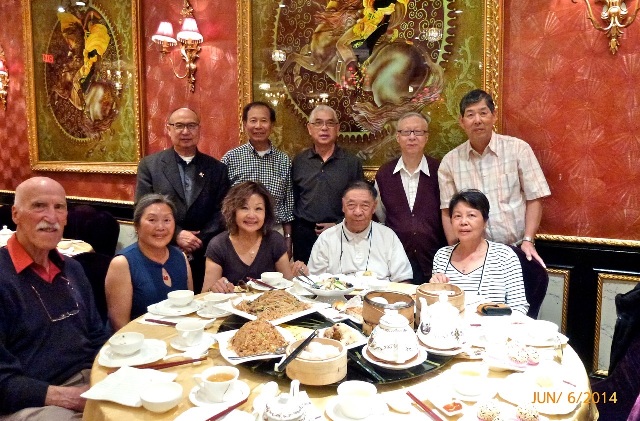 After the successful Chinese Brush Painting seminar at the Toronto Chinese Cultural Centre, a lunch was arranged by Peter Wong. 
Travelling with Gilbert were his sister, Christine and her husband, John Read, from England.
Please click here to view the photos sent in by Gilbert and Peter.
Details

Created:

26 May 2014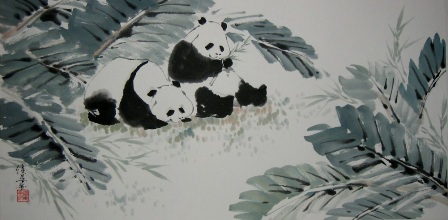 Margaret and Gilbert Chinn ('61) of Vancouver will be in Toronto in June.  During their stay, Margaret finds time to hold a Chinese Brush Painting Seminar of demonstration and exchanges of ideas.
"Margaret's paintings hang among prestigious collections, private and public world-wide, including the National Museum of Civilization in Ottawa."
Date :    Friday, June 6, 2014
Time :    10 45 a.m.
Venue : Chinese Cultural Centre
               5183, Sheppard Ave. E
               Scarborough, ON.
Free Admission 
Details

Created:

09 March 2014
Click the Class images to view large photos. (P6A #9) and Football; Basketball
Mon 03/03/2014
ERIC CHOI Yan Sang passed away about three weeks ago from cancer of the pancreas.
It was detected early, incidentally, successfully operated on but it recurred almost immediately after recovery from the operation, with peritoneal seedlings and difficulty in eating. He was in Queen Mary's Hospital for more than 6 months.
Details

Created:

08 November 2013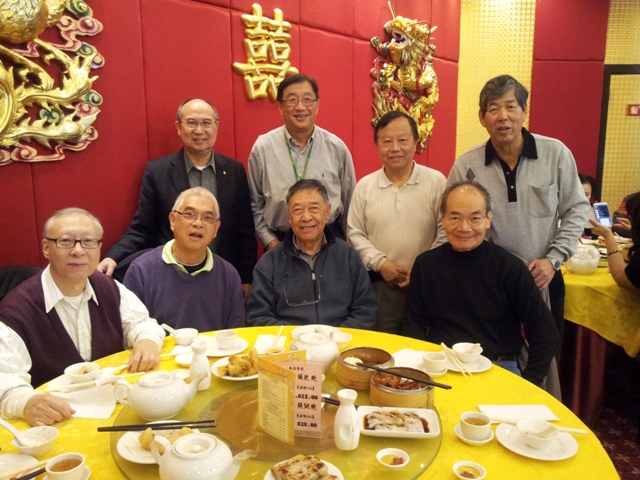 Peter Wong, Stephen Lam, Bernard Wong, Michael Chan
Hing-Shing Wong, Martin Lee, Anthony Ho, Peter Wu 
Details

Created:

27 October 2013
"Welcoming Stephen 
Stephen Lam was in Vancouver on his business trip Oct 2013.  It was wonderful that we had the opportunity to see him despite of his tight schedule.
As usual we met in a restaurant and talked about the past and the present.  Lam Yu-Ming, Michael Tang and Tony Chow were still visiting HK and were unable to attend.
Gilbert"
Details

Created:

16 August 2013
Hi Hin Shing, 
Visited Fr Farren in his nursing home in Dublin. Talked to him for about an hour. He was fine and alert apart from a broken right arm.
He received our 61-grad get-well card and also our 50 years' anniversary photo with names. Using the photos he was asking me names. Specifically, he remembered of course you, Martin Li ,Martin Lee, Albert Lam and Stephen Lam.
He remembered how Fr Reid and Francis Kong died and also the fact that he hired him. 
The first picture is myself and Fr Farren. The second one is myself, Fr Farren and Fr. Terry.  Fr Terry was our church's summer months relief priest for over 10 years. He took me to see Fr Farren.
The third picture was a 1939 ordained group picture. See whether you can spot Fr Kennedy . They were normally sent out two years after they were ordained. I went through quite a few of these group pictures and had been able to spot most of fathers who taught us. The reason is because that was what they looked like when they taught us. (Click the image to view the photos.)
Regards,
Micheal
Details

Created:

15 August 2013
On July 26,  I tagged my wife along to visit Fr Farren in Dublin from The Caribbean Princess cruise ship.
We took the city bus #11 at Trinity College southbound to Cherryfield Lodge.
After we got off the bus we followed the bus driver's direction to walk up the bending road but there was no through road to our destination.
We went back and took another road that leads up to the Lodge.
Fr Farren was saying Mass at the time (10:35am ) when we got there.   We waited and spent half an hour to chat with him after the Mass.
He remembered a number of 61's WY boys and pointed out to me on the big 2011 HK reunion picture that he had.
The first ones were the 2 Martins and Ho Bing Kwong.
I told him I did not graduate from WY. I went to HK Technical College and then further studies in US and Rome, Italy.  I had been an Aircraft engineer for 42 years and now retired.
He fell and got his arm injured while instructing people how to play the back hand tennis. He has fully recovered now.
In all Fr Farren is in good health and "every thing is good" he said.
As we were leaving he wanted to accompany us out to the main walkway, but I insisted that his lunch time was near and we were to do some sightseeing.
We bid farewell at the Lodge entrance. I thanked him for his great dedications to Wah Yan and teaching the WY boys.
My stop in Dublin was worthwhile to see Fr Farren in good health. He is clear, bright and alert, fatherly as well. 
Please click the image to view the album.
Details

Created:

27 June 2013
Hi All
Very happy to see Freddy Fong in Vancouver again. Freddy next is to meet his wife in California and continue on to New York and UK.
(I had my cataract surgery done 2 months ago and didn't wear glasses in the picture) 
Best Regards and Good Health to All. 
Gilbert
...
It was a heart-warming welcome by our Vancouver friends.   Chatting over dim sum with them and their lovely wives makes this visit memorable.   Thanks again. 
Gilbert and Margaret :    happy sailing! 
Best regards,
Freddy