Details

Created:

08 January 2011
This ends the series of China Meets the World.  It is subdivided into 
Overview,
Culture and Cultures,
The Unjust Past, Lingering Effects,
The Task of Rebuilding,
Forces from Abroad and
The Future.
The author, Kong Shui Loon, concludes: "No one knows the future, not tomorrow, the next year, or the next century. But human beings are still time-bound. We are able to look back to the past in order to understand the present and what is to come. I have unveiled the various living dimensions of China and the Chinese in recent history to describe how and why history had proceeded the way it did. If I am allowed to end this series with an optimistic note, I would say that of all the individuals that I had depicted in my writing, there are thousands and thousands like them to come. They will meet the world on their own independent terms, courteously, caringly, and harmoniously, in accordance with THE CHINESE WAY."
Please click here to read the whole article.
Details

Created:

30 December 2010
My Week in Guizhou - with the Guizhou Rose Society of Edmonton by Vincent Lee (65)
Background:
 
In the fall of 2009, I was looking for some kind of volunteer work that would allow me an opportunity to travel and to work in some dental or other capacity in a place where such services are needed - as long as it is not in a war zone (Doctors without Borders sometimes do that; I don't feel like working in an environment with bullets flying over my head!).  I almost ended up going to Nicaragua around Christmas time 2009, but that didn't work out.  And, because I couldn't go, I was able to attend a friend's Christmas dinner party, at which I ran into an old friend Dr. Chao Tai, a neurologist in Edmonton, who was originally from Singapore.  His son, now also a neurologist, and my son, Sigmund, were high school classmates, and they learned music and piano from the same piano teacher.  Much to my delight, I learned that for the preceding four years, Dr. Tai had been leading a group from Edmonton to do volunteer work in Guizhou Province (貴州省) in southwest China.  I expressed my interest in joining his group, and ended up going with him for his fifth year into this remote part of interior China.  Timing was perfect for me.  After my Zhangjiajie tour, instead of returning to Hong Kong from Chengsha, I flew from Chengsha to Guiyang (貴陽), the capital city of Guizhou.
 
Guizhou Province, together with its neighbouring province Yunnan, is part of a plateau in southwest China (雲貴高原), with a range of elevations between 1000 to 2000 meters.  It is hilly and wet, but the sandstone soil is of poor quality.  I was told that only about 15 to 20 percent of its land can be used for agricultural use.  Its capital Quiyang (貴陽) city is quite vibrant, though nothing like any of the coastal major centres.  The province has a fairly well developed highway network amongst its major cities; but beyond that, the roads into the country side and villages are still narrow, and not well maintained.  There are four major components to our group's visit: (1) The free clinic to villages; (2) Water projects to remote villages; (3) School visits, and (4) Visit to churches. 
Details

Created:

19 December 2010
Mr. Laurence Tam writes from Hong Kong:
"Yesterday (18 Decembr 2010), I had the honour of being invited to attend the 40th Anniversary Reunion Dinner of the WYK 1970 gradudates held at our WYK School Hall.  More than 40 graduates with some of their family members attended the function.  According to the program of the Reunion, the day's event started at 4 p.m. with tea and coffee followed by a school tour.  Evening drinks were served at the School Hall balcony before dinner. 
(Click the image for more pictures.)
Details

Created:

16 December 2010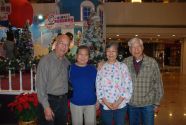 One of our directors, Andrew Tang, paid a visit to Mr. Laurence Tam in Hong Kong. Click here to see the pictures. Mr. Tam has been busy lately for overseeing "The Cradle of New Chinese Ink Painting Movement" Exhibition currently taking place in Hong Kong.
Details

Created:

07 December 2010
"The Cradle of New Chinese Ink Painting Movement" Exhibition jointly presented by Wah Yan College, Kowloon (WYK) and the Hong Kong Institute of Education (HKIEd) was successfully opened at the Art Gallery of the Institute at Tai Po on Monday 29 November 2010 at 3 p.m..  A Seminar on Chinese Art Education was held at the Hong Kong Institute of Education on the same day............
Click here to see the complete report from Mr. Laurence Tam. Click here to see the pictures taken at the Opening Ceremony and Seminar.
Details

Created:

05 December 2010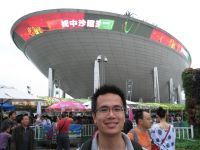 Our correspondent in China, Kelvin Ng who is also a former president of WYKAAO, shares his album of pictures taken in the recent Expo in Shanghai. Click here to view the photos.
Details

Created:

03 December 2010
Shanghai, known as the Paradise for Explorers (冒險家的樂園), has gone through many changes.
"…  in the years of 1947-50, … refugees from China rushed into Hong Kong … as we, students of Wah Yan College Kowloon, encountered them joining our classes in large numbers. The Shanghai boys spoke better English, were Catholics, and appeared generally confident.
… in May 1973, ... The streets were filled with thousands of running bicycles.
… the city planners had done an excellent job, by building a network of overpass highways to extend Shanghai outwards, like the pictorial structure of its old name, Shen 申, with a main cross surrounded by a square. It eased much of the original inner-city traffic congestions, and connected Shanghai to all the thriving neighbouring cities in the Yangtze River delta region.
… Teachers and professors were branded "rats dashing across streets" 過街老鼠 during the Cultural Revolution, to be beaten by everyone, especially pupils and cadres. Their salaries existed on paper only. Twenty years ago a full professor received $270 per month. Beginning about ten years ago, there had been no fixed salary for professors, even in the same university
… And, once again, Shanghai is a new paradise for new generations of explorers, who care not to exploit, but to share in the creation of a fair and commonly aspired future.
… Yet, the fact speaks loudly. A new approach is working effectively. It may mean that China is meeting the world on its own terms. It will be up to foreigners to learn how 'offices' operate in China.
… Today, the statue of Chen Yi 陳毅 stands where, one hundred years ago, a plaque stood to degrade the Chinese people. It said, 'No Chinese and dogs allowed here'. "
Click here to read the whole article. 
Details

Created:

28 November 2010
2010 AGM/Dinner was held on Saturday Nov 27 in a Chinese restaurant in Scarborough. Over 80 members and guests attended the fun filled evening with games, latest news and presentations, amid many delicious dishes. A number of first timers showed up for the function which is most encouraging for the association. The night was wrapped up with the showing of a new version of 'Moments in Time - the History of WYK' narrated in English. Click here to view the pictures.
Details

Created:

26 November 2010
On 25th November we took the opportunity of classmate Simon Mak's business trip to Toronto to get together at the Golden Court Restaurant for a dinner.