Details

Created:

24 November 2010
Victor J. Chen (69) shares some of his previous pictures taken in 1966-67 of a WYK choir and air club visits to Kai Tak and USS Constellation led by the late Fr Cunningham. Knowledge of WYK recently having won the Busan Choral Festival (韓國釜山合唱音樂節) caused him to get these pictures out. We certainly hope other alumni can do the same and share their pictures at WYK with all of us. Thanks Victor and here is the link.
Details

Created:

22 November 2010
謹訂於 二零一零年十一月二十九日(星期一)下午三時正 假座香港教育學院文化與創意藝術學系展覽廳舉行"新水墨畫運動的搖籃"畫展暨研討會開幕典禮 (按此參閱詳情).
From Mr. Laurence Tam in Hong Kong, "I consider this exhibition to be the most important one, because it signifies that the Cradle teaching method has finally been endorsed by the education institution for the training of teachers. This time, the exhibition is all in Chinese, because it is meant for the primary and secondary school teachers in Hong Kong.
Details

Created:

15 November 2010
Click here to see the pictures taken during the Reunion of Class 3D ('57-58') in August 2010, plus Sonny Sie performing 'My Way' (as Frank Sinatra) on the cruise (video here).
Details

Created:

10 November 2010
Congratulations to Albert Fung, our former director, who received his Master Degree in Science at the convocation at the University of Toronto today.  Attending the happy occasion were his parents and sister. Sharing the joyous moments were Past President, Kelvin Ng from Jinan China with his wife, Immediate Past President Alan Leong and former director, Falco So.  Albert's Father, Derek Fung Kai-ming (72), is a driving force behind The Teaching of Chinese Ink Painting Programme initiated by Mr. Laurence Tam.
See more pictures here.
Details

Created:

10 November 2010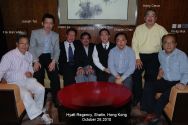 On the occasion of Joseph Chu's visit to Hong Kong, Gilbert Tsui shouted "fall in!" and a few of us managed to get together for a happy night at Hyatt Regency, Shatin, on October 28, 2010.  Old timers returning overseas have always been good pretext for these get-togethers for otherwise too-busy people.  On the night, lots of reminiscences of past gaiety were swapped, bringing alive things that happened over 30 years ago!
Details

Created:

09 November 2010
Expo67 took place in Montreal with the theme, "Man and His World".
        Forty three years later, Expo2010 opened to the world in Shanghai with the theme, "Better City, Better Life".
S.L. Kong (53), who was involved in designing the Canadian Pavilion in Expo 1967, visited Expo2010.  He shares his thoughts in an article in the Features Page.  His expo album is on the Pictures Page. 
Details

Created:

05 November 2010
Kelvin Ng (95), former President of WYKAAO, was back to Toronto for a short visit. He joined the Board meeting on November 4th, keeping everyone up-to-date on what's happening in his work and personal life of the past few years. He also agreed to post pictures and articles to our website in the near future. Stay tuned! Alex Cheng (09) also attended the meeting as a guest. He is looking forward to entering university in Ontario next year; we are most happy to see a young and new force joining our association.
Details

Created:

31 October 2010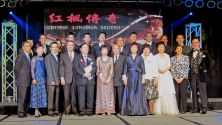 Philip Lee (WYK 60), Lieutenant Governor of Manitoba, was awarded Chinese Canadian Legend at a celebration event hosted by the Asian Business Network Association in a Richmond Hill hotel grand ballroom. Dignitaries, government officials and other VIPs were invited to the occasion (see this video clip). Members from both Wah Yan alumni associations in Ontario also attended the ceremony to share the joy and are proud of what Philip has achieved (see the award presentation here).
Pictures of the Gala Dinner can be viewed here.
Details

Created:

23 October 2010
Albert Miu (61) from Australia on September 25.
Raymond Kwok (94) from Vancouver on October 22.
Philip Lee (60) from Winnipeg to receive a 2010 Chinese Canadian Legend Award from The Asian Business Network Association on Saturday, October 30.  Click here for pictures of lunch on October 28.
[Peter Chang Pai Tak (61) and Edward Mak Tak Wah (62) received their award in 2007.]
(You are welcome to send in pictures of visitors for posting.)
Details

Created:

12 October 2010
October 2010 newsletter is now online.   You can read it here.
| | | |
| --- | --- | --- |
| 1. AGM |   | 8. IC2010 in Pictures |
| 2. AGM Dinner |   | 9. Lunch with the Lt. Governor |
| 3. Director Nomination |   | 10. Dinner with Fr. Coghlan |
| 4. Scholastic Achievement Award |   | 11. Happy Corner |
| 5. Bylaws Amendment |   | 12. The Year in Review |
| 6. Terry Fox Run |   | 13. AGM Form |
| 7. From the Middle East |   | 14. SAA Form |