Class 1971
Articles and News of Class 1971
---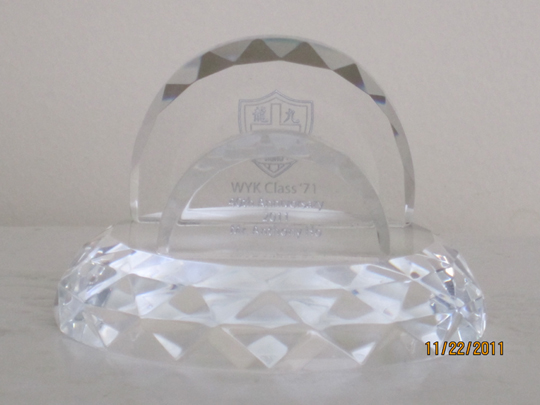 The Organizing Committee members had worked for months to make the event a great success. The 2-day programme was enjoyed by classmates in Hong Kong and from Australia, U.S., England and Singapore.  Representing Canada is Anthony Lee of Concord, Ontario.  Mr. Ho was the invited guest from Toronto.
The first day, November 05, 2011, started with Home Coming Tour followedd by lunch at school.  The Celebration Dinner at Chariot Club in Central was attended by over 80 people.  An excellent video produced by Cora, daughter of David Ho Siu Hang, was shown to start an evening to remember.
The Venture Trip Macau the next day was another enjoyable event.
Please click the elegant Mobile Phone Stand for photos.
Class of 1971 (F5) programme to celebrate their 40th Anniversary:
1.  Saturday, November 5, 2011
     Home-Coming Tour & Lunch
     Celebration Dinner
2.  Sunday and Monday, November 6~7, 2011
     Macau trip
     (Please click the links for details.)
              *     *      *      *      *      *      *      *     *      *      *      *      *      *
Class of 1961 (F5) programme to celebrate their 50th Anniversary:
1.  Friday, November 11, 2011
     Warm-up Lunch/BBQ Dinner
2.  Saturday, November 12, 2011
     Ocean Park/Lantau_Big Buddha
3.  Sunday, November 13, 2011
     Mass at St. Ignatius Chapel, WYK/Lunch/Gala Dinner