Class 1971
Articles and News of Class 1971
---
Details

Created:

18 February 2013
Dear alumni,
We had a pleasant gathering from start to finish in LA last evening ( on the 7th day / man's birthday of the Lunar January ), sharing some great time and fancy food together.
Picture from L-R, back row: Thomas Shum, Pius Lee, Robert Chow Kam Cheong, Eric Yew, Louis Leong Chun Kit, Peter Woo Yau Tak and Donald Chan Pak Ning.
Front L-R: the better halves of Pius ' Louis' and Peter' --Debbi, Elena and Ann.
We also invited a '72 alumnus Eric Yew to join.
Louis Leong drove all the way from San Francisco to LA the day before.
Peter is going back to Hong Kong the next day; he has a furniture sales office in LA.
In the picture, only Robert Chow and I were in the same 2B class (with the late Fr Cunningham as our Form teacher), and Peter in the same 1C class; never been in any same classes with Pius, Louis nor Donald.
Regards
Thomas Shum, from Los Angeles 
Details

Created:

06 February 2013
Edmond Wong has some old photos to share with you. 
Please click here to view them.
Details

Created:

07 December 2012
Photo sent in by Don Chen
Details

Created:

26 November 2012
Hong Kong
John Chan was instrumental in arranging a super dinner at the Club House of The Institute of Securities Dealers Ltd.  證券商協會會所 on November 04, 2012.  Those attending were rewarded with the best snake-soup in Hong Kong.  Invited guests included Mr. Yu Boon Leung, Mr. Francis So, Mr. Chiu Hei Kau.  Mr. Anthony Ho and Ms Chan, whom John picked up at the airport earlier in the afternoon from Toronto, were in time to sample the famous soup.
Toronto
Edmond Wong was able to source out Ignatius Chong Tak Yan from Ajax east of Toronto to join in at a dinner on Saturday, November 24, 2012 at 6:30 PM.  Most were late saying that they could not find any parking near the restaurant. (Mr. Anthony Ho remembered the days when boys offering the same excuse for being late to school: they were not able to catch the bus.)  It was better late than never because they all enjoyed the excellent wine brought in by Sammy Lee pairing beautifully with the dishes jointly selected by Edmond and Sammy.  Those interested should contact Sammy for his choice.
Please click here for the photo album
Details

Created:

24 July 2012
To welcome David Ho from Hong Kong and Don Chen from LA, Class 71 arranged Happy Hour/Dinner on July 23.  Long time friends, Pat Lai (72) and Wilfred Wei (69) joined in for the fun.  Mr. Anthony Ho was invited to share their stories of their Wah Yan days.  The happy gathering went on from 4:30 to 10:30.
Click the album of photos by Don and the video.  
Details

Created:

12 July 2012
     Tony Wong Kwok Shek passed away in May, 2011.  His son, Tim, was in his final year majoring Actuarial Science at University of Toronto then.  Tim graduated this June and is now back in Hong Kong job-hunting.  Thanks to his wife, Joyce, for sharing photos of Tim's Graduation.   (news from Antony Leung).
Details

Created:

21 May 2012
David Ho Shiu Hang 何肇鏗 (Hong Kong/Macau) and Don CHEN 陳柏齡 (L.A.) will be in town this summer.  Sammy LEE 李健昌 and Edmond WONG 黃均明 have arranged a dinner gathering of Class 71 members to meet with the visitors on July 23, 2012.  Attending are Fred YIP 葉柏年, Joseph Chu Yiu Cho 朱耀祖, Simon CHAU 周國強 and Mr. Anthony Ho.  Otheres who are interested are asked to get in touch with This email address is being protected from spambots. You need JavaScript enabled to view it. or This email address is being protected from spambots. You need JavaScript enabled to view it..
Details

Created:

13 December 2011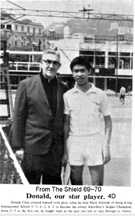 先獻上歪詩一首:
華仁師友尚難忘   憑網寄情傳各方   信是有緣今未盡   四十週年聚一堂
機緣
這次見面,勾起我對那段同學少年日子的回憶.
四十年了, 驀然回首,輕舟已過萬重山.  我跟各位有緣.  想當年,如果不是FINNERAN神父熱愛網球,我怎樣能夠認識你們這班精英。FINNERAN在南華早報看到我,叫一就讀中五的華仁仔到南華會找我來華仁讀書,  同學姓蕭. 也在南華學打球.   我把消息告訴父親,父親笑說,你點有本事讀華仁? 
Details

Created:

25 November 2011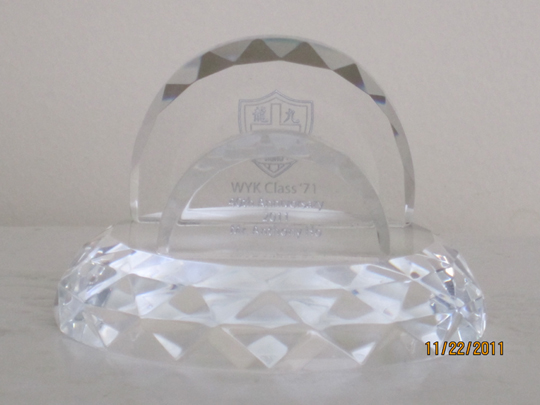 The Organizing Committee members had worked for months to make the event a great success. The 2-day programme was enjoyed by classmates in Hong Kong and from Australia, U.S., England and Singapore.  Representing Canada is Anthony Lee of Concord, Ontario.  Mr. Ho was the invited guest from Toronto.
The first day, November 05, 2011, started with Home Coming Tour followedd by lunch at school.  The Celebration Dinner at Chariot Club in Central was attended by over 80 people.  An excellent video produced by Cora, daughter of David Ho Siu Hang, was shown to start an evening to remember.
The Venture Trip Macau the next day was another enjoyable event.
Please click the elegant Mobile Phone Stand for photos.
Details

Created:

10 October 2011
Class of 1971 (F5) programme to celebrate their 40th Anniversary:
1.  Saturday, November 5, 2011
     Home-Coming Tour & Lunch
     Celebration Dinner
2.  Sunday and Monday, November 6~7, 2011
     Macau trip
     (Please click the links for details.)
              *     *      *      *      *      *      *      *     *      *      *      *      *      *
Class of 1961 (F5) programme to celebrate their 50th Anniversary:
1.  Friday, November 11, 2011
     Warm-up Lunch/BBQ Dinner
2.  Saturday, November 12, 2011
     Ocean Park/Lantau_Big Buddha
3.  Sunday, November 13, 2011
     Mass at St. Ignatius Chapel, WYK/Lunch/Gala Dinner