Class 1971
Articles and News of Class 1971
---
Details

Created:

05 April 2013
Clcik here to read the whole story.
Details

Created:

19 February 2013
周兄身材短小精桿。自小如此。今次見他。更有微微打橫生的催勢。梳半個尤伯連納頭,留整齊的奇勒基寶小鬍子。鬍鬚有黑也有白。黑邊小圓圈眼鏡襯托出一個經驗豐富的精準工程師。
周兄的性格與他硬朗身體成反比例。身體越硬朗,他越「軟淋淋」。天生好脾氣。他是個善良人。
席間,話題轉入各人兒女。Peter Wu 一對千金在哥倫比亞讀書。Peter 讀書?一定是嫂夫人的功勞。
輪到周兄回答,他笑吟吟:「我未結婚,冇老婆。」
噹粗魯:「點解?你搞乜春?」
初七人日,舊時同學見面。噹最愛見到的是同班周錦昌,Robert。與他在同一城市生活幾十年,見面最多三次。華仁同學四十週年聚會。我去信邀請同行,可惜他「扒龍船」撞期,捨香港去澳洲。
周兄條件甚是優厚。幫Long Beach政府做工程師廿多年。Long Beach 是西部大港口。貨船排隊進港,city 收買路錢財源滾滾。周兄有命可以做到一百歲。
Pius 曾經告我。他夫婦為周兄女朋友事操心。介紹了多位女仔女人給他,不幸嘴型不對。不是周兄不愛人家,就是人家不愛周兄。
噹古惑嘢開始:「現代好男兒。求取配偶有年齡formula。男方年齡除二加七!」
女士驚訝。男士則暗中喝彩。果然是工程師。識計算。周兄反應快:
「可否除二加五?」
噹:「你唔好貪心。同我斤斤計較。六十除二加七等於三十七。」
噹心想,條友仔想食咗人隻車咩。
講下講下,周兄突然問:「可唔可以就咁除三?」
看見周兄如此幽默。噹轉正經。問:「你可講笑嗎?我想同你寫段求偶文。求助於七一屆同學。一來希望幫助你搵個伴侶,二來也給機會同學做功德。」
Pius 搶先說:「當然可以。昌最能講笑。」
周錦昌:「任寫唔嬲。」
問題是噹沒有亂寫。紀錄全部真實。有 Louis, Peter, Pius, Thomas 在旁作證。
席散。侍者打包兩袋剩菜。噹拿一袋,另外一袋給周兄:「昌,你带回去。單身寡老豆,唔駛煑。」
搭住周兄闊大的膊頭出餐房。周兄對我說:「噹,幾時一齊去黃山玩下,聽聞好靚。」
噹想。當然可以。LA有九十九美金黃山五日遊。但你要先搵個伴侶。因為噹老婆要跟住噹。
同學們依依不捨。在門口多聊幾句。周兄先離去。他明天大清早要練習扒船。
北風吹啊吹。周兄大踏步消失在黑夜的停車場裡。
問 Pius:「昌條友有冇轉呔,鍾意咗男人?」
Pius 斬釘截鐵:「絕對冇!」
同學們,做下嘢。茫茫人海,周錦昌成日掛住扒船,不容易搵老婆。你們有什麼剩女,失婚婦啱佢,請介紹。噹人格保證,昌好人一個。


請看 《徵婚》廣告。
詩人王維活到六十九歲:〝晚年惟好靜,萬事不關心"。 現代人六十歲是年輕,看我周兄,雄風未曾刮起,龍舟未曾落水,寶劍未曾出鞘。有排玩。
行文到此收筆。噹忿忿不平。周同學如此敦厚好人,幾十年悠悠長,多少女人在好男人周同學身邊察身而過。命運婚姻就是這樣,好難講。
Some information is provided by Pius Lee.

塵噹  2013.2.19.
Details

Created:

18 February 2013
Dear alumni,
We had a pleasant gathering from start to finish in LA last evening ( on the 7th day / man's birthday of the Lunar January ), sharing some great time and fancy food together.
Picture from L-R, back row: Thomas Shum, Pius Lee, Robert Chow Kam Cheong, Eric Yew, Louis Leong Chun Kit, Peter Woo Yau Tak and Donald Chan Pak Ning.
Front L-R: the better halves of Pius ' Louis' and Peter' --Debbi, Elena and Ann.
We also invited a '72 alumnus Eric Yew to join.
Louis Leong drove all the way from San Francisco to LA the day before.
Peter is going back to Hong Kong the next day; he has a furniture sales office in LA.
In the picture, only Robert Chow and I were in the same 2B class (with the late Fr Cunningham as our Form teacher), and Peter in the same 1C class; never been in any same classes with Pius, Louis nor Donald.
Regards
Thomas Shum, from Los Angeles 
Details

Created:

06 February 2013
Edmond Wong has some old photos to share with you. 
Please click here to view them.
Details

Created:

07 December 2012
Photo sent in by Don Chen
Details

Created:

26 November 2012
Hong Kong
John Chan was instrumental in arranging a super dinner at the Club House of The Institute of Securities Dealers Ltd.  證券商協會會所 on November 04, 2012.  Those attending were rewarded with the best snake-soup in Hong Kong.  Invited guests included Mr. Yu Boon Leung, Mr. Francis So, Mr. Chiu Hei Kau.  Mr. Anthony Ho and Ms Chan, whom John picked up at the airport earlier in the afternoon from Toronto, were in time to sample the famous soup.
Toronto
Edmond Wong was able to source out Ignatius Chong Tak Yan from Ajax east of Toronto to join in at a dinner on Saturday, November 24, 2012 at 6:30 PM.  Most were late saying that they could not find any parking near the restaurant. (Mr. Anthony Ho remembered the days when boys offering the same excuse for being late to school: they were not able to catch the bus.)  It was better late than never because they all enjoyed the excellent wine brought in by Sammy Lee pairing beautifully with the dishes jointly selected by Edmond and Sammy.  Those interested should contact Sammy for his choice.
Please click here for the photo album
Details

Created:

24 July 2012
To welcome David Ho from Hong Kong and Don Chen from LA, Class 71 arranged Happy Hour/Dinner on July 23.  Long time friends, Pat Lai (72) and Wilfred Wei (69) joined in for the fun.  Mr. Anthony Ho was invited to share their stories of their Wah Yan days.  The happy gathering went on from 4:30 to 10:30.
Click the album of photos by Don and the video.  
Details

Created:

12 July 2012
     Tony Wong Kwok Shek passed away in May, 2011.  His son, Tim, was in his final year majoring Actuarial Science at University of Toronto then.  Tim graduated this June and is now back in Hong Kong job-hunting.  Thanks to his wife, Joyce, for sharing photos of Tim's Graduation.   (news from Antony Leung).
Details

Created:

21 May 2012
David Ho Shiu Hang 何肇鏗 (Hong Kong/Macau) and Don CHEN 陳柏齡 (L.A.) will be in town this summer.  Sammy LEE 李健昌 and Edmond WONG 黃均明 have arranged a dinner gathering of Class 71 members to meet with the visitors on July 23, 2012.  Attending are Fred YIP 葉柏年, Joseph Chu Yiu Cho 朱耀祖, Simon CHAU 周國強 and Mr. Anthony Ho.  Otheres who are interested are asked to get in touch with This email address is being protected from spambots. You need JavaScript enabled to view it. or This email address is being protected from spambots. You need JavaScript enabled to view it..
Details

Created:

13 December 2011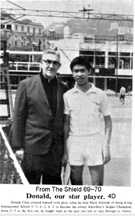 先獻上歪詩一首:
華仁師友尚難忘   憑網寄情傳各方   信是有緣今未盡   四十週年聚一堂
機緣
這次見面,勾起我對那段同學少年日子的回憶.
四十年了, 驀然回首,輕舟已過萬重山.  我跟各位有緣.  想當年,如果不是FINNERAN神父熱愛網球,我怎樣能夠認識你們這班精英。FINNERAN在南華早報看到我,叫一就讀中五的華仁仔到南華會找我來華仁讀書,  同學姓蕭. 也在南華學打球.   我把消息告訴父親,父親笑說,你點有本事讀華仁?