Details

Created:

05 December 2010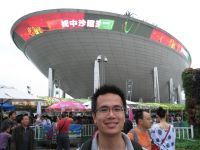 Our correspondent in China, Kelvin Ng who is also a former president of WYKAAO, shares his album of pictures taken in the recent Expo in Shanghai. Click here to view the photos.
Details

Created:

03 December 2010
Shanghai, known as the Paradise for Explorers (冒險家的樂園), has gone through many changes.
"…  in the years of 1947-50, … refugees from China rushed into Hong Kong … as we, students of Wah Yan College Kowloon, encountered them joining our classes in large numbers. The Shanghai boys spoke better English, were Catholics, and appeared generally confident.
… in May 1973, ... The streets were filled with thousands of running bicycles.
… the city planners had done an excellent job, by building a network of overpass highways to extend Shanghai outwards, like the pictorial structure of its old name, Shen 申, with a main cross surrounded by a square. It eased much of the original inner-city traffic congestions, and connected Shanghai to all the thriving neighbouring cities in the Yangtze River delta region.
… Teachers and professors were branded "rats dashing across streets" 過街老鼠 during the Cultural Revolution, to be beaten by everyone, especially pupils and cadres. Their salaries existed on paper only. Twenty years ago a full professor received $270 per month. Beginning about ten years ago, there had been no fixed salary for professors, even in the same university
… And, once again, Shanghai is a new paradise for new generations of explorers, who care not to exploit, but to share in the creation of a fair and commonly aspired future.
… Yet, the fact speaks loudly. A new approach is working effectively. It may mean that China is meeting the world on its own terms. It will be up to foreigners to learn how 'offices' operate in China.
… Today, the statue of Chen Yi 陳毅 stands where, one hundred years ago, a plaque stood to degrade the Chinese people. It said, 'No Chinese and dogs allowed here'. "
Click here to read the whole article. 
Details

Created:

28 November 2010
2010 AGM/Dinner was held on Saturday Nov 27 in a Chinese restaurant in Scarborough. Over 80 members and guests attended the fun filled evening with games, latest news and presentations, amid many delicious dishes. A number of first timers showed up for the function which is most encouraging for the association. The night was wrapped up with the showing of a new version of 'Moments in Time - the History of WYK' narrated in English. Click here to view the pictures.
Details

Created:

26 November 2010
On 25th November we took the opportunity of classmate Simon Mak's business trip to Toronto to get together at the Golden Court Restaurant for a dinner.
Details

Created:

24 November 2010
Victor J. Chen (69) shares some of his previous pictures taken in 1966-67 of a WYK choir and air club visits to Kai Tak and USS Constellation led by the late Fr Cunningham. Knowledge of WYK recently having won the Busan Choral Festival (韓國釜山合唱音樂節) caused him to get these pictures out. We certainly hope other alumni can do the same and share their pictures at WYK with all of us. Thanks Victor and here is the link.
Details

Created:

22 November 2010
謹訂於 二零一零年十一月二十九日(星期一)下午三時正 假座香港教育學院文化與創意藝術學系展覽廳舉行"新水墨畫運動的搖籃"畫展暨研討會開幕典禮 (按此參閱詳情).
From Mr. Laurence Tam in Hong Kong, "I consider this exhibition to be the most important one, because it signifies that the Cradle teaching method has finally been endorsed by the education institution for the training of teachers. This time, the exhibition is all in Chinese, because it is meant for the primary and secondary school teachers in Hong Kong.
Details

Created:

15 November 2010
Click here to see the pictures taken during the Reunion of Class 3D ('57-58') in August 2010, plus Sonny Sie performing 'My Way' (as Frank Sinatra) on the cruise (video here).
Details

Created:

10 November 2010
Congratulations to Albert Fung, our former director, who received his Master Degree in Science at the convocation at the University of Toronto today.  Attending the happy occasion were his parents and sister. Sharing the joyous moments were Past President, Kelvin Ng from Jinan China with his wife, Immediate Past President Alan Leong and former director, Falco So.  Albert's Father, Derek Fung Kai-ming (72), is a driving force behind The Teaching of Chinese Ink Painting Programme initiated by Mr. Laurence Tam.
See more pictures here.
Details

Created:

10 November 2010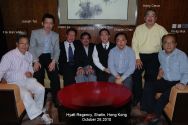 On the occasion of Joseph Chu's visit to Hong Kong, Gilbert Tsui shouted "fall in!" and a few of us managed to get together for a happy night at Hyatt Regency, Shatin, on October 28, 2010.  Old timers returning overseas have always been good pretext for these get-togethers for otherwise too-busy people.  On the night, lots of reminiscences of past gaiety were swapped, bringing alive things that happened over 30 years ago!
Details

Created:

09 November 2010
Expo67 took place in Montreal with the theme, "Man and His World".
        Forty three years later, Expo2010 opened to the world in Shanghai with the theme, "Better City, Better Life".
S.L. Kong (53), who was involved in designing the Canadian Pavilion in Expo 1967, visited Expo2010.  He shares his thoughts in an article in the Features Page.  His expo album is on the Pictures Page.