Details

Created:

05 November 2010
Kelvin Ng (95), former President of WYKAAO, was back to Toronto for a short visit. He joined the Board meeting on November 4th, keeping everyone up-to-date on what's happening in his work and personal life of the past few years. He also agreed to post pictures and articles to our website in the near future. Stay tuned! Alex Cheng (09) also attended the meeting as a guest. He is looking forward to entering university in Ontario next year; we are most happy to see a young and new force joining our association.
Details

Created:

31 October 2010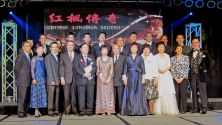 Philip Lee (WYK 60), Lieutenant Governor of Manitoba, was awarded Chinese Canadian Legend at a celebration event hosted by the Asian Business Network Association in a Richmond Hill hotel grand ballroom. Dignitaries, government officials and other VIPs were invited to the occasion (see this video clip). Members from both Wah Yan alumni associations in Ontario also attended the ceremony to share the joy and are proud of what Philip has achieved (see the award presentation here).
Pictures of the Gala Dinner can be viewed here.
Details

Created:

23 October 2010
Albert Miu (61) from Australia on September 25.
Raymond Kwok (94) from Vancouver on October 22.
Philip Lee (60) from Winnipeg to receive a 2010 Chinese Canadian Legend Award from The Asian Business Network Association on Saturday, October 30.  Click here for pictures of lunch on October 28.
[Peter Chang Pai Tak (61) and Edward Mak Tak Wah (62) received their award in 2007.]
(You are welcome to send in pictures of visitors for posting.)
Details

Created:

12 October 2010
October 2010 newsletter is now online.   You can read it here.
| | | |
| --- | --- | --- |
| 1. AGM |   | 8. IC2010 in Pictures |
| 2. AGM Dinner |   | 9. Lunch with the Lt. Governor |
| 3. Director Nomination |   | 10. Dinner with Fr. Coghlan |
| 4. Scholastic Achievement Award |   | 11. Happy Corner |
| 5. Bylaws Amendment |   | 12. The Year in Review |
| 6. Terry Fox Run |   | 13. AGM Form |
| 7. From the Middle East |   | 14. SAA Form |
Details

Created:

12 October 2010
TAKE Notice that the 28th Annual General Meeting of Wah Yan College Kowloon Alumni Association of Ontario will be held at Very Fair Seafood Cuisine, 17 Milliken Boulevard, Scarborough, ON M1V 1V3 on Saturday, 27th November 2010 at 6:00 p.m. for the following purposes:
1. To approve the minutes of the 27th Annual General Meeting held on 21st November 2009
2. To receive the 2009~2010 Financial Report of the Association
Details

Created:

12 October 2010
Wah Yan College Kowloon Alumni Association of Ontario Scholastic Achievement Award is worth Cdn$100 each. The Award is open to students whose aggregate total of their best six Grade 12 credits gained in 2009~2010 academic year is 480 or over and who have begun their post-secondary education in September, 2010. Applicants must (1) have attended Wah Yan College, Kowloon and are current paid-up members of WYKAAO or (2) be the wards/children/grandchildren of current paid-up members of WYKAAO.
Details

Created:

09 October 2010
On a warm Friday night in October, about 30 alumni, guests and former staff of WYK and WYHK attended a dinner with Fr. Coghlan who was visiting Toronto. Our beloved Father showed his usual charm and warmth by greeting everyone personally throughout the dinner. He joked that he recognized most attendants' faces and names but not necessarily associating them. It was a long and enjoyable gathering that certainly brought back a lot of memories of days in Wah Yan. We wish Fr. Coghlan all the best and hope he will visit us again soon! (see the pictures here and a short video clip here)
Thank WYCHKOAA for sharing their pictures and video, click here and here to view.
Details

Created:

04 October 2010
Twenty members from WYKAAO/WYCHKOAA and guests attended a lunch with the Honourable Philip Lee (WYK60) at a Richmond Hill restaurant on October 4th. While enjoying a delicious dim-sum lunch, Philip looked back at his days in Wah Yan College, telling a few stories with his usual humorous notes. He also gave a glimpse of life in the first year as the Lieutenant Governor of Manitoba. Pictures of the inauguration ceremony and the recent visit of the Queen were shared among the two tables of guests. Please click here to see the photos taken in the lunch event.
Details

Created:

30 September 2010
Andrew Kwong, son of our founding president Raymond Kwong (66), married with Tiffane last week. From left to right in the picture: Shirley, Raymond, Tiffane, Andrew, Brandon (Raymond's younger son). Congratulations to the newlyweds and to the Kwong's family!
Andrew performed at the Diamond Jubilee Gala Dinner on July 4, 1999.
Details

Created:

29 September 2010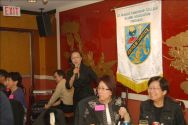 Three of our directors, Bill, Victor and Jeff attended the 2010 Annual Dinner organized by St. Francis' Canossian College Alumni Association Ontario. Click here to see the pictures. The whole photo album of the event can be seen here.