Details

Created:

12 October 2009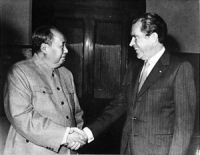 "This year marks the 30th anniversary of the restoration of diplomatic ties between America and China, which proved a dramatic turning point in the cold war" ---The Economist, October 24th~30th 2009.

This is a timely article by Kong Shiu-Loon (1953).

Click here to enjoy it.
Details

Created:

28 September 2009
James Wan Koon-Ying visited us from Hong Kong in September with his wife Margaret. The class of 1967 threw a private dinner for him on the 23rd, which was followed by James' birthday banquet on the 27th. A surprise guest at the banquet was the renowned WYK football star So Wai-Lum (蘇偉林) alias 細蘇 whom we have not seen for decades.
We were all delighted to have a chance of reminiscing the past years and learned from James tidbits on many fields which he is an expert on, including kung fu, feng shui, qi gong, Chinese medicine and his magnificent invention, the Topfit bricks 天風磚 while enjoying the sumptuous feast.
Click here to see the photo album.
Details

Created:

14 September 2009
September 13th - It was a perfect day for Terry Fox Run, Marathon of Hope to find a cure for cancer. WYKAAO once again participated in the event at the Markham/Unionville site. Click here to see the pictures. John Ho ('65), who took part in the First Run in the 80s, is part of our team; he and his wife, Rose, are visting from Hong Kong. Jeff's brother and his family are visiting from Vancouver; they joined our great WYKAAO team as well. We collectively raised over $4,600 so far this year. 2009 pledge of this good cause will continue until the end of the year. A big THANK YOU for your generous support!

Click here to view a beautiful video by Rose (download/view presentation here). Terry Fox Works Department acknowledged our effort in this letter.
Details

Created:

08 September 2009
Leaving this September, Francis to Beijing, John to Hong Kong and Gus to Chicago, they were at a potluck dinner at Gus' apartment with other 65ers in Toronto on Labour Monday. Betty showed what hospitality should be. Good food, wonderful company ... See here.

Invited guests were Miss Chan and Mr. Ho.

N.B. Francis and John will be definitely visiting again next year. Gus will settle in Toronto soon.
Details

Created:

03 September 2009
Louis of Class 57 left us on August 31, 2009 after putting up a strong fight against cancer. His family was there by his side.
Trained as a chemist, Louis turned into a successful farmer. A writer, he was a regular contributor to our newsletter; his essay on Cantonese is widely read. His articles appear on the Features page.
We remember his forever friendly personality, his cheerful presence at our functions and his hospitality offering his farmstead for our annual picnics.
A private memorial funeral service was held on September 3, 2009 at 5:30 PM at 1403 Bayview Ave., Toronto. Donations to Cancer Society in lieu of wreaths will be appreciated.
Details

Created:

18 August 2009
Sunny and rainy days, Toronto is the eating place to meet with long lost friends. Francis Choi from Beijing and Francis Ho from Victoria, BC saw Stephen Chan from Austin, Texas, for the first time after more than forty years. They were all in Form 1C in Mr. Aras' class in 1961. Joining the happy occasion were the local 65ers, Andrew Tang, Raymond Lee and Jimmy Chan. Spouses enjoyed their lady-talks too. Mr. Ho was invited to share their happy mini-reunion.
Sung Yun-wing, the scholarly economy professor from Chinese University, was treated at a very good eating house. (Contact Andrew Tang for info.) It was such a happy time that Prof. Sung promised to speak to our members on his next visit.
Please click here for photos of the 2 dinners.
Details

Created:

07 August 2009
A dinner was held on 6th August in honour of the visiting former Director Eddie Lau (seating 1st left on group photo) who is taking a well deserved break from his busy post graduate law study schedule in Hong Kong.
Details

Created:

02 August 2009
Father Gerald Tseng writes from Singapore, "...(Father O'Neill) passed away on Friday the 30th. He was not feeling well on that day and he died in his bed after Tea-time. His funeral will be on Monday the 3rd of August and cremated in the Crematorium."

Father O'Neil taught at WYK from 1957 to 1961. Father Tseng. 1959-60 and 1966-67.

His former students share their fond memories of him. Please click here.

Visit http://wyk62.mysinablog.com/ for the biography of Father O'Neill by Paul Lee and photos in memory of Father O'Neill.


Details

Created:

31 July 2009
The Honourable Philip S. Lee 李紹麟 (WYK 1960) takes office as Manitoba's 24th Lieutenant Governor on August 4th, 2009. Philip graduated from Wah Yan College, Kowloon and immigrated to Canada in early 1960s where he continued his education. Decision to stay in Canada changed the life of Philip (see reports here).

The following Chapters of Wah Yan College Alumni Associations in Canada congratulate Philip for his success and achievements and offer thanks to his contribution to the Chinese communities and to Canada. The congratulation messaqe appears in Sing Tao Daily.
Wah Yan College Alumni (Vancouver) Association
Wah Yan College Alumni Association - Calgary Chapter
Wah Yan Past Student Association, Edmonton
Wah Yan College (Hong Kong) Ontario Alumni Association
Wah Yan College Kowloon Alumni Association of Ontario

Some of his school friends also sent the attached congratulation message. Click here to read. Videos from TV broadcasts can be viewed here and here.
Details

Created:

25 July 2009
Hong Kong and Kowloon Wah Yan alumni associations in Ontario jointly hosted a welcome dinner for Fr. Stephen Chow on July 24th in a Chinese restaurant in Markham. Over 50 people from both chapters attended the event. Fr. Chow, Supervisor of both Wah Yan's, brought the group a lot of updates related to our school. He also discussed some of the issues both schools are facing under the current social situations and education system in Hong Kong. The document of the "Profile of the Jesuit Student at Graduation for the Chinese Province", which Fr. Chow presented during the dinner, can be downloaded here.
Follow the links to see the pictures and a video of the dinner gathering, and what Fr. Chow wrote afterwards.