Class 1962

---
Details

Created:

27 March 2015
先父蕭輝榮於德國睡夢中辭世享壽70歲,遺體於德國已進行火葬。並謹定於2015年4月2日下午5:30至晚上8:30在香港紅磡福澤殯儀館五樓永思堂舉行加奠儀式。
恭候親友致祭
子 猷偉 女 慧怡
In Memory of David Shiu;  WYK62 Memories of David Shiu;
Remembrance card at the funeral;   Thank you letter from Derek and Cindy Shiu
Details

Created:

12 March 2015
After I learned that 新樂酒樓(Nathan Road near Jordan) will be closing it's doors (see attached article) later this month after 55 years (I am sure quite a few of you ate there when in WYK - I did), a number of us decided to have dim sum there once more for nostalgic reasons. During our leisurely lunch, Cedric Lam mentioned that Anthony Lam (Vancouver) is in town and so I called him immediately and he managed to join us too - albeit at short notice! Needless to say, a good time was had by all as witnessed by the photos ! (Sorry about the bad resolution of the pix taken by cell phone).~Alex_2015-03-10.
Details

Created:

03 March 2015
Dear all,
Our classmate Francis Ching 程廣權 (WYK62) was in town fleetingly over last weekend (back to London now) on family matters and three of us were lucky enough to be able to meet up with him to have a casual lunch together during his busy stay.
Needless to say, we had long long nostalgic chats, having not seen each other for over half a century. Here is a photo taken that day.
Cheers,
Alex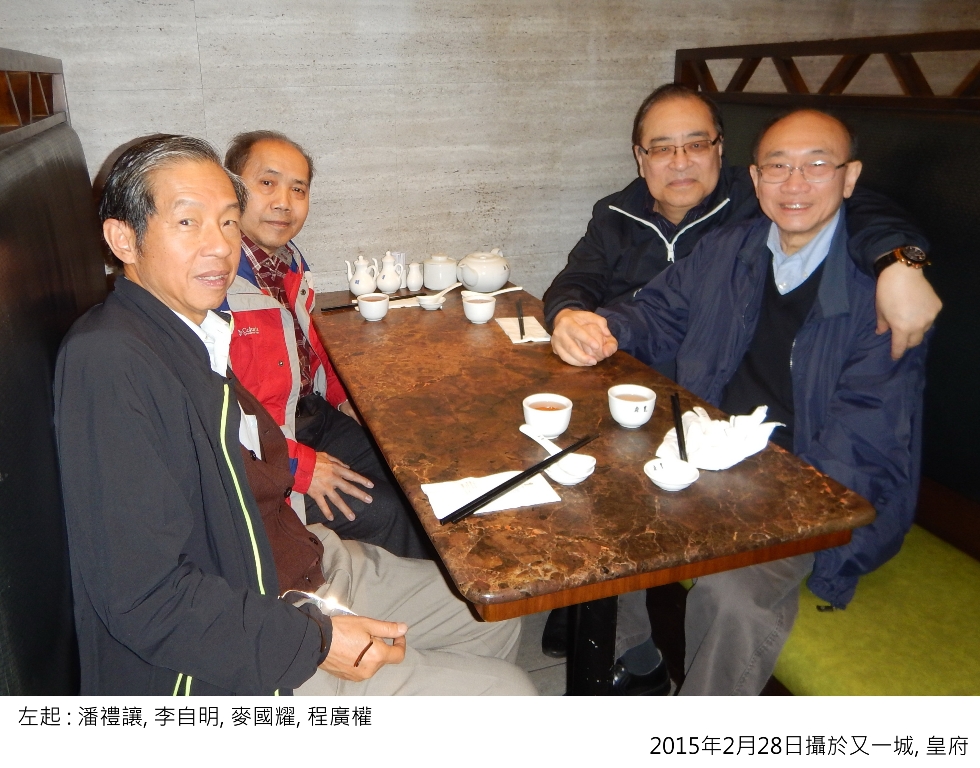 Details

Created:

12 January 2015
"Going through my stuff and came across some photos. I know most of WYK62s in Hong Kong had glanced through them as it came from one of us here. However, there maybe some of you overseas who have not laid eyes on these historic and nostalgic photos which certainly bring back so many fond memories of these Golden Years. I am glad to be able to share these pix and some common memories with you all once again.  Please click here to enjoy the video."  Alex Mak
Details

Created:

08 January 2015
We went to Zhuhai to visit my younger brother Tommy. Photos with captions were from Master PhotographerPoon Lai Yeeung.
Details

Created:

16 December 2014
 
[Caption added by Poon Lai-yueng, 11th Kowloon Group scout.  Thanks.]
  
Details

Created:

10 December 2014
It was very kind of Fr Boey, S.J., at a short notice from James Li, administered the Last Rites of the Church on September 1. 
He also conducted the funeral service which consisted of the Vigil on December 7, the Funeral and the Cremation the following day.  James Li, Stephen Lee, Mrs. Vicky Tsui, Stephen Chu and Alex Mak were at the Vigil.
At the funeral, there were James Li, Victor Young, Michael Leung and Alex Mak.  Victor Young delivered the eulogy.  James Li was one of the pallbearers.
David Koo sent the attached wreath to the Home on behalf of Class 62. 
Throughout the two days, classmates paid their respect at different times.
(Father Boey was at 50th Anniversary Gala.  News was from various emails.)
Details

Created:

03 December 2014


(Robert Ngan, Simon and Cecilia Tsang, Lena and Peter Wong, Mr. Anthony Ho)
There was a lively discussion on the next Class 62 Reunion in Toronto with side trips to New York and Vancouver in 2 years.
Details

Created:

01 December 2014
"Dear all, 
It is with great sadness to report that our brave and tenacious cancer warrior and former schoolmate, Steven Cheung 張志鴻 of F.5C passed away last evening, November 30, at 9:48 pm at Tuen Mun Hospital peacefully with his whole family by his side. The last of us to see him was James Li 李立本 who was there late yesterday afternoon - thank you James. 
Steven shall always be remembered for his courage, optimism and tenacity exhibited during the last part of his prolonged battle which took place in Hong Kong over the last 30 odd months. I feel honored to be able to call him my schoolmate and my friend! 
May he rest in eternal peace in God's embrace. 
With deepest condolences to his family,
Sincerely,
Alex" 
Details

Created:

19 November 2014

Please click the image to view the album.