Class 1962

---
Details

Created:

03 December 2014


(Robert Ngan, Simon and Cecilia Tsang, Lena and Peter Wong, Mr. Anthony Ho)
There was a lively discussion on the next Class 62 Reunion in Toronto with side trips to New York and Vancouver in 2 years.
Details

Created:

01 December 2014
"Dear all, 
It is with great sadness to report that our brave and tenacious cancer warrior and former schoolmate, Steven Cheung 張志鴻 of F.5C passed away last evening, November 30, at 9:48 pm at Tuen Mun Hospital peacefully with his whole family by his side. The last of us to see him was James Li 李立本 who was there late yesterday afternoon - thank you James. 
Steven shall always be remembered for his courage, optimism and tenacity exhibited during the last part of his prolonged battle which took place in Hong Kong over the last 30 odd months. I feel honored to be able to call him my schoolmate and my friend! 
May he rest in eternal peace in God's embrace. 
With deepest condolences to his family,
Sincerely,
Alex" 
Details

Created:

19 November 2014

Please click the image to view the album.
Details

Created:

15 November 2014
Dear all,
Hope this email finds you all healthy and well.
Re the photos and video's taken during the October Int'l Gathering in Hong Kong a few weeks ago, the professional photographer is making a DVD which shall be ready for posting to classmates sometime in the next two weeks.
M'time, before I post the DVDs and in order to quench everyone's thirst, I am going to send through separate email batches a selection of the photos taken by our two resident photog's Poon Lai-yeung and Stephen Lee Chi-ming which will also be included in the DVD.
Happy viewing and nice weekend !
Best regards,
Alex
Please click the image to view the album.
Details

Created:

06 September 2014
Please click: In Memoriam – Butt Chak-Cheung, Yondani
Details

Created:

29 August 2014
It is with a much saddened heart to report that a phone call from Roger Butt (Yondani's elder brother in Hong Kong) informed me that our beloved Maestro Yondani Butt was certified this morning by the hospital at 10:45 am this morning after going into a coma and had to rely on a breathing machine since 5 am this morning - 28th August 2014! 
According to info received, Butt's daughter Yolanda had a few words with her father while Butt was still conscious (hopefully that made him feel better) and she is now flying back to look after Butt's affairs arriving Hong Kong tomorrow Friday 29th August. I've asked Roger to tell her that should she need any assistance, do please give me a call!
What more can I say except 天妒英才, I think we should all 節哀順變吧 !
I am sure we will all miss him so very much! May he rest in God's arms in peace for eternity! 
Alex
28/08/2014 12:01 AM
Kung Fu Demo at the 50th Anniversary Reunion in Hong Kong (Nov 2012)
++++++++++++++++
Details

Created:

28 August 2014
1)             https://www.youtube.com/watch?v=p2QbfHvbcJE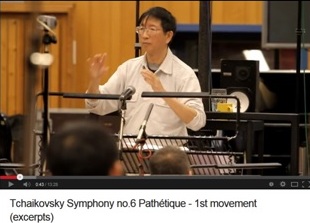 Tchaikovsky Symphony no.6 Pathétique - 1st movement (excerpts)
Published on 28 Jan 2013
London Symphony Orchestra conducted by Yondani Butt, recorded 16th November, 2012 at Abbey Road Studios, London. 
2)             https://www.youtube.com/watch?v=NJi46gXdYIU
Schumann symphonies 3 and 4 - London Symphony Orchestra conducted by Yondani Butt.
Uploaded on 22 Aug 2011
Recording due to be released by Nimbus Alliance shortly.