Class 1962

---
Details

Created:

13 December 2016
(Please click the Group Photo to view the album)
Dear all,
A long awaited for WYK62 BD Party cum Dec Gathering happened most joyously last Thurs 8th Dec at Happy Valley's Moon Koon Restaurant, an excellent venue arranged through the kind and able assistance of Michael who as usual not only supplied the most tasteful free-flowing wines, selected the delicious dishes on the Menu plus last but not least, supplied the fabulous Birthday Cake ! Huge BD Cards for our 4 Birthday boys were, as usual sponsored & pre-signed by David Koo (absent with apologies). A big thank you to both from all of us !
As they say, a picture is worth a thousand words so at this point, I will just let the photos tell their own story.
On behalf of all of us WYK62's in Hong Kong, here's wishing you, your families and loved ones
a most joyful, warm and Merry Christmas and a very Prosperous and Successful New Year !!!
Take care, good health & God bless,
Alex
Details

Created:

09 December 2016


(L-R) Lena Wong, Cecilia Tsang, Simon Tsang, Robert Ngan, Anthony Lok, Peter Wong
A mini 62 group gets together in Toronto celebrating Christmas. We all wish you and your family a Very Merry Christmas and a Happy New Year.
Details

Created:

29 September 2016
Dear all,
After WYK62 HK's customary Summer break, activities resumed with a BANG with what can only be called our Autumn Extravaganza - and indeed it was !
The event is a continuation of our now so very popular BD Party theme - this time to celebrate Birthdays of Michael Leung, Yvonne Poon and young Ray Cheung.
One mention of Michael saw the immediate volunteering of sponsorship of this Sep event by David Koo - who although not able to join us this year so far, have nevertheless always been with us in the form of the very appreciated HUGE BD Cards, sponsored and pre-signed by him for past BD Parties this year.
I think this write up can almost stop right here because with the very excellent venue of The Dynasty Club - how can anything be less than top quality under the generous sponsorship and excellent direction of our gracious host David Koo. Therefore, the result was a marvellous evening's enjoyment as befitting the celebration of our very generous and long-standing founding member of WYK62, Michael Leung.
The event, as it turned out, expressed to the full our sincere and heartfelt gratitude & appreciation of all that Michael has done for our group, his hospitality, sponsorship and generous support of every event - not to mention his routine contribution of wines and BD cakes etc.
well, let's ALL take our hats off to the GIANTs of WYK62 - MIchael and David - 3 Cheers, Bravo WELL DONE AND THANK YOU BOTH VERY MUCH INDEED !!!
I am afraid the photos - all 48 of them - only provided a glimpse of the joyfulness of the actual Extravaganza !!!
Happy viewing !!!
God bless you all,
Alex
P.S. The next one will be on Thurs 8th Dec when Raymond Lau and Patrick Hsu will be in town with their respective spouses. We shall then celebrate the Birthdays of Patrick Hus, Stephen Lee, Desmond Lee and David Lee. You can be sure it will be another one to remember as it will be sponsored by Michael !
[Please click the group photo to view the album]
Details

Created:

24 July 2016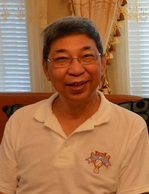 (1941-2016)
Hugh Shang ('72), Peter KK Wong ('62), Simon Tsang ('62), Peter Wong WC ('60_1A; Brother-in-law), Fred Yip ('71), Mr, Ho
and Matthew San (WYHK) were at the services.
Details

Created:

12 July 2016
[2 March 1945 - 10 Jul 2016]
Please click here to view the ablum
Dear all,
A few of us WYK boys - 62/63/64 - accompanied Peter on his last journey up to his final resting place in 深圳大鵬灣 on July 25,2016 - some via own transport and some on the coach offered by Mrs Barbara Chow - for which a big thank you.
There were 49 steps up to the plot from the parking spot and the service lasted about one hour. Afterwards, we were all invited to lunch at Shenzhen's Sheraton Hotel (about 50 people) for which we again offer our heartfelt gratitude to Barbara who have done a magnificent job over the two days in arranging a seamless and dignified Catholic Service for us all to remember Peter by.
Well done, Barbara - may our Peter now rest in God's embrace in eternal peace and you, and the whole Chow family, have our most sincere sympathies and condolences ! Peter will forever remain in all our hearts ! Gone but never forgotten !
Some photos taken by Silas Yeung are now in the album In Memory of Peter 周志榮.
With best wishes,
Alex
==========================================================================================================================================
Known attendants Sunday 24th July:
Stephen Cheung, Alex Mak, Stephen Chu, Stephen Lee, Poon Lai-yeung, Desmond Lee, James Li, Vicky Tsui, Francis Ip, Silas Yeung, Henry Leung, Lin Tak Kwan, David Koo, Joseph Poon, Florence Lee, David Lee. (Maybe ad hoc supper afterwards ?) [Nicholas Nick, Ho Pak Lee & Brenda out of town & asked me to convey their condolences].
Known attendants Monday 25th July:
Irene Choi, Alex Mak, Henry Leung, Stephen Cheung, Cedric Lam, Silas Yeung, Stephen Lee.
We WYK62's worldwide would probably send just one collective floral arrangement (hopefully not too environmentally unfriendly) as our custom in the past for such events. That would include ALL of us !
===========================================================================================================================================
Details

Created:

21 June 2016
Dear all,
Besides showing you the photos & telling you all that our June Gathering was extremely exciting, joyful and delightful, I would like to add that it also doubled as a Birthday celebration for Maestro Ho Pak Lee and yours truly. As a matter of fact, so will it be all future gatherings i.e. celebrating Birthdays of classmates and/or spouses etc. Additionally, there are a number of noteworthy items I would like to draw your attention to as listed below :-
Details

Created:

22 April 2016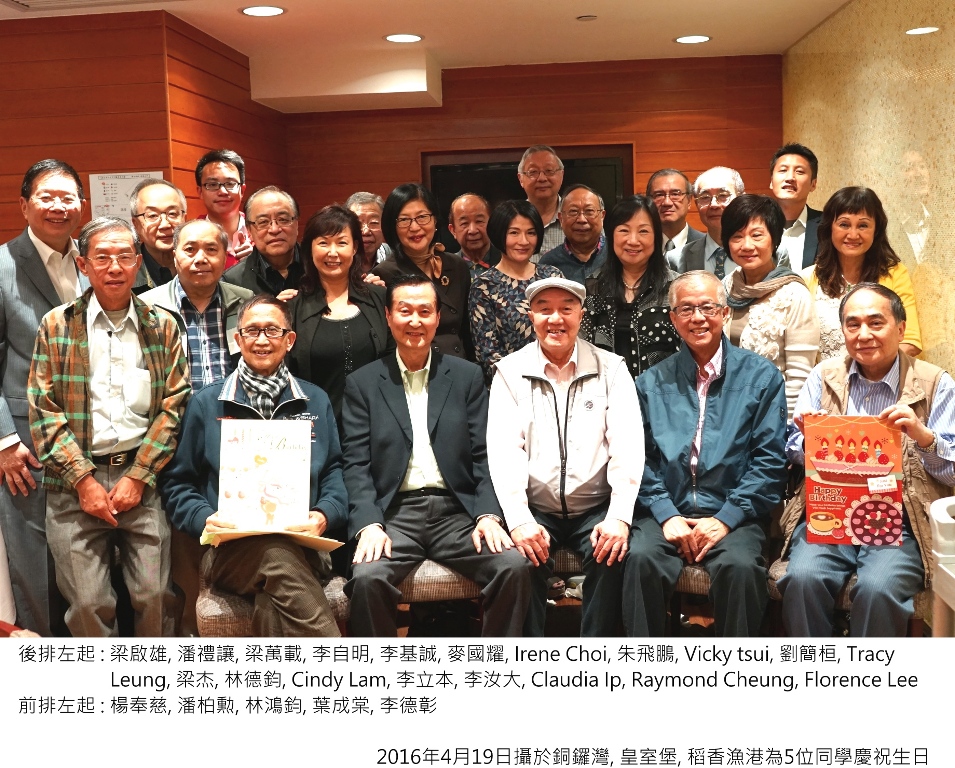 Dear All,
Yet another most successful and joyful gathering down the hatch ! This one is a bit special because there are five (5) - yes 5 - Birthday Boys this month, namely Cedric Lam, Francis Ip, Joseph Poon, Wilson Lee and Silas Yeung!
Thank you, David Koo, although could not attend, nevertheless thoughtfully sent his best BD wishes by providing and signing 5 HUGE Birthday Cards for all others to sign on the spot that night!
For the excellent red wines, which flowed like water, of course - and the marvellous Birthday Cake, we have to offer our appreciation and gratitude again to Michael, as usual!
It was indeed a most memorable and extremely joyful evening to be cherished for a long long time to come! Happy viewing!
All the best from WYK62 Hong Kong,
Alex
P.S. It is noteworthy that We were also successful in introducing two 2nd-generation WYK62s to each other.
P.P.S. Please also note the Chinese BD big/small buns beside the cake provided by the restaurant in the photos.
Please click the image to view the album.
Details

Created:

02 March 2016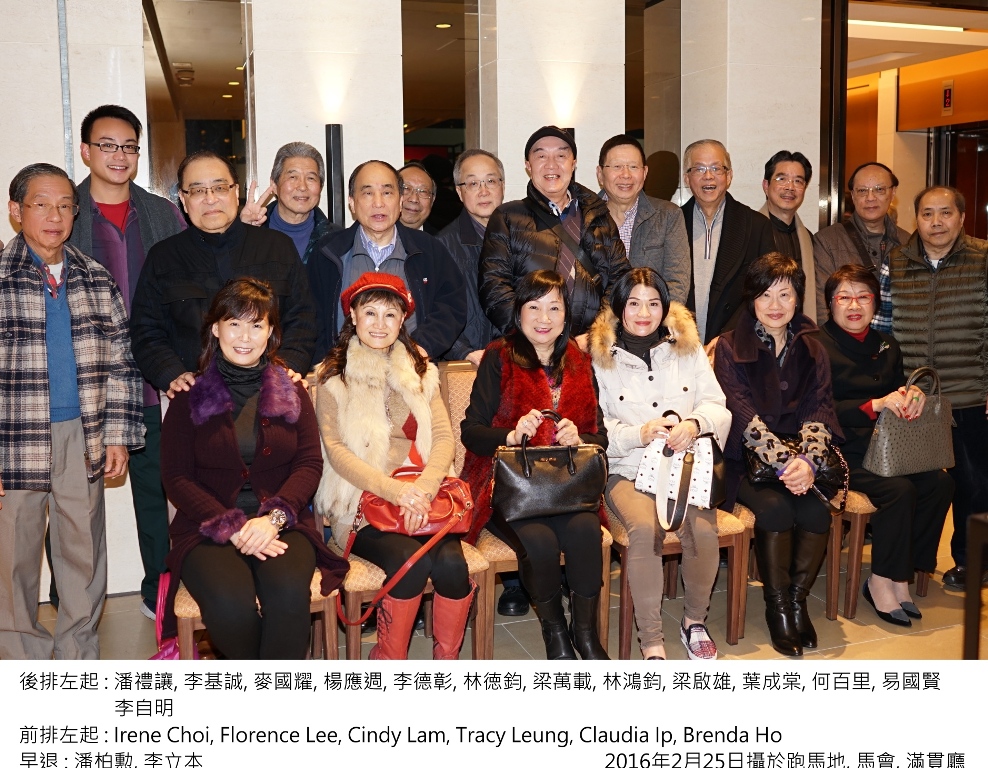 "Dear all,
Thursday 25 Feb 2016 was marked for WYK62 HK chapter's 猴年開年飯. A little late which purpose was to let our ageing digestive systems have a respite from the new year's festivities before setting it to work again for this dinner.
It was, needless to say, sumptuous as ever with the unstinting and forever generous support of one Michael Leung, how can it be otherwise. Thank you Michael. The event also marked the occasion of the Birthday of Mrs Cindy Lam - Happy Birthday to you once more, Cindy, and may there be many many more to come !
Enough said - I won't delay you from viewing all our happy faces anymore.
Take care and God bless,
Alex"
Please click the image to enjoy the album.
Details

Created:

08 February 2016
Dear Alex and All,
Thank you very much for all the good wishes,
Wishing you and yours:
Anthony Ho