Class 1962

---
Details

Created:

24 January 2016
Peter Chang (61) writes, "I attended a special event to pay tribute to a Wah Yan Alumnus Dr. Tak Mak, held on October 15, 2015, hosted by The Princess Margaret Cancer Foundation and University Health Network. The event was called "CHAMPION OF HOPE - A TRUBUTE TO DR. TAK MAK AND THE RESEARCH AT THE PRINCESS MARGARET". It was hosted by BMO Financial Group at the First Canadian Place, 100 King Street West, Toronto."
Please click the image to read the story.
Details

Created:

09 December 2015
Details

Created:

15 November 2015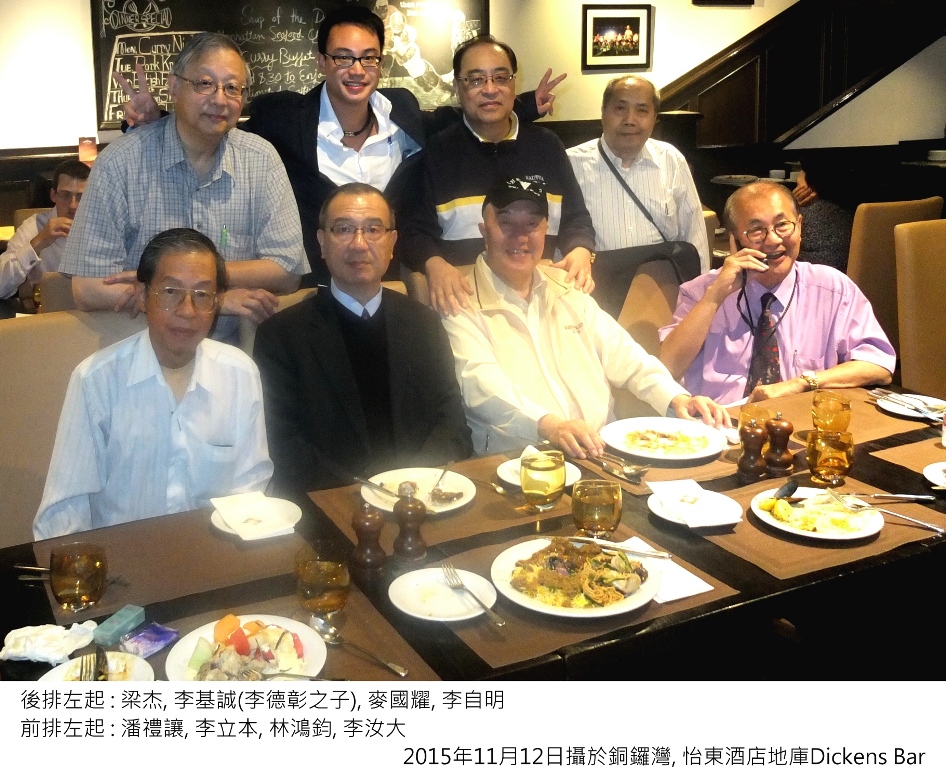 Details

Created:

19 October 2015
Dear all,
A very pleasant lunch was had by all those present to welcome back to Hong Kong Patrick Cheng who had migrated to Australia what seemed like ages ago, especially for those who missed his last two visits since his retirement and departure to Melbourne. We are all happy that he is well and fit ! Meantime, Chris Liang Kit is back again in Macau (after first dropping by 蘇卅 to visit his son, daughter-in-law and his two grand-children) to do his biannual English teaching voluntary work all at his own expense. Very kind and generous of you, Chris. Bravo !
Well, enough said - please click the image to see our happy faces. Enjoy !
God bless you all,
Alex
Details

Created:

28 September 2015
Dear all,
After two month's Summer break, our monthly gatherings resumed with a sumptuous (can it be otherwise in Michael Leung's Lau Yuan ?) dinner on the eve of the Mid-Autumn Festival which was enjoyed so very much by all present. The dinner also served as a welcome dinner for David Lee, son of Wilson & Florence, who just returned from Sydney to take up residence in Hong Kong. 
All in all, a most enjoyable and happy evening indeed - all thanks to Michael Leung who gave us all Moon Cakes to take home as well ! 
Best regards,
Alex
[Please click the image to view the album.]
Details

Created:

09 August 2015
Both visitors were in town to join a dinner organized by Wong Hin-Shing (61) on Friday, July 31 to celebrate the upcoming 80th Birthday of Mr. Ho in August.
Click here for more photos.
Details

Created:

20 June 2015
Dear friends,
We had yet another successful June Dinner gathering to celebrate June Birthdays of Maggie Lau, Alex and Ho Pak Lee. Thanks to our generous host, Michael Leung, who not only provided free flowing wines but also the birthday patisseries (both Chinese and Western) as well as heavily subsidizing our dinner budget to boot ! Let's all put our hands together - albeit belatedly - for a thunderous round of well-deserved applause to our ever gracious long time friend and classmate, Michael Leung ! Bravo and thank you from the bottom of my heart !
Here is the album; please click the image - happy viewing.
Alex
Details

Created:

21 May 2015
Dear all,
The May lunch gathering of WYK62 HK chapter went ahead today despite a few unforeseen absentees due to varying circumstances, myself included. 
Details

Created:

17 May 2015
 Click the image for details.