Class 1967

Articles and News of Class 1967 (Please also visit the Class of '67 Facebook)
---
Dear WYK classmates,
I enclose for your information an updated itinerary for our 45th Year Reunion.
Please return your reply slip to Simon Mak's secretary, Ms Jenny NG Email address: This email address is being protected from spambots. You need JavaScript enabled to view it..
We need to know the number of participants for booking purpose of the different events.
Thank you for your co-operation and prompt response.
With regards,
Sonny Poon
潘志才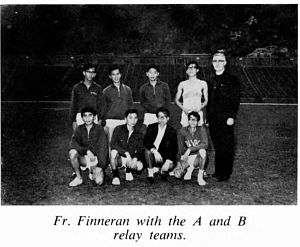 An Interview with Eddie H. K. Wong
Eddie H. K. Wong (1961 to 1968) was active in track and field, football and other sports at WYK.  He was recently interviewed by Tim Kwan (1961 to 1969) on his track and field experience at WYK.
1.  Eddie, which were your events at track and field?
I mostly ran 100, 200 meters and 4 x 100 relay, but also did triple jump at our school's track meet because we were required to have both track and field in the three events we participated.  I guess it was meant to encourage us to try both.
.....read the whole story here.