Class 1967

Articles and News of Class 1967 (Please also visit the Class of '67 Facebook)
---
Details

Created:

23 January 2011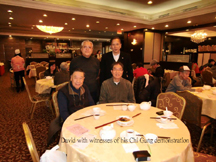 David Tse Kwok-Shuen (67), an IT expert who happily retires in Sydney, was visiting in the New Year. Since graduation, he took up Taoist Kung Fu and Chi Gung and has been practicing this martial art all these years. Relaxing in his chair at least 5 ft away from the table, he pointed his right index finger at a standing bi-fold paper menu for two seconds or so. Nothing happened. Then, after 2 seconds, the bi-fold paper fell on its back! The demonstration was performed twice, both successfully. David's recent interest is in Kendo (日本劍道).
With a bank note, he broke a chopstick into pieces. Click the image to view the album. To view the video demonstrations, please click (1) and (2).
[It has been known that some wahyanites are great Kung Fu masters. We would be pleased to have updates of their interests.]
Details

Created:

26 November 2010
On 25th November we took the opportunity of classmate Simon Mak's business trip to Toronto to get together at the Golden Court Restaurant for a dinner.
Details

Created:

22 September 2010
Photos of the Class of 1967 August mini-reunion in Hong Kong and Trip to China can now be viewed here.
2010 Jiu Zhai Gou, China trip  (Cecil 陳焯亨)      
In the spring Edward Chung and I were planning a trip to Jiu Zhai Gou, the scenic spot in Sichuan province bordering Tibet. Joseph Lau in Hong Kong expressed interest in joining even though he had been there before. Then Peter Chau and Joseph Chow also joined. Joseph Chow's wife Hilda and their two children also came along. We decided to meet in Hong Kong, staying for couple of days before heading to Chengdu.
Details

Created:

01 February 2010
Larry performed at WYK Diamond Jubilee Gala Dinner in Toronto. He sang "It's now or never" and "The wonder of you".
He will appear at IC2010 this August.
Details

Created:

30 November 2009
Our member John Ho Fong-Hoe (1967) attended the wedding of the son of fellow classmate Alan Chan Yiu-Shin in Auckland in September 2009 duing his New Zealand tour.
Photo - Alan (1st left) & John Ho (1st right). Clcik here for more pictures.
Details

Created:

27 November 2009
Members from the classes of 66, 67 and 68 gathered for a dinner in honour of the visiting Joseph Chan on 26 November. Joseph, the President of Fairchild TV, was in town to officiate the Miss Chinese Toronto Pageant.
Details

Created:

10 November 2009
Joseph Chan Kwok-Hung (1967), President of Fairchild Television, was one of the winter Olympic flame torch bearers in Vancouver. We are looking forward to seeing him in town to officiate the Miss Chinese Toronto Pageant 2009 later this month.
Details

Created:

28 September 2009
James Wan Koon-Ying visited us from Hong Kong in September with his wife Margaret. The class of 1967 threw a private dinner for him on the 23rd, which was followed by James' birthday banquet on the 27th. A surprise guest at the banquet was the renowned WYK football star So Wai-Lum (蘇偉林) alias 細蘇 whom we have not seen for decades.
We were all delighted to have a chance of reminiscing the past years and learned from James tidbits on many fields which he is an expert on, including kung fu, feng shui, qi gong, Chinese medicine and his magnificent invention, the Topfit bricks 天風磚 while enjoying the sumptuous feast.
Click here to see the photo album.
Details

Created:

17 July 2009
A dinner was held by the members of the Class of 1967 in honour of the visiting Simon MAK Yiu-Wo on 16th July. (Sitting 1st right)


Details

Created:

06 May 2008
Classmates from all over the world gathered together in Hong Kong from November 16th to 23rd to celebrate the 40th graduaton annviersary of the class of 1967. The week-long event started out with a welcome dinner, followed by a session at WYK when classamte Herman Wong How-man gave an account of his journey of discovery of the source of Yangtze River. Our own tour of disocvery began with a 3-day trip to Macau and Guangdong Province, and then it was back to Hong Kong for an evening at the Happy Valley tracks as well as a day-long tour of Hong Kong. The finale event, the farewell dinner on the 23rd, was held eaxactly 40 years to the day of the class's speech day back in 1967.