Class 1967

Articles and News of Class 1967 (Please also visit the Class of '67 Facebook)
---
Details

Created:

29 March 2017
The Class of 1967 50th Anniversary celebration preliminary programme is now available. Please submit your comments and suggestions and stay tuned for more details at www.facebook.com/wyk1967.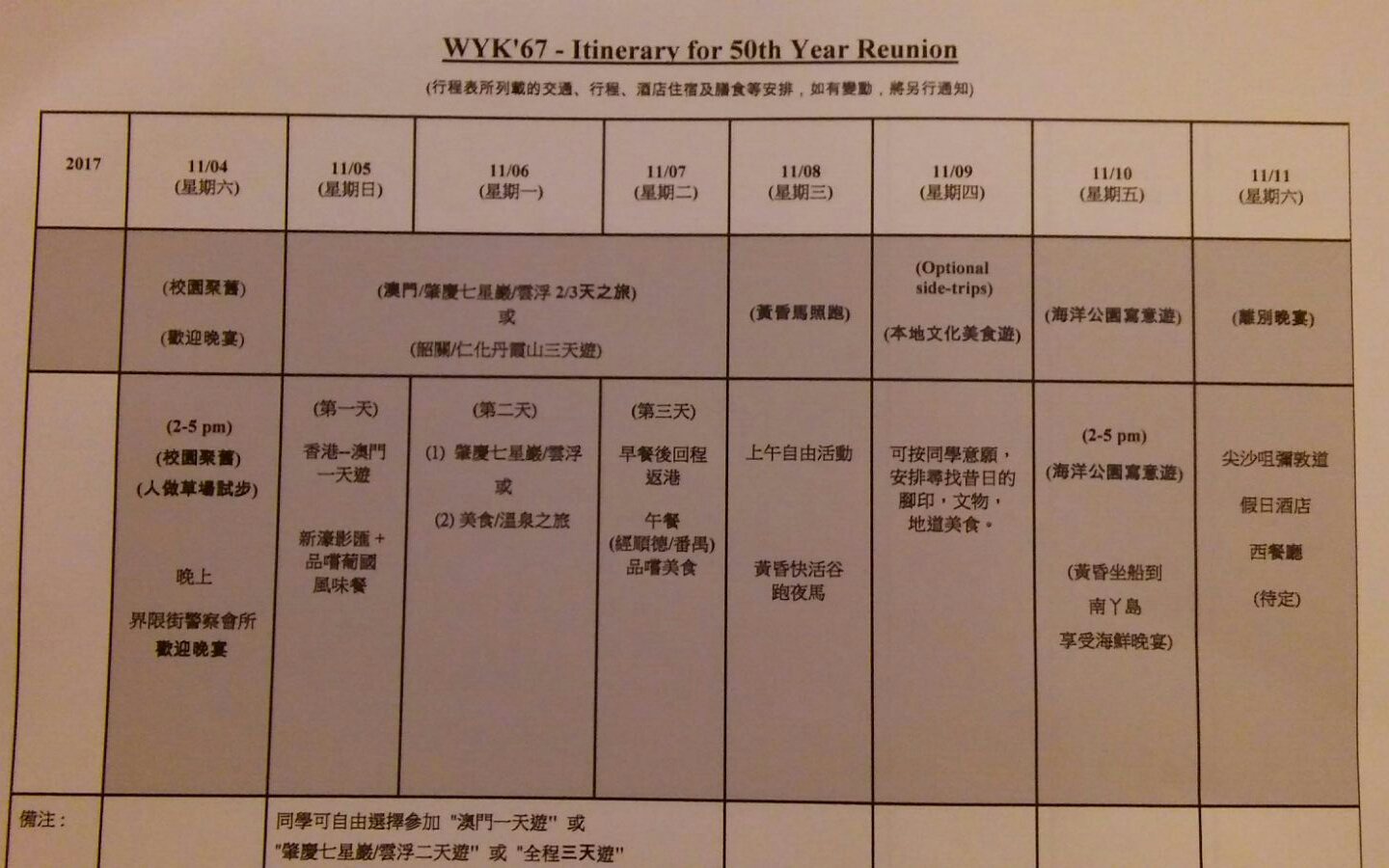 Details

Created:

04 March 2017
One of the highlights of this recent trip to HKG was my homecoming visit of the WYK campus. Riding the new elevator to go upstairs to the Fathers' Quarters turned out to be a treat. Viewing from high grounds, the man-made grass football field glowed with green grandiose. Since I graduated, several flights of structures had been added onto the wing that housed the canteen. In 1967, I recall paying 75 cents for a bowl of Ngau Nam Fun. Two weeks ago, I paid $30 for a lunch box containing BBQ Duck Breast and Rice. That's classy!

It being Photo Day and a warm, bright morning, even Fr. Harold Naylor came out of hibernation to sit with me in the sun for a cheerful chat. Fr. George Zee was busy as ever but still managed to run quietly to his appointments as he'd lost his voice. Whereas Fr. Stephen Chow had apparently borrowed some of my gray hair ever since he had assumed administrative duties of the two Wah Yans. It was not that long ago when the latter had stayed in my humble home as a house guest. Time flies.

Meeting my old classmates for dinner turned out to be great fun. Many of my buddies and I grew up in F5A Arts, F6 Arts (of which I was Class Prefect) and F7 Arts together under the direct supervision of the late Mr. Francis Kong. The experience was unique. I am earnestly looking forward to attending our 50th Graduation Reunion in November this year.

Returning home on a ten and a half hour flight seemed like a breeze. The unusual cold winter at YVR brought me back to reality. My wife, who picked me up from the airport, asked me what I would like for dinner. Still thinking of my favourite teacher, I replied: "An apple, please."
[Please click here to view the photos.]
Details

Created:

18 February 2017
Larry having dinner with Li Kei Ying and family in Hong Kong. It was the occasion of Li Kei Ying's birthday.
Details

Created:

15 February 2017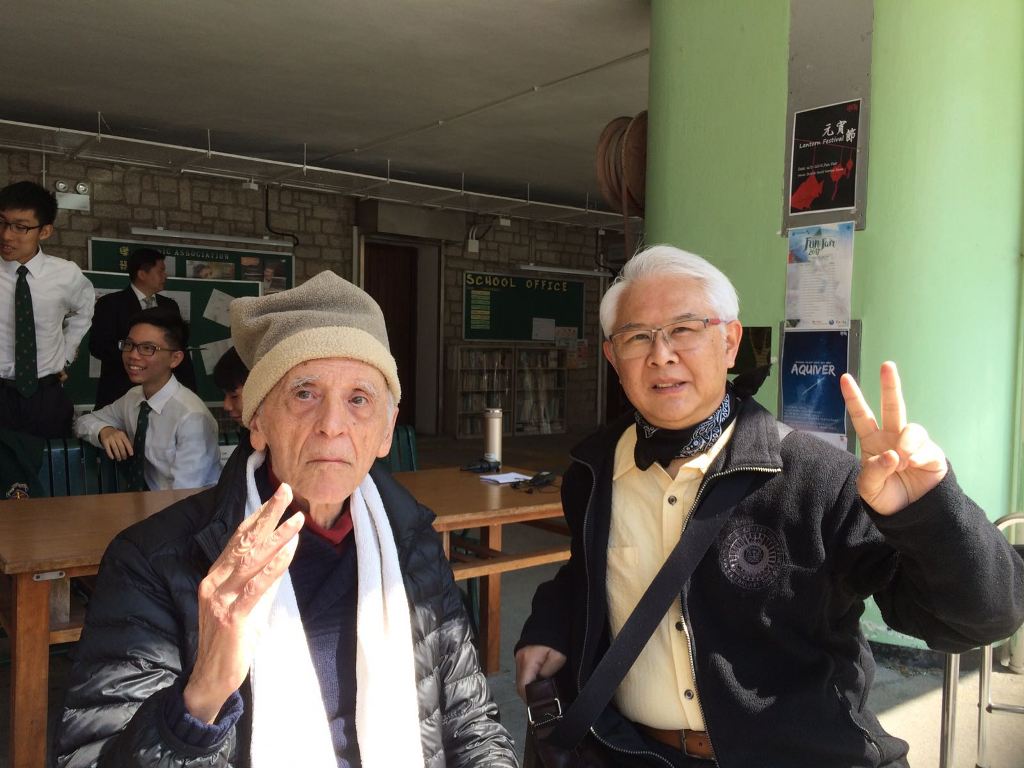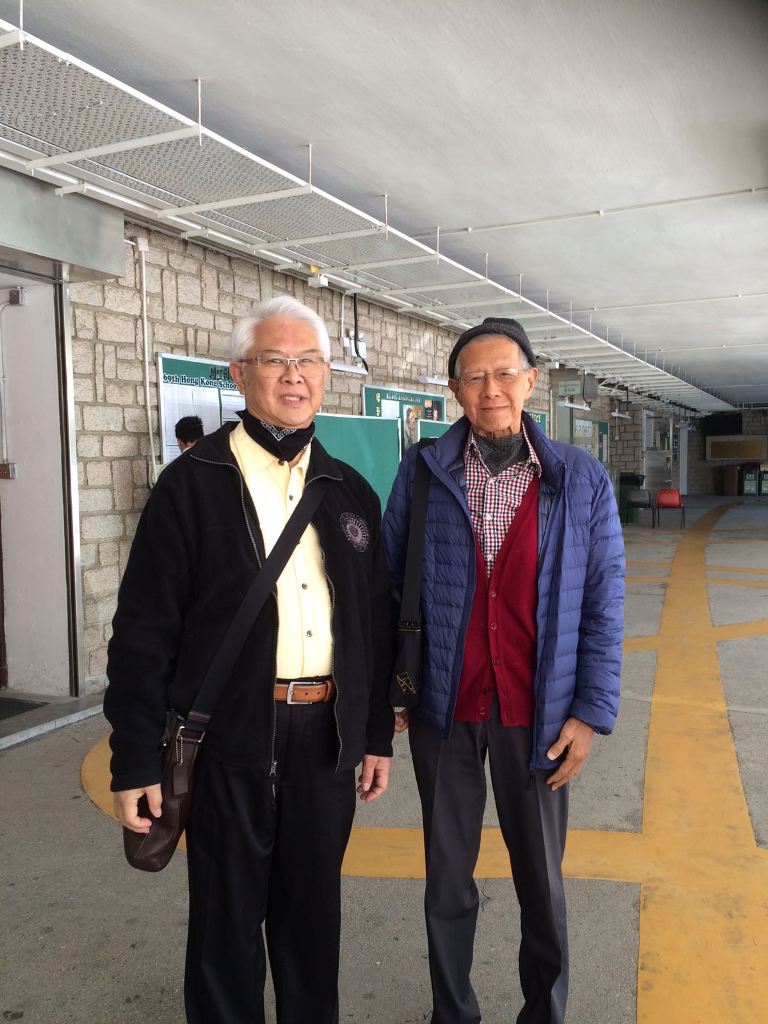 (With Fr. Naylor) (With Fr. Zee)
Larry Yip (67) reports,
Details

Created:

23 August 2016

Dear Classmates,
It is with a heavy heart that I advise you of the passing of our dear classmate Patrick on Sunday August 21, after a brave battle with cancer. May he rest in peace.
There will be a mass at 8 pm on Sep 6 at the Holy Cross Church. Funeral will be at the same church at 10 am on Sep 7, followed by procession to Chaiwan Crematorium. In lieu of flowers, the family has asked for charity donations in Patrick's name. The family is also organizing a bus to the crematorium followed by lunch. Those who wish to reserve seat on the bus and the lunch, please contact me and I shall assist in the sign up.
Yours very truly
John Ho
Details

Created:

16 August 2016

(Larry and Hayley Yip visiting Mr & Mrs Lai in Sacramento on August 15, 2016)
"黎炳章老師伉儷的兒子黎牛之是加州沙加緬度市腦科醫生, 媳婦Sandy 是小兒科醫生." _ 葉奕群.
Details

Created:

10 August 2016
Memorial Video to the late Mrs Susanna Chan, wife of Joe Chan. https://www.yout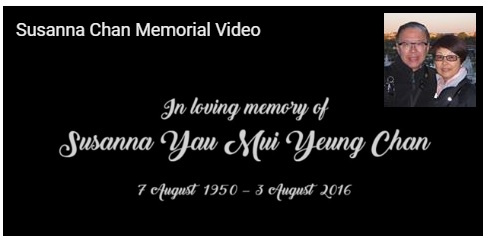 ube.com/watch?v=3JQf_VQqlXA
Details

Created:

04 July 2016

Joseph K.C. Wong, Mr. Ho, Ron Tse, David Tse, Tim Kwan, Joseph C. Wong
A welcome dinne for David was held at a Chinese restaruant in Richmond Hill on Sunday, July 3, before Joseph C. Wong would leave for a cruise the next day. Mr. Ho was also invited to enjoy happy evening. Please click the image to view more photos.
Another get-together lunch has also been arranged on Monday, July 11 when Alex Chiu arrives from the States.