Class 1967

Articles and News of Class 1967 (Please also visit the Class of '67 Facebook)
---
Details

Created:

25 May 2014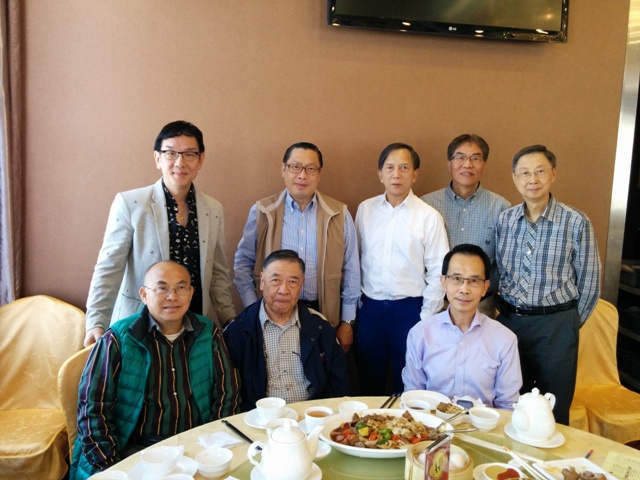 Some members of Class 67 welcomed James Wan and his friend, Lawrence Leung, at a dim-sum lunch on Saturday, May 24.  They had a great time 'blowing water' and Mr. Ho was invited to share the fun.  There were talks of celebrating 50th Anniversary in 2017 in Hong Kong.
Please click the photo to view the album.
Details

Created:

06 May 2014
"This evening (May 6, 2014), Bill Li, Berry Hsu and I had porridge and delicacies (清粥小菜)for dinner in Taipei. Berry is in town for an academic conference at Fu Jen Catholic University. We had such a good time! Attached is a photo taken after we consumed all the good stuff! 
Best wishes,
Edward Chung"
Details

Created:

11 January 2014
Dear Classmates,
As you may be aware the WYK Grass Pitch Resurfacing Project (the "Project") fund raising campaign is close to deadline. Their target is to raise HK$12.5 million and yet by 24 December 2013 they had received HK$10 million only. The Launch Ceremony (Construction Commencement) of the Project will be held on 18 January 2014.
A group of dedicated '67 Wahyanites feel that the grass football pitch does give us a lot of good memories of our schooldays and we should do something in the name of  "Year '67 Wahyanites" to help realize the Project. Our goal is to donate 1% or more of the Project sum or HK$125,000.00.  I act as a co-ordinator and appeal for your support!  Your donation is greatly appreciated. The group of dedicated '67 Wahyanites would make up for the shortfall, if any. 
Details

Created:

25 June 2013
Members of the class took the opportunity of Tang Tong Bor's visit for a lunch get together.  During the lunch Tang, a retired professor of physics, enlightened us with the theory of quantum physics, parallel worlds, particles, matters and energy etc etc; very interesting but difficult indeed to fathom.
Details

Created:

11 June 2013
Tim Kwan (67) hosted a dinner for Tang Tong-Bor who is in town to attend the convocation of his son, Kevin, in UT. Mr. Ho was invited to the gourmet dinner. 
Another reunion lunch with class of 67 will be held later this month at noon on Monday 24 June at the Milliken Bar & Restaurant (金鐘閣), 4016 Finch Ave.
Please click the image to view the photo album.
Details

Created:

18 May 2013
Edward Chung writes, "Tsang Leung and I had dinner on 17/05/2013 in Zhongli, Taiwan. It was our first reunion after 1967. He is on a visiting assignment at National Central University."  [The beautiful lady, Ashley, is wife of Edward]
Tsang Leung writes, "... Greetings from Tsang Leung ...  It was great to meet Edward Chung after 46 years.  I hope to be able to visit Toronto soon and look up the old Wah Yan boys."
Details

Created:

08 March 2013
Class of 1967 held a small lunch gathering with Mr. Anthony Ho as guest on March 7th.
Details

Created:

06 March 2013
If you are in Hong Kong on the 12th March, 2013 Tuesday, please join us for this spring dinner gathering at the Golden Restaurant, Macau Jockey Club.
Please click here for more information.
Details

Created:

17 January 2013
The 45th anniversary Reunion Photo Album has been updated with over 100 new pictures.  Please note the "D/M/Y" printed on the photographs the year should be "2012" instead of "2011."  A few short video footages are also added (1), (2), (3), (4) & (5).