Details

Created:

17 September 2018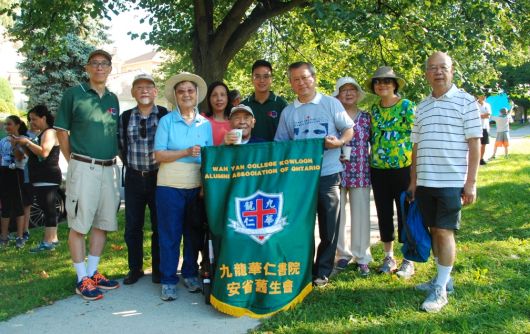 2018 Terry Fox Run was held on Sunday September 16, a weather-perfect day for outdoor activities. Team WYKAAO once again participated at the Markham-Unionville run site, raising over $4500 for a good cause. A number of alumni and family members came to show their support. Click here to see more pictures.
Details

Created:

11 February 2018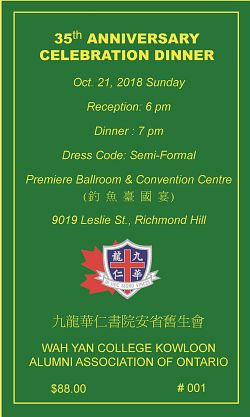 Join us for a special evening marking the 35th Anniversary of Wah Yan College Kowloon Alumni Association of Ontario.
---
Date: October 21 (Sunday)
Time: Reception 6pm / Dinner 7pm
Venue: Premiere Ballroom & Convention Centre
9019 Leslie St, Richmond Hill, ON
Ticket: $88 per person
Attire: Semi-formal
---
We will look back at some of our memorable events in the past, celebrate the milestone and have fun! Click here to register for attending the event.

Details

Created:

12 September 2018
Wah Yan College (Hong Kong) Ontario Alumni Association held its annual dinner at Golden Court Abalone Restaurant on Sunday September 9. A number of joint-school friends (including Andrew Tang, Bill Fok, Wilson So and Jeff Mah from WYKAAO) also attended the event. Click here to see more pictures.
Details

Created:

10 September 2018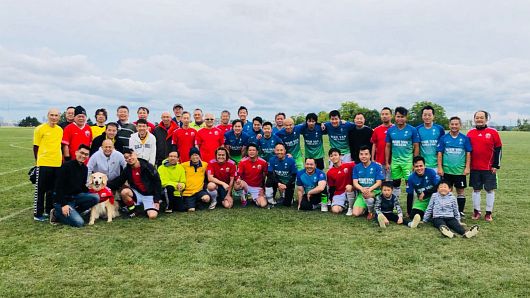 The alumni of Wah Yan, La Salle and CUHK organized a friendly soccer match on Sunday September 9 at Bayview Reservoir Park. The teams played for about two hours on a cool and slightly windy day which is perfect for soccer games. More friendly matches are being planned for the near future.
Details

Created:

01 September 2018

WYKAAO will once again participate in the Terry Fox Run this year (Sunday, Sept 16). The run site chosen is our favourite Markham-Unionville location, a major part of the route inside the Toogood Pond Park with breath-taking scenery (1km-route map, 5/10km-route map).

For a number of years, we have been proudly supporting The Terry Fox Foundation in its ongoing work to fund innovative and progressive cancer research programs. Please support our team by joining, or making a donation. Your kindness will impact the lives of so many people living with cancer.
Details

Created:

29 August 2018
See the details here.
Details

Created:

26 August 2018
On Saturday August 25, Bonbon Hu ('65), on behalf of WYKAAO Board of Directors, organized a lunch celebrating Mr. Anthony Ho's birthday at Paradise Fine Chinese Dining. A number of alumni and family members from Class of '65 also attended the event. Click here to see more pictures.
Details

Created:

22 August 2018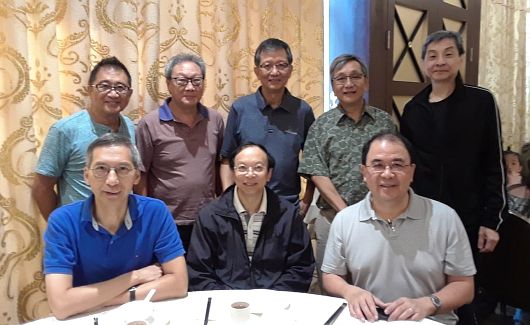 Almost everyone from Class of '69 in Toronto area attended a dim sum brunch with visiting Anthony Yeh on Sunday August 19.
Front row (L-R) George Cheng , Dr. Anthony Yeh, Dr. Feix Liu
Back row (L-R) Eric Lam, Tony Yu, Edmund Choy. Wilfred Wei, Michael Wong
Details

Created:

18 August 2018
WYKAAO Picnic 2018 was held on Saturday August 18 at the garden terrace of Markham Mon Sheong Court. About 120 alumni, family members and friends attended the event at this brand new location opened just a couple of months ago. Organized tours of Mon Sheong Private Care were offered during the picnic; over half of the participants were interested and joined a brief tour of the facilities. Click here to see more pictures.
Details

Created:

14 August 2018
13 August 2018 "We finished a mini bottle of white wine"
14 August 2018 ""This morning. The mass becomes bigger and bigger!"