Details

Created:

02 January 2019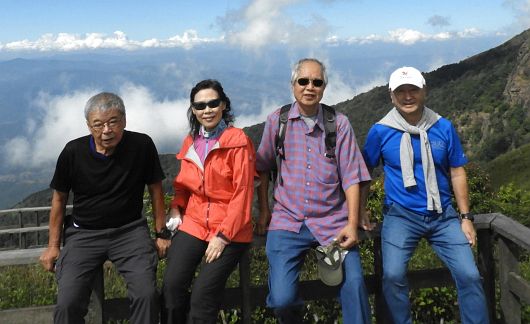 Click here to see more pictures from Adrian Leung ('65) on his trip in Thailand.
Details

Created:

29 December 2018
二十四氣風雨柔
零售批發利潤周
一年到頭市道好
九故十親志向酬
歡笑開顏身安泰
樂聚天倫意優悠
無愁無懟心善美
憂患不侵福慧修
祝各位二零一九年事事順景歡樂無憂
陳瑞文 '71
Details

Created:

24 December 2018
恭送舊時年
祝來日美善
聖賢除惡暴
誕謾莫纏延
新曦祛頑霧
年開展朗天
快慰平安至
樂見眾團圓
謹以此詩篇,
祝願世界和平,
人人聖誕新年快樂!
陳瑞文 2018年12月
Details

Created:

17 December 2018
AGM 2018 was held on Sunday December 16 at Crown Prince Fine Dining and Banquet. The dinner that followed was well attended by more than 40 alumni, family members and guests. It was also doubled up as a Wino gathering, featuring Meiomi Pinot Noir as the wine for the evening. Class of 1971 formed a table supporting the function while it was also their mini reunion. Everyone was having a good time in a warm and cozy atmosphere. Click here to see more pictures.
Details

Created:

15 December 2018
Students of the Year & Student Ambassador Scheme
Initiated in 1987, the Students of the Year & Student Ambassador Scheme is an innovative and lavish idea aimed at broadening the mind of the students and promoting good relationship between the Wah Yan (H.K.) Past Students Association (PSA) and its overseas counterparts. The scheme is sponsored by the PSA. Nomination of six candidates is made every October by all Lower 6 students based on overall academic performance, demonstrable leadership quality, organisation ability and proven record of service to fellow Wahyanites, the College and the Hong Kong community. Three of the six candidates will then be nominated by members of the teaching staff and the SOY Society as "Students of the Year". Nomination results are subject to endorsement by the College Principal.
The three Students of the Year are then interviewed by a selection panel comprised of Past Presidents and key officials of the PSA for the selection of a "Student Ambassador" who will represent the PSA to visit an overseas chapter. Selection criteria are for one who is mature, sociable and devoted to his various endeavours; with good personality; loyal to the school and the PSA; and has a strong sense of belonging for Hong Kong.
Click here to see more information. WYKAAO had hosted a number of student ambassadors over the years.
For WYK Student Ambassadors, please follow this link - http://www.wykpsa.org.hk/current-students/student-ambassadors/
Details

Created:

12 December 2018
ANNOUNCEMENT
Dr Hin-Nang Wong, a 1960 alumnus of Wah Yan Kowloon, passed away in California, USA, on December 5, 2018.
OBITUARY
Hin Nang Wong, trauma surgeon, Renaissance man, loving husband to Margaret and stepfather to Pei Pei and Dan passed away this afternoon in his home with his wife and children at his bedside. Such enthusiasm and diversity of interests, he would always strive to excel at whatever he touched - whether in medicine, music, cooking or auto repair. The world is a little less bright with his passing, but after battling cancer for more than 5 years, he is now at peace.
Margaret Wong (December 6, 2018)
Click here to read 'In Memory-My Brother Wong Hin-Nang' and click here to see a video slideshow, both prepared by Wong Hin-Shing ('61)