Details

Created:

22 September 2020
Because of the pandemic, Terry Fox Run 2020 was a virtual run held on Sunday September 20. We leave it up to our team members to choose how to celebrate their Terry Fox effort – walk, run, dance, hike – on a favourite route of their own. This year also marks the 40th anniversary of the event. One of our team members, Teddy Cheung ('00), was pictured here with his lovely family doing the Run at a park. Our team has collectively raised over $4,200 so far this year thanks to generous donations from our supporters!
Details

Created:

14 September 2020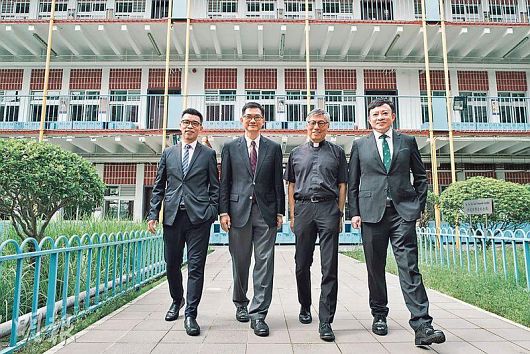 去年此時正值校園躁動期,教育局當時指示學校按機制訓輔,至今年6月起促學校懲處屢勸不改的學生。香港華仁、九龍華仁書院校監周守仁受訪,談及未來遇上學生相關行為的應對,他不希望學生有激動、躁動行為,但如果有,會先了解,當學生感受到學校願意聆聽,學生才願意聆聽學校,形容那是「teachable moment」(教育的時機)。港華前校長、現為助理校監的蘇英麟亦認同,指校方任何時候是從教育角度出發跟進學生不恰當行為,聆聽、對話、指導,不是立即罰學生留堂便了事,強調要學生同行,有「empathy」(同理心)理解他們,不代表同意他們。.....(點擊閱讀全文)
Details

Created:

09 September 2020
The Award is open to students whose aggregate total of their best six Grade 12 credits gained in 2019~2020 academic year is 480 or over. Details of the award, its qualifications and the application form can be found here. The completed application form must be submitted on or before 11th October 2020.
Successful candidates will be notified and announced at WYKAAO Annual General Meeting on Sunday, 18th October 2020.
Details

Created:

08 September 2020
Edmond Wong ('71, seen receiving the trophy) led a team in his condominium for winning the title of 'most participants in a team' in Mon Sheong Fun Run & Walk 2020.
Details

Created:

06 September 2020
Details

Created:

20 August 2020
Terry Fox Run 2020, 40th Anniversary, will turn into a Virtual Run this year (Sunday, September 20). Team WYKAAO continues to participate in the event and hope you can join us or support us through generous donations for this very worthwhile cause.
Details

Created:

13 August 2020
Henry is a teacher of WYK, also an alumnus graduated in the 90's.
Henry Yuen is a missionary, an inspirational teacher, a faithful servant to god, a loving husband and father, and a loyal friend to so many. His kindness has touched so many lives and generations.
Please consider donating what you can, share and pray.