Details

Created:

24 July 2021
Principal Warren Chung presented the latest updates on WYK in a virtual alumni meeting with Ontario chapters. Click the image to see the video presentation.
Details

Created:

18 July 2021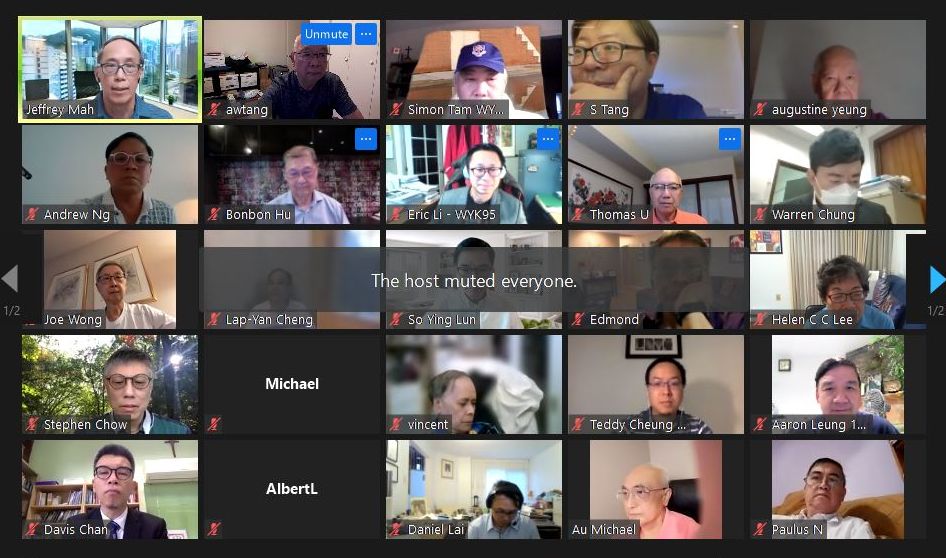 Virtual Wah Yan Alumni Gathering, jointly hosted by WYHK and WYK alumni associations in Ontario, was successfully held on Friday July 16, 2021 (started at 8pm Eastern Time). Through the coordination by Michael Au (WYHK '69), four distinguished guests from Hong Kong attended, namely Fr. Stephen Chow, Dr. Ying-Lun So, Dr. Davis Chan (Principal of WYHK) and Mr. Warren Chung (Principal of WYK). Over 50 alumni and ex-teachers participated. Latest updates of the colleges were shared by the two principals following the inspiring messages from Fr. Chow and Dr. So.
The meeting, which lasted for two hours, also touched on ideas on how to enhance the communication among overseas chapters and connections with our mother schools, with an objective to offer advice/assistance to Wahyanites planning to come to Canada for continuing studies or starting their careers.
Details

Created:

17 June 2021
The two Wah Yan College Alumni Associations in Ontario have jointly organized a virtual alumni gathering with guests from Hong Kong. Our honoured guests include Fr. Stephen Chow (Supervisor of both Wah Yan colleges, Bishop-Elect of Hong Kong), the two Wah Yan principals (Mr. Warren Chung and Mr. Davis Chan) and Dr. Ying-Lun So (Assistant Supervisor, WYHK)
- Date: Friday, July 16
- Time: 8pm (Toronto time)
This will be an informal get-together of about 1.5 hours in duration. We will hear first-hand latest updates about our mother school and invite ideas of maintaining connections among overseas alumni chapters. This email address is being protected from spambots. You need JavaScript enabled to view it. and let us know if you would like to join. A link to join the meeting will be sent to the registrants when we get closer to the event date.
Details

Created:

17 June 2021
Thanks to the dedication of WYKAAO board members, we continue to meet on a virtual platform to discuss matters related to the alumni association. Everyone has been contributing ideas on how we can maintain the organization during this difficult time, and explore new opportunities under the new normal.
A bright side of the flourishing of video conferencing technology: the geographical barrier sudden seems easy to break down. We have successfully recruited Eric Li ('95), who resides in British Columbia, to rejoin the board of WYKAAO.
Details

Created:

28 May 2021
WYK Pastoral Team
https://m.facebook.com/story.php?story_fbid=3786064414854658&id=443083019152831&refid=52&__tn__=%2As-R
Details

Created:

17 May 2021
The Vatican has just announced today that Pope FRANCIS has appointed the Reverend Stephen CHOW Sau-yan, a member of the Society of Jesus, as the new Bishop of the Catholic Diocese of Hong Kong.
Rev. Stephen CHOW, S.J., Bishop-elect, is aged 62. He was born in Hong Kong in 1959 and was ordained a priest in Hong Kong in 1994. He holds a Doctorate in Education from Harvard University, USA. Currently he is Provincial Superior of the Jesuit Chinese Province and Supervisor of Wah Yan College (Hong Kong and Kowloon).
Click here to read the whole article from Catholic Diocese of Hong Kong.
Details

Created:

08 May 2021
In Memoriam:
Clement Lee Wen-Hao 李文浩 (1961)
Compiled by Wong Hin-Shing and Yu Fong-ying (1961)
Click here to read
Details

Created:

17 April 2021
James Tong Memorial Service can now be seen in full. Please follow the link to view.
Access Passcode: 1UCLACCS!