Details

Created:

06 September 2020
Details

Created:

20 August 2020
Terry Fox Run 2020, 40th Anniversary, will turn into a Virtual Run this year (Sunday, September 20). Team WYKAAO continues to participate in the event and hope you can join us or support us through generous donations for this very worthwhile cause.
Details

Created:

13 August 2020
Henry is a teacher of WYK, also an alumnus graduated in the 90's.
Henry Yuen is a missionary, an inspirational teacher, a faithful servant to god, a loving husband and father, and a loyal friend to so many. His kindness has touched so many lives and generations.
Please consider donating what you can, share and pray.
Details

Created:

20 June 2020
http://kkp.org.hk/node/21029?fbclid=IwAR1J4ydVZk2FZi1K8P6sJFQwg27YBO_8tCni3nH-RkH_fXtqnr5JGzEROto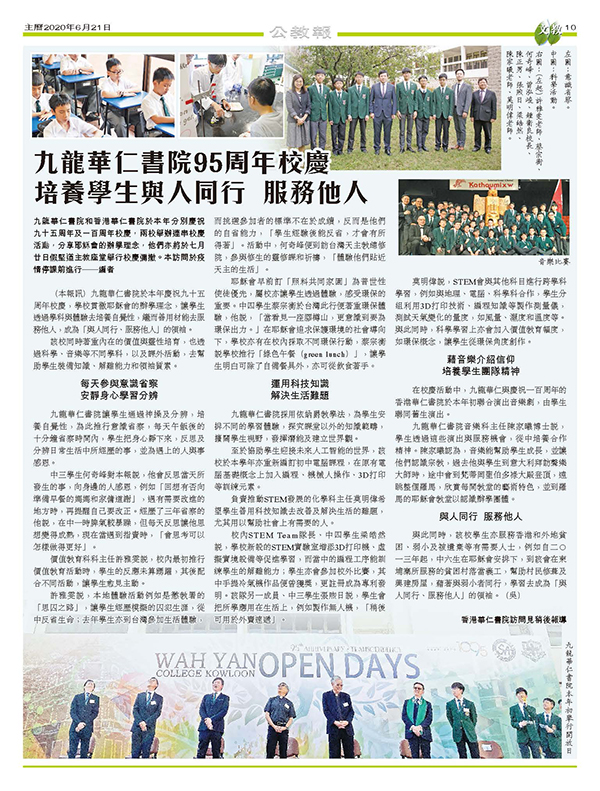 公教報 主曆 2020 年 06 月 21 日 常年期第十二主日 第 3983 期

九龍華仁書院和香港華仁書院於本年分別慶祝九十五周年及一百周年校慶,兩校舉辦連串校慶活動,分享耶穌會的辦學理念,他們亦將於七月廿日假堅道主教座堂舉行校慶彌撒。本訪問於疫情停課前進行——編者

(本報訊)九龍華仁書院於本年慶祝九十五周年校慶,學校貫徹耶穌會的辦學理念,讓學生透過學科與體驗去培養自覺性,繼而善用材能去服務他人,成為「與人同行、服務他人」的領袖。

該校同時著重內在的價值與靈性培育,也透過科學、音樂等不同學科,以及課外活動,去幫助學生裝備知識、解難能力和領袖質素。

每天參與意識省察 安靜身心學習分辨

九龍華仁書院讓學生通過神操及分辨,培養自覺性,為此推行意識省察,每天午飯後的十分鐘省察時間內,學生把身心靜下來,反思及分辨日常生活中所經歷的事,並為遇上的人與事感恩。
Details

Created:

04 June 2020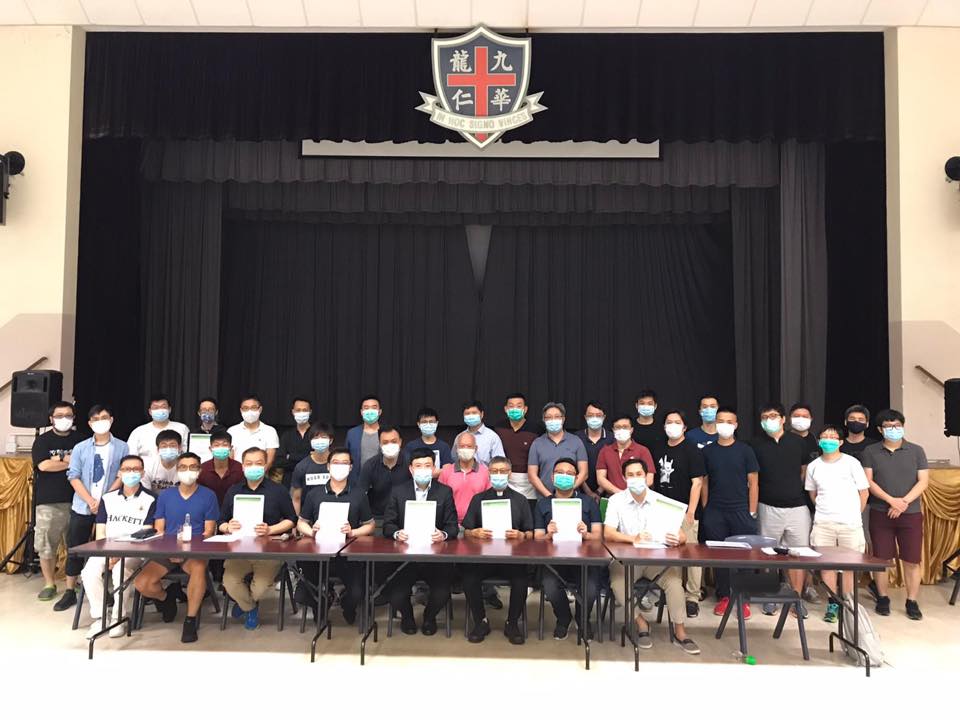 Words from Chairman
Dear Brothers,

The 50th AGM of WYKPSA was successfully held on 30 May 2020. It is my great honour to be elected as the Chairman of WYKPSA again and allow me continue to serve our alma mater and alumni.

All Exco candidates have been elected smoothly. I would like to take this opportunity to introduce our Office Bearers of this term:
Chairman: Stephen Lam (96)
Vice Chairmen: Cedric Ko (94), Chris Chan (96), Vincent Li (96),
Honorary Secretary: YK Yiu (96)
Honorary Treasurer: Paul Chan (07)

We will continue to do our best to reunite brotherhood and to serve our alma mater. We need ideas, constructive comments and suggestions. Please feel free to share with us!

In Hoc Signo Vinces!

Sincerely Yours,
Stephen Lam (96)
Details

Created:

27 May 2020
Victor Ng ('86) distributing surgical masks to one of the beneficiary organizations from a fundraising organized by Chinese Cultural Centre of Greater Toronto 大多倫多中華文化中心. Click here to read the story.