Details

Created:

06 July 2017
【體路專訊】由香港業餘冰球會主辦,信安香港冠名贊助的「2016/2017香港校際冰球聯賽」昨晚(4日)假九龍灣Mega Ice上演中學組季後賽。尾場決賽由保良局第一張永慶中學迎戰常規賽冠軍九龍華仁書院,九華終靠多點得分下以7:2蟬聯冠軍。而保良局蔡繼有學校則在季軍戰大勝香港華仁書院8:2摘季。
Details

Created:

03 July 2017
《人有悲歡離合,月有陰晴圓缺》,就是人生。
六月間與內子遊卑詩省,踏足列治文、髙貴林、溫哥華、班拿比,正好體驗人生的喜、樂、離、合。
喜者,能出席五十多年前,香港儲蓄互助社協會,義工朋友女兒出閣之喜。更藉此西遊期間,與其他朋友、同學,再度相聚,喜上加喜,喜上眉梢。
樂者,樂見外孫,從去年爬行、牙牙學語,到今日腳踏實地、妙語連天,他小小腦袋的自動程式處理。但發音仍大有改善空間,這是人生學習過程。
Details

Created:

20 June 2017

Summer Solstice, the longest day of the year, indicates the arrival of summer.
春天不是讀書天,夏日炎炎正好眠,等得秋來冬又至,收起書包過肥年。
Details

Created:

14 June 2017
4:00pm - 6:30pm
Monday, July 10, 2017
Richard Charles Lee Canada-Hong Kong Library
8th floor Robarts Library, 130 St. George Street,
University of Toronto
Details

Created:

09 June 2017
Leonard & Ivy Leung were visiting Toronto and we had a nice lunch gathering onThursday, June 6.
During lunch Peter announced that a
Reunion of Class of 61
would be held in Toronto in 2018 September 20-22.
Click the group photo to view the happy moments at lunch.
Details

Created:

09 June 2017

Click the image to see the album.
Details

Created:

05 June 2017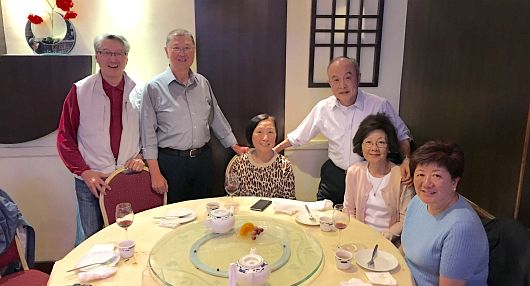 As a nice event, 3 WYK'65ers met in London, England, for a dinner on June 5, 2017.
From Left to right :
Lawrence Hsiung (from San Francisco), Bonbon Hu (from Toronto), Margaret Hu, Francis MK Choi (from Hong Kong), Lydia Choi, Peggy Hsiung.
Details

Created:

04 June 2017
Here
is a recently published article in the Canadian Journal of Diabetes by my student and me on the subject:
Although it is a peer-reviewed scientific article, I trust the conclusions and recommendations are easy for non-medical people to understand.
It looks like that Chinese with stroke have a higher frequency of Diabetes and their prognosis fair worst even if their blood pressure severity is not as bad.