Details

Created:

13 March 2018
六五李明鼎同學,怱怱路經多倫多市,昨午拜訪何老師,今早與其他同學午膳於世外桃源。然後,經三藩市返回新加坡工作。(觀看更多照片)
Details

Created:

12 March 2018
A number of Joint-School friends, including Francis Au, Stephen Ching, Jeff Mah and Raymond Leung from Wah Yan alumni associations, attended La Salle Old Boys' Mah-jong Competition and Dinner on Sunday March 11.
Details

Created:

11 March 2018
St. Patrick's Day is on Saturday, March 17. The parade is held on the previous Sunday. The Toronto Parade is the largest in North America,
Details

Created:

10 March 2018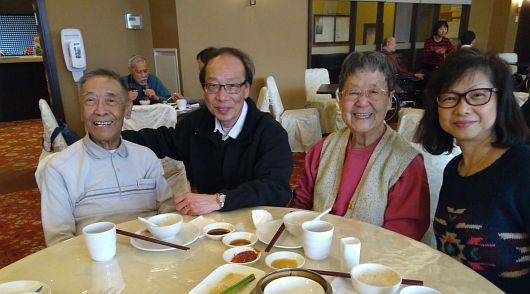 Bill Fok ('68) was visiting and having lunch with Mr. Ho on Saturday March 10.
Details

Created:

10 March 2018
WYK65 at Hong Kong Police Sports And Recreation Club on March10,2018.
(From L to R): Francis Choi 蔡敏康, Adrian Leung 梁文華, Joseph Pang 彭振聲, Leslie Chang 張叔千, John Shek 石如鵬, Peter Wong 黃伯麟, Bonbon Hu 何芃芃, Hugh Choy 蔡洪卿.
Details

Created:

22 February 2018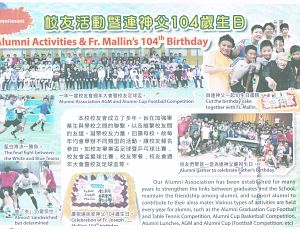 Since last December, he has become weaker in terms of physical strength. But his mind is still sharp. He, as usual, writes letters every day. However, he tells me that it now takes him longer than before to write a letter. So he still has not answered all the cards and letters that he received during Christmas.
There is another reason why some of you do not receive a reply from him. After writing a letter, he will write the address, seal the envelope and put on the stamps all by himself. His hands are not as steady as beforeand we notice that sometimes, he omits some parts of the address. For obvious omissions, we can return the letter to him. So sometimes, his letters are returned to him with the reason that the address is incomplete.
I will pass on your greetings to Father Mallin.
With my best wishes for the year of the Dog,
William
Details

Created:

25 February 2018
(February 23, 2018) Picture taken at a friendly soccer match at Westmount Collegiate Institute between CUHK Alumni and a joint-team of alumni from La Salle and Wah Yan Colleges.
Details

Created:

16 February 2018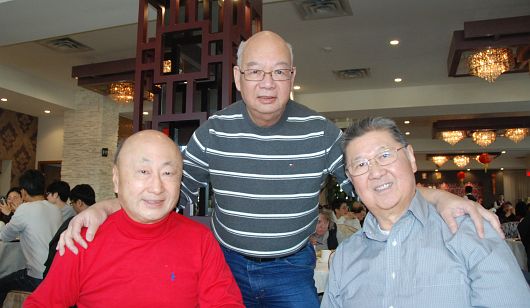 WYK65ers Bonbon Hu and Andrew Tang were having lunch with Tony Fong who was in town on Chinese New Year's Day (年初一) February 16. Click here to see more pictures.
Details

Created:

11 February 2018
On Saturday February 10, Hong Kong Joint Schools Alumni Association (HKJSAA) was celebrating Chinese New Year by holding a dinner gathering at Golden Court Abalone Restaurant. Many singing enthusiasts came early for karaoke before the dinner. The event was organized by seven hosting schools; many guests and friends from other schools were also among the participants in a friendly and fun-filled evening with sumptuous food, games, performances and lucky-draw prizes. To see more pictures, click the following (album #1, album #2).